WASHINGTON -- Even as Hillary Clinton solidifies her grasp on her party's nomination for president, women remain dramatically underrepresented in American politics, holding only 20 percent of the seats in Congress and just six out of the 50 governorships.
Despite gains in 2014, there are still 94 countries, including Saudi Arabia, Zimbabwe and Afghanistan, with higher percentages of female officeholders than the U.S.
To turn the tide, the U.S. can and should take cues from countries that have succeeded in increasing their percentage of female politicians, according to experts who spoke Tuesday at a panel convened by the Federal Election Commission. Public financing, proportional representation plans and better work-life balance for legislators could all help move the United States toward a more equitable distribution of power, the panelists said.
"In Latin America, we tend to have a public financing system, in which the government or the state allocates part of the national budget specifically for the financing of campaigns," said Betilde Munoz Pogossian, an elections expert with the Organization of American States. She said that a public financing system can also be used to reward political parties that include more women on their slates of candidates.
Having some sort of public financing system also benefits other underrepresented groups, said Pippa Norris, a lecturer at Harvard University's Kennedy School of Government.
"The more hurdles you have to overcome to raise money," said Norris, "the more difficult it is for any candidate who is outside of that network [to win an election], be it indigenous groups or any other rural communities who don't have the network resources."
While public financing for U.S. presidential campaigns has faded into obscurity in the post-Citizens United era, some states, including Connecticut and Maine, are working on new ways to allot public funds to candidates to help put them on par with opponents funded by super PACs.
Countries that use proportional representation systems, in which parties win a certain number of seats based on vote tallies and then assign those seats to chosen candidates, tend to elect more women than countries that use the single-member district system that dominates U.S. elections, Norris noted.
Even so, she said, a district election system "is not an inseparable barrier" to equal representation.
"To give you an example," she said, "Britain has a 'first past the post' [system] just like the United States, and we just had the election. I am delighted to say the proportion of women in Britain has gone up from a quarter to 30 percent... and we have gone up in rank from 59 to 35." Norris added that Britain was "not yet with Rwanda," which is ranked No. 1 in the world for female representation, but that it was still "doing quite well."
U.S. parties could do more to recruit women, said Darren Rosenblum, a professor at Pace Law School. But he argued that they're already making some progress, in particular citing recent efforts by the Republican National Committee. "The RNC's projects on women are a great example of what can be done," he said.
Facing mounting pressure to win over more female voters, the GOP has launched a number of programs in recent years with the aim of energizing Republican women, including the "14 in '14" campaign -- an effort this past November to mobilize networks of female volunteers in the 14 weeks leading up to the midterm elections. Female candidates in states like Iowa and West Virginia were key to the GOP winning a majority in the Senate last year.

Such partywide initiatives, said Rosenblum, might actually benefit the GOP more than they would Democrats, who are currently viewed as the party more responsive to women's issues. "If Republicans had more women candidates, that might lead to a balancing" of voters' perceptions, he said.
Moving beyond candidates and elections, "the question of how we sustain women who are already elected to office" is a thorny one, said Marni Allen, director of Political Parity, a nonprofit that works to increase women's political representation. Allen noted that other countries do more to accommodate legislators' work-life balance.
"It's not a common part of the conversation in American politics," she said. "But it has a dramatic impact on men and women, and if we see more women in political office, and we want their spouses to be able to provide that support at home, it's very difficult if that spouse is expected to be in the office until 7, 8 at night."
One bright spot, Allen said, is in New England.
"The New Hampshire legislature has really been a breeding ground for women," she said. "Part of that is that the women have come together and sort of provided the child care and support for one another, and when somebody had a committee hearing, they tried to limit the hours." Both of New Hampshire's senators are women -- Kelly Ayotte (R) and Jeanne Shaheen (D) -- as is the governor, Democrat Maggie Hassan.
"There are things that can be done around how the legislatures function that can improve women's ability to stay in, or to enter in at a younger level," said Allen, "so they can reach the seniority which really helps them to have an impact."
Multiple strategies will probably be necessary to increase the share of female officeholders in the U.S., the panelists said Tuesday.
But some conservatives are criticizing the FEC for even holding the discussion.
"The Federal Election Commission should not put its thumb on the scale for female candidates," wrote Karin Agness, founder of the Network of Enlightened Women, a conservative women's group, in U.S. News & World Report on Tuesday.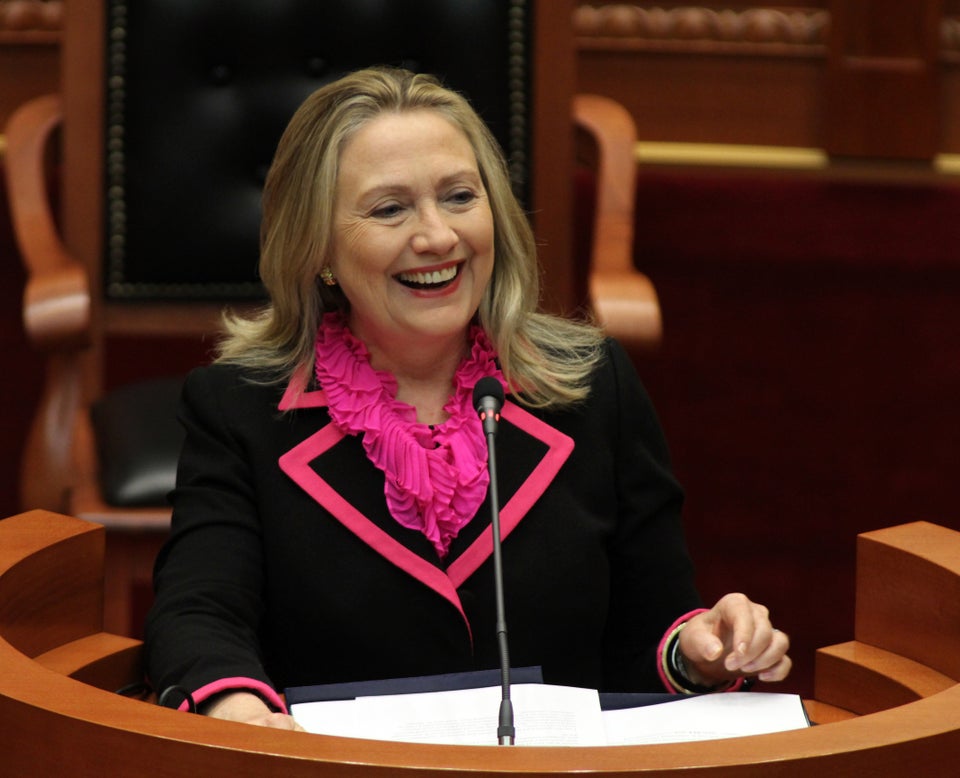 Which Women Might Run In 2016?