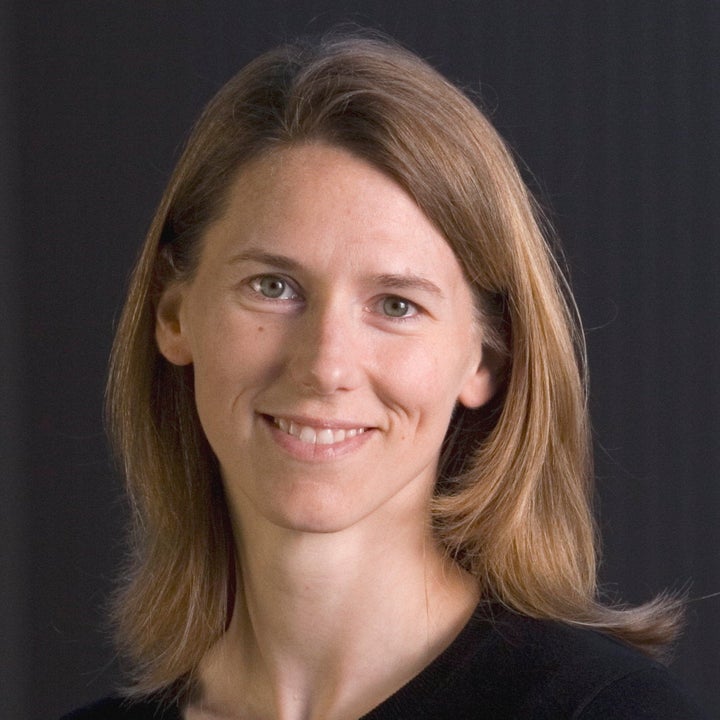 A special series profiling trailblazers in energy innovation and champions of the environment. See previous stories here.
"How does this story go? It was second grade. Our school got all of these wonderful Apple IIs and we got exposed to some super basic computer programming," Trae Vassallo remembers. "That was the seminal moment for me where I was like, 'I get this. I feel empowered.'" And so started the remarkable journey of a girl from rural Minnesota who would eventually become a partner developing the greentech practice at Kleiner Perkins Caufield & Byers (KPCB), the storied Silicon Valley venture capital firm behind some of the world's most transformational companies--Google, Amazon, Netscape, and Genentech among them.
Trae realized that she he had an aptitude for things "that are logically based, like programming and math." And her focus on athletics was important "because you learn teamwork and how to be competitive and gracious in winning and losing." Being a woman competing in subjects that are traditionally the domain of men was a "non-issue." In fact, Vassallo says it didn't even occur to her until she studied mechanical engineering as a graduate student at Stanford. "I remember being in a class where there were literally seven women in a class of 70 men," she recalls. "But it was more of a challenge than anything--a chance for me to do my best and show that it could be done."
But there was a mentor that played a pivotal role in Trae receiving her Master's in Mechanical Engineering with honors from Stanford: the only woman faculty member in the department. "I was fortunate enough to have Dr. Sheri Sheppard as my advisor, it was one of the best things that happened to me," Vassallo says. "I was going to graduate [with a Bachelor's] and find a job, and Sheri said, 'I would love for you to TA my class and I think you should consider getting a Master's degree.'" Trae credits that moment with putting her on the path towards her first job at IDEO--a global design firm where she developed several products including the Palm V--and all of the opportunities that have led to where she is today.
After helping to launch the Palm V, Trae realized that as much as she loved the experience, she was on the wrong side of the equation: consultant as opposed to entrepreneur. "That caused me to want to go back to business school, " she says. And so she returned to Stanford, eyes squarely set on an MBA. "My second year of business school [KPCB partner] John Doerr came and spoke in a class I was taking and so I made sure to meet this person who I very much admired," Trae remembers. A meeting with Doerr followed and Vassallo swiftly became a co-founder of mobile device management company, Good Technology. Three years later she was an investing partner at KPCB. It was 2002.
"We had historically always done Internet technology and life science, but we kept seeing entrepreneurs come in with business plans around renewables or conservation. Energy was a bigger and bigger theme," Trae explains. "So about the same time I came to KP, we started thinking hard about whether to expand the business to a third leg of the stool."
And beyond the bottom line, there was a "larger mission." Trae is unflinching in her belief that energy innovation is "important from a global perspective and for what we need to do to improve life for people on this planet." Fast forward to 2011, and Vassallo has played an integral role in fostering several of the most promising--but still fragile--greentech companies of the early 21st century.
One of those start-ups is OPOWER, which recently landed at number five on The Wall Street Journal's second annual Top 10 Clean-Tech Companies list. OPOWER helps consumers increase efficiency and save money through a multi-channel engagement platform driven by smart meter data that provides individualized reports on their home energy use. "Right now, your utility bill is almost as bad as your taxes," says Trae. "I keep imagining saying 20 years from now, 'I can't believe we ever lived in a time where we had no transparency into how we used our energy.' We sort of need that app store for the home."
Topping The Wall Street Journal list is another company Trae has helped to build. With recycling rewards programs in 29 states and now the UK, Recyclebank has been growing rapidly under CEO Jonathan Hsu. And it seems to be having a measureable impact. According to Vassallo, recycling rates have increased by as much as 100 percent in cities where the programs have been introduced.
But even for an energy wunderkind, success can be elusive. In 2009, KPCB-backed AltaRock Energy--a Seattle-based startup developing engineered geothermal systems (EGS) that could one day provide a virtually unlimited supply of 24/7 carbon-free power sourced from deep underground--had to abandon its first demonstration project at the The Geysers in Northern California because on-site wells lacked the necessary structural integrity to test the new technology. Trae says geothermal is "not without its issues in that there is a significant amount of capital that needs to be invested and continued R&D."
Even so, AltaRock is aiming to try again at a new site in Oregon at the end of this year. "[EGS] is one of the best baseload renewables that we have out there, but we have a lot more work to do," Vassallo says. In the interim, she is "excited about how you improve the existing geothermal wells we have today."
Other endeavors are moving forward with considerable speed--literally. Fisker Automotive, the premium plug-in hybrid start-up led by renowned auto designer Henrik Fisker, will deliver its first model, the Karma, to eager buyers in California this fall. Vassallo was an early believer in Henrik's vision--to make sustainable cars that do not require consumers to sacrifice performance or style--and a primary force behind KPCB's unusual decision to back the company in 2007.
"The automotive business is not really a venture capital kind of investment. It's not something where you invest less than 10 million dollars," explains Trae's mentor and KPCB Managing Partner, Ray Lane. "You have to have the guts to stay in it to invest 50 million dollars and that's a risk we're not used to. Trae worked very hard for the first couple of years where we had to make some tough decisions."
But why start with a $95,900 luxury car that so few people can afford rather than a mass-market version that would have a much greater environmental benefit? "We are investing in a company that we want to be profitable from day one. So they are coming out the door with what I always call it, their 7 Series," Vassallo responds. "But this is the same team that understands how to build a 5 series and a 3 Series and we're going to do exactly that."
Fisker clearly appreciates Trae's style. "There is nothing timid about her. We bounce things back and forth without always necessarily agreeing and she's a person who can handle that," he says. "She understands the disruptive technology paired with the desirability of what we are doing."
So what's next for Vassallo? "She's just made an investment in a lighting company that I think will have a great impact," says Lane. "We're looking for Googles and looking for Netscapes and looking for Genentechs all of the time, and I think Trae is one of those people who will find one."
At a Glance
Hometown: Fairmont, Minnesota
Education: Bachelor's and Master's in Mechanical Engineering, Stanford University. MBA, Stanford Graduate School of Business
Professional Highlights: Design Engineer at IDEO Product Development. Co-founder of Good Technology. Partner, Kleiner Perkins Caufield & Byers
Advice for Young Women: "Go out and network voraciously and find those points of inspiration."