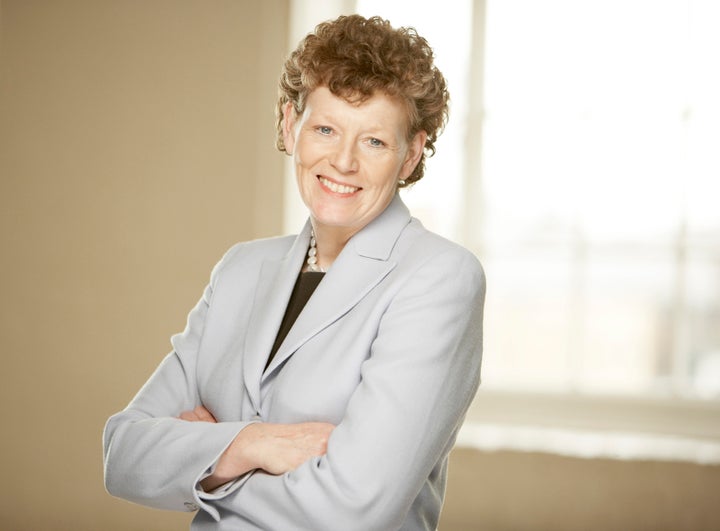 A special series profiling trailblazers in energy innovation and champions of the environment. See previous stories here.
"I grew up in Devon, which is in the countryside a long, long way away from London. So there was nothing in my experience as a child that drew me to the career path I chose," says British energy industry veteran, Vivienne Cox. "At school, I particularly liked chemistry because I had an extremely good chemistry teacher and it was that--as much as anything--that encouraged me to take chemistry at Oxford University as my degree subject."
Cox says there were very few women pursuing chemistry at Oxford during her time there, but it never struck her as unusual. And in an early sign of her keen ability to remove any trace of dis from advantage, she dutifully made the best of her minority status: "There weren't very many girls around so there were plenty of boys for us each," she enthuses.
At first, Cox imagined becoming an academic, but a year of research in the final stretch to graduation changed her mind. "What I actually liked doing was mixing--and engaging--with interesting people," she says. So she applied to the chemical division of a number of energy companies and eventually landed a job with BP Chemical.
Coincidentally, both Vivienne's first boss and the person who held her job previously were women. But this was a rarity. "Even then, and it was a long time ago, BP did try to recruit as much of a gender balance as possible, so there were other women graduates who joined the company at the same time as I did. But there were very few and I can't think of any other senior women at the very beginning apart from the woman that I worked for," she says. True to form, Cox saw the silver lining: "In terms of career development, I think it was a positive advantage being a woman because I was just so visible and provided I could continuously demonstrate I was able to do a good job, people knew who I was." It was 1981.
Over the course of the next 28 years, Vivienne did just that: set about continuously demonstrating that she was able to do a good job. And a string of promotions and new opportunities followed. Prior to serving as Executive Vice President and CEO of Gas, Power and Renewables and then creating BP Alternative Energy within that division--her last endeavor before leaving the company as its most senior female executive in 2009--Cox worked in exploration and finance, established a commodity derivatives group within oil trading, served as CEO of Air BP, and oversaw global oil supply and sales of commercial fuels. And that is by no means an all-inclusive list.
But Vivienne does acknowledge that within the organization, hers was a divergent management style. "I became increasingly aware as I got more senior that the way I thought about business issues was different from most of the men around me. It wasn't a complete gender distinction," she says. "But very often I was in conversations in which people believed that if they could just simply agree that an outcome was to be delivered that somehow it would happen. And yet, my experience was that the human dynamics around all of this--the way in which you communicate and the way in which you get people involved--were often the things that determined whether you succeeded or failed."
When asked about her advice for young women entering the corporate world, Cox encourages genuine self-confidence. "Women often end up trying to be a bit like the men, and in doing that lose the authenticity of the real person they are," she says. "Just be yourself. Be the woman you are. And don't try and take the men on at their own game."
And how does one achieve the often-elusive work/life balance? "Sometimes the hardest conversation is actually the conversation with yourself: trying to work out what you actually need--maybe as a wife, as a mother or as somebody supporting elderly parents, whatever it is," Vivienne says. "In other words, where are your boundaries? Is it around how much overseas travel you will do? Is it about what time you need to leave the office? And then once you're clear about what you need, my experience is that it's really good to have the conversation very, very explicitly with the organization that you work for."
Today, Cox is the Chairman of Climate Change Capital, a green investment and management firm with interests in everything from carbon finance and real estate to cleantech and energy infrastructure. "Climate Change Capital has a strapline [tagline], which is 'wealth worth having' and the whole premise that this company was set up on was that there was good business to be done in trying to solve the problems of climate change," she says. "And indeed, unless there was good business to be done in solving the problem of climate change, then climate change wouldn't be solved."
"The organization has $1.5 billion invested in funds which make a difference to climate change," Vivienne continues. "It does some advisory work for companies wanting to do M&A [merger and acquisition] transactions in this space, and it also does some work in advocating and developing policy. It's full of great people who are very values-driven and genuinely here because they want to make a difference, and that's something that appeals to me."
But in Cox's view, traditional energy companies are essential to combating climate change. "I don't think we're going to make the changes we need to make without using the energy infrastructure and the capital base that already exists. The utility and oil and gas companies have to be involved in this transition, otherwise it will not be successful," she says.
"That was a large part of my motivation for creating BP Alternative Energy and growing that business. Though I learned just how difficult it is to do inside an existing oil and gas company," says Cox. "To the extent that renewable energies were satisfying the demand growth, there was almost a sense that they were in some ways harming the existing businesses--a 'you win, I lose', rather than it being an additive equation. But it is also possible for a lot to be done [on the] outside, particularly around innovation, developing new business models, and new products."
And that is Vivienne's aim. "It will take a long time, but I hope in some way the work I have done--and am still doing--to create new businesses in the renewable space will help to catalyze a transformational shift in the way in which capital gets invested in the energy industry over time," she says.
Vivienne has two daughters, ages eight and twelve, that also figure prominently in the legacy she wants to leave. "I hope that I have brought [them] up to think very carefully about the whole set of issues facing us as people, and that they will be making a significant contribution in trying to solve some of these really difficult problems," she says. "Climate change is real. We are still not taking it seriously enough, and there are real things that can be done to make a difference. It's as much a behavioral and a communications challenge as it is a technical or business one."

To see Cox in the top spot at one of the global oil and gas giants--transforming it into a leading energy company for the 21st century--does not require an especially vivid imagination. It could easily be argued that would be a major coup for women--and the world--indeed.
At a Glance
Hometown: Bovey Tracey, Devon, England
Education: M.A. in Chemistry, Oxford University. Honorary Doctorate, University of Hull. MBA at INSEAD, Fontainebleau, France.
Professional Highlights: CEO of Air BP, Executive Vice President Gas, Power and Renewables and CEO of BP Alternative Energy, Chairman of Climate Change Capital
Advice for Young Women: "Women often end up trying to be a bit like the men. Just be yourself--be the woman you are. Don't try and take the men on at their own game."