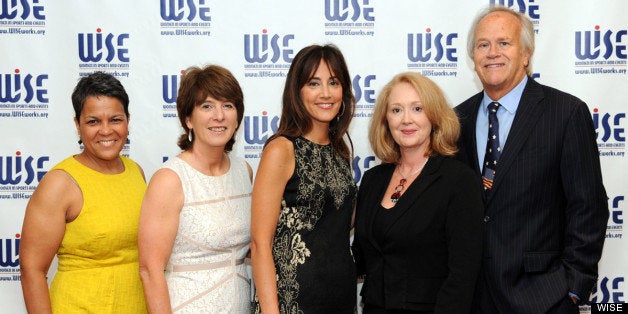 It's no secret that women are making great strides in the corporate workplace. We are climbing the proverbial ladder with grace and make juggling our professional and family lives look easy. One reason for our success is the emergence of professional organizations that are created by women, for women, with the main goal of uniting ambitious women together.
Last week, Women in Sports and Events (WISE), the leading voice and resource for professional women in the business of sports, publicly honored three incredible women who have proven they can visibly lead large corporations in an ever-changing business landscape.
Sharon Byers, senior vice president of sports and entertainment marketing at Coca-Cola North America, Danielle Maged, global head of business development and partnerships at StubHub, and Carol Stiff, vice president of content and programming at espnW, were honored at the sold-out 19th annual WISE Women of the Year luncheon which took place at the famed Marriott Marquis Times Square in New York City. The women were nominated from a pool of 12 finalists and voted on by over 1,000 WISE members.
The luncheon, emceed by ESPN SportsCenter anchor Lindsay Czarniak, not only honored the trio of businesswomen, but paid special homage to former NBC Sports chairman Dick Ebersol, who so boldly broke barriers for women and valued female contributions in the workplace. WISE recognized him with the 2013 WISE Champion award.
WISE is a volunteer organization that formed in 1993 when founder Sue Rodin recognized that the sports industry lacked an outlet for women to come together and share stories, network, and grow. Her vision was to fill this void and create a leading network for women that would serve to connect those in the sports industry and serve as a resource in all stages of their careers. Rodin, founder of her own sports agency, Stars & Strategies, has since received numerous awards and accolades for her professional and leadership achievements.
"I needed some career advice and I had nowhere to turn, so a small group of likeminded women decided to come together and create a group. We had no idea if the first meeting would be well attended or not, but it was. We envisioned that WISE would be a great way for women to get together on a regular basis, share best practices, and extend their networks," Rodin explains.
What began only as one chapter in the heart of New York City has grown into nine other chapters spanning the country in key markets including Boston, Atlanta, Chicago, and San Francisco. Membership has steadily grown in the past 20 years since WISE's inception. The organization itself has become more robust as well, consisting of a mentoring program for each chapter, monthly blog posts, webinars, podcasts and extensive networking opportunities for members.
"We're trying to be strategic with our growth, including which cities will foster new chapters. Also, the first annual WISE Women of the Year luncheon had 200 attendees and this year we had 627 women attend. As a volunteer organization, we rely heavily on corporate sponsors, and you can see the tremendous progress we've made in that area too. Women include WISE on their resumes. Our tagline has been 'WISE Works' and we know every day that it's true," Rodin points out.
Organizations like WISE endure because the original vision is never lost, and the leadership remains tenacious. Rodin credits current WISE national chairman and president Kathy Francis with the organization's continued success. Francis' impressive resume includes positions with Major League Baseball, the United States Tennis Association, and her current role as president at Oasis Sports Ventures, LLC.
"Kathy is leading the way in a manner of tremendous vision and strong leadership. Our organization is in really good hands, and our leadership is a true measure of our success. Being a part of this organization has exceeded my wildest dreams and I have to remind myself of where we've been, where we're going, and that we've impacted so many women's lives," Rodin explains.
Fortunately, WISE isn't alone. We are joined in the ranks by other professional organizations in a variety of industries which are aimed at giving women a competitive advantage in business. As women, it's important that we honor the labors of those who pioneered the way. We must continue to be champions for each other, learn from each other, and take advantage of the opportunities before us. And of course, we cannot forget the men who have ushered us along our paths. Whatever your field, I implore you to seek out those professional organizations in your town. Attend an event. Meet some peers in your industry. And hopefully you will see the value that a group of women with a common goal has to offer.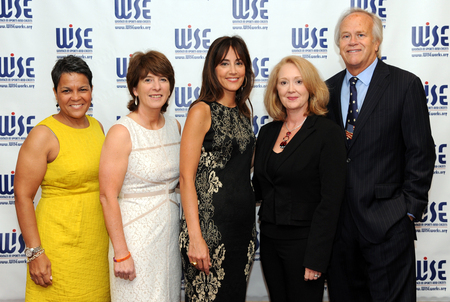 Photo courtesy of Jenn Pottheiser/WISE. From left: Kathy Francis- WISE President, Carol Stiff- espnW, Danielle Maged- StubHub, Sharon Byers- Coca-Cola, Dick Ebersol- former NBC Sports Chairman
Jori McMurtrey currently serves as Secretary on the Board of Directors for the WISE Atlanta chapter. For more information on WISE, go to www.WISEworks.org.
Calling all HuffPost superfans!
Sign up for membership to become a founding member and help shape HuffPost's next chapter