By Consolee Dusenge Hitayezu, WiSci STEAM Camp participant
Rarely does a woman, despite all of the limits of gendered expectations in the STEAM workforce, engage herself in finding technological and scientific solutions in order to serve diverse populations in need, experience constant failures, and refuse to give up. When she tries, she becomes a heroine to her allies. She becomes a role model to the unmotivated. She becomes a critical collaborator in the effort of achieving development goals to her country. She becomes a threat to gender discrimination in her community and everywhere, but more importantly, she becomes a woman in STEAM to the world.
I am convinced that attending the STEAM camp will, indeed, bring us many steps closer to becoming women in the STEAM fields, to the world. Since early childhood, I had always loved camps. They are a wonderful experience. Camps let you learn to interact with other people. Camps offer a way to develop different skills in the best possible environment, and they also let you learn how to share. But, I believe, this year's STEAM camp will bring something more than learning, something that has been keeping us keenly looking forward to this experience. Last year when I first heard of this camp, which is bringing together 120 girls from different countries, I wasn't sure that I wanted to participate, but I soon realized what kind of impact this experience would have on all of our lives. It will be a crucial contribution in our attempt to remove all of the biased gender expectation limits in STEAM fields; a critical influence for us to break that glass ceiling that most people only talk about, let alone ever taking a step to eliminate it.
From the Girls Wisci STEAM 2015 camp, I expect to learn more about essential aspects of the STEAM fields and to learn more about technology which is of vital importance to my future career. Also, I believe this program will expose us to the world of science and technology research and help guide us. It is a huge opportunity for us to develop an infallible set of skills that will one day make us strong future leaders, confident STEAM fields' practitioners and, assuredly, mentors to other young girls in our communities, upon our return to our home countries.
Moreover, by the fact the camp is about to bring young girls from different countries together, I am convinced, this is where the cross-cultural experience takes place. As the world seeks tolerance of the next generation, towards each other's opinions, ideology and beliefs, it is of great importance that I'll be able to share with other participants some aspects of our distinct cultures, hence improving our understandings of different cultures and giving us an unbiased view towards certain aspects.
I am looking forward to a place from which I will develop the courage of self-expression, a place that will stress leadership and confidence in my experience, a place that will shape my character and future life, a place from which I will get to understand the intricacies of living in a multi-cultural community, a place that will enable me to interact more with people from different countries, people who are around the same age, and, more importantly, a place that will provide me with the best environment that I need in order to become a successful woman in STEAM to the world.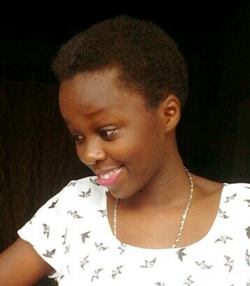 Consolee Dusenge Hitayezu is a rising senior at the Gashora Girls Academy of Science & Technology in Rwanda. She enjoys reading, writing, photography, and her dream job is to become a software engineer.
REAL LIFE. REAL NEWS. REAL VOICES.
Help us tell more of the stories that matter from voices that too often remain unheard.