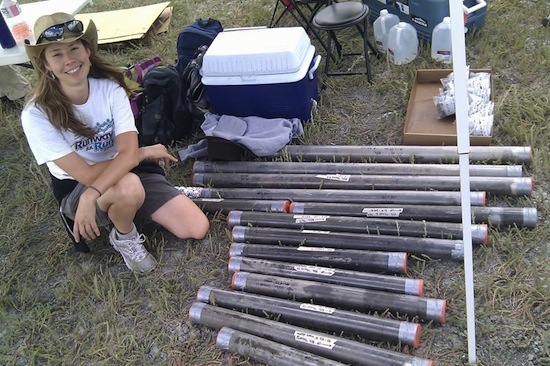 Editor's Note: This post is part of a series produced by HuffPost's Girls In STEM Mentorship Program. Join the community as we discuss issues affecting women in science, technology, engineering and math.
Female trailblazers in the field of science, technology, engineering, and mathematics (STEM) include extraordinary figures such as ecologist and writer Rachel Carson, primatologist and anthropologist Jane Goodall, oceanographer Sylvia Earle, and water quality activist Dorothy Green, founding president of Heal the Bay. Ada Lovelace, a 19th century mathematician, is honored with an international celebration established to acknowledge the achievements of women in STEM fields.
The educational community is in a great position to help attract the next cohort of women idea makers who will make significant contributions to society, but future female STEM frontrunners still need preparation and support. Last month, UCLA hosted a symposium to address how higher education can assist in advancing the careers and goals of women in STEM. Opportunities and challenges for pursuing occupations in science and engineering were considered by a panel of female senior researchers and engineers.
"I was really inspired both by the broad participation of women in science at all levels," said Diana Huffaker, director of the Integrated NanoMaterials Core Lab at UCLA and a professor of electrical engineering, "including the 120 local high school girls with questions regarding education paths, through newly graduated PhDs navigating their first jobs, along with the powerful panel of speakers each telling unique stories about their paths."
Cheryl Martin, deputy director of the Advanced Research Projects Agency- Energy, stated that with a foundation in STEM anything is possible. The Obama administration recently declared the development of world-class talent in science, technology, engineering, and mathematics critical to America's global leadership. According to White House statistics, women who work in STEM fields earn on average 33 percent more than their counterparts in other areas. By 2018, STEM jobs will grow to over 2.38 million. Sixty-five percent of these jobs will require a bachelor's of science degree or higher. The U.S. Department of Commerce reports that the nation's top 10 bachelor's degrees with the highest median incomes are all STEM fields.

Martin described STEM career development as an active process requiring a combination of coursework, research, mentors, networking, and volunteering. Comprehensive college programs have the ability to lay the groundwork for vocations in industry, consulting, research, academics, as well as federal, state, and local government, and many other areas. Such programs can play a vital role in increasing women's access to STEM training and careers. Innovative programs that mix disciplines, offer hands-on research experience, and partnership opportunities with outside organizations increase interest and stimulate engagement.
Higher education can empower women to discover a passion, enter the STEM workforce, and upend the current underrepresentation and gender inequality in STEM fields, but mentorship and social support networks are also crucial in exposing young women to STEM and eradicating bias and stereotypes.
Developed in cooperation with over a dozen departments across campus, the UCLA Institute of the Environment and Sustainability's undergraduate degree program in environmental science simultaneously introduces STEM topics while fostering collaborative learning and promoting leadership building that supports female students. Women now make up 64 percent of the students majoring in environmental science, which is one of UCLA's most popular majors. Created to inspire curiosity about the world, the interdisciplinary degree merges branches of learning such as biology, earth and space sciences, atmospheric and oceanic sciences, chemistry, physics, engineering, and statistics. Students can customize their education with a minor concentration and Institute endorsed extracurricular activities like travel study programs, campus clubs, and external internships.
"Young women interested in STEM are motivated by a vision of the future that is more sustainable," observed ecologist Cully Nordby, academic director of UCLA's Institute of the Environment and Sustainability. "They are fully aware of the problems and issues, but instead of despairing, they are ready to roll up their sleeves and get to work."
Photo: UCLA geography graduate student Katie Glover collects soil samples at Baldwin Lake in the San Bernardino Mountains that contain a record of rainfall and drought over a span of time covering two ice ages.