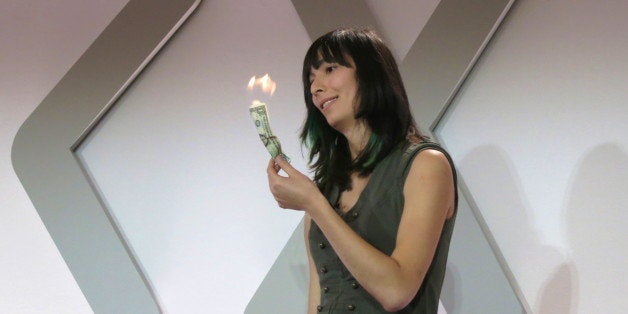 In 2011, women made up only one quarter of the American workforce in science, technology, engineering and mathematics (STEM), and their presence in computer occupations has dropped in the past 20 years. The few trailblazing women who are in STEM today are finding ways to not only advance technology but change the world in the process. These women have embraced being outnumbered as a way to make their projects stand out among those of their male colleagues.
Women in STEM industries earn 33 percent more than their non-STEM counterparts, and the gender wage gap in STEM jobs is narrower than in non-STEM jobs. With growing impetus (and funding) to teach and learn STEM, there has never been a better time for women to break into the field.
We've partnered with Cisco to introduce you to five impressive women in STEM who are inspiring us all and making their mark by cleaning up the environment and making technology accessible.
Lesley Marincola, Founder and CEO, Angaza Design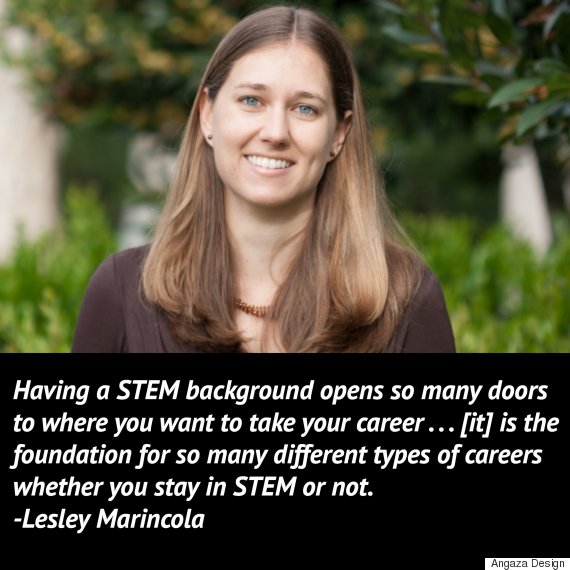 Degrees and STEM field of expertise: Bachelor of Science in Product Design and Master of Science in Mechanical Engineering from Stanford University.
Impact project: Solar-powered products are being developed at an exponential rate for communities "off the grid." Unfortunately, people living in these areas are often priced out of the market for solar products due to the high upfront costs. Lesley Marincola was introduced to this quandary while working on a project for her Extreme Affordability course at Stanford, which paired student groups with corporate partners. Marincola's team partnered with an off-grid solar company. The experience and her background in product design left her thinking about energy access and the affordability of solar power products to "off-grid" consumers. From this, Angaza Design was created and Marincola took on a new role as entrepreneur. "In my engineering classes, maybe 80 percent [of my classmates] were male, but going into a fundraising pitch, I can almost count on not seeing a single female investor in the room," Marincola observes. A for-profit social venture, Angaza is dedicated to putting solar energy within reach of those living in rural villages. The company created pay-as-you-go software that is embedded into solar energy products and allows users to pay for the use of these products incrementally. When a payment is not made, the light or cell phone charger is shut down. This software also measures energy output and collects diagnostic data from the products to report to distributors.
Goals for the future: Currently, Angaza-embedded products are mostly distributed to and sold in East African countries, but Marincola hopes solar-powered products spread to other areas thanks to Angaza's PAYG technology.
Danielle Fong, Co-founder, Chief Science Officer and Chief Strategist, LightSail Energy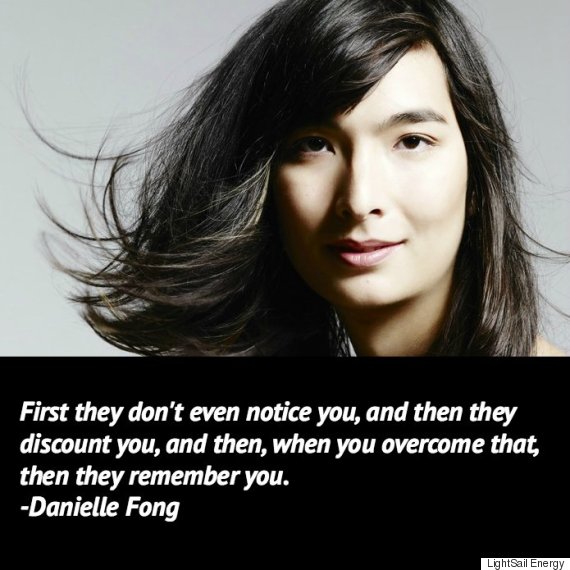 Degrees and STEM field of expertise: Bachelor of Science in Physics and Computer Science (completed at age 17) from Dalhousie University, former doctoral candidate in Plasma Physics at Princeton University.
Impact project: Danielle Fong went into graduate school to study nuclear fusion with the hope of finding a solution to one of the greater problems facing her generation: the energy crisis. She quickly discovered that a solution powered by fusion energy was too far in the future -- commercialization of fusion power likely won't be seen until 2050 -- and extremely expensive to fund. So Fong pivoted her thinking. She left her doctoral program and went on to create an innovative way to store energy through a highly effective air compression and expansion system that is twice as efficient as the average air compression process due to the introduction of a water during Fong's compression process that cools the air for storage. As Fong describes in her TED Talk, "Air is limitless" and air compressors and tanks have a longer lifespan than batteries. LightSail Energy, the energy storage system Fong conceived, currently holds more than 50 patents for its unique air compressor and expander, process and tanks. "She isn't constrained by conventional approaches," LightSail Co-Founder Stephen Crane says of Fong. After meeting her, Crane decided to abandon his own projects to work with Fong, recognizing the greater potential in LightSail. Fong's work will allow the excess energy produced at the peak of solar and wind input to be used later, during times of lower energy input.
Goals for the future: In the next two to five years, LightSail will be powering entire cities. In 2017, the company will also begin deployment for the commercial sale of its patented air storage tanks, as well. Fong wants to show the world the different technologies that allow people to reduce their electric bills and move away from fossil fuels. She ultimately wants to see whole electrical grids taken off of fossil fuels. "If there's anyone today who could be the next Edison, it's her," Crane says.
Tara Chklovski, Founder and CEO, Iridescent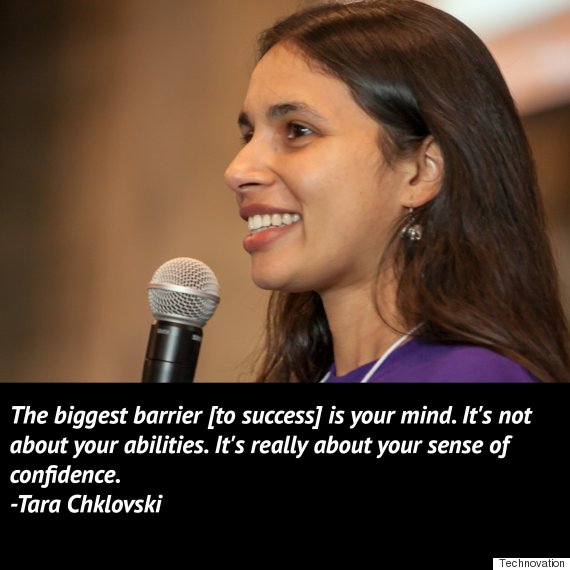 Degrees and STEM field of expertise: Bachelor of Science in Physics from St. Stephen's College, Master of Science in Aerospace Engineering from Boston University.
Impact project: Upon emigrating from her home in India, Tara Chklovski was shocked by the gender bias in STEM in the United States and the lack of valuable STEM education programs in underserved communities. Chklovski left her doctoral program in Aerospace Engineering to start Iridescent, a STEM education program aimed at fostering a lifelong love for learning in children of "underrepresented" communities. Iridescent consists of two main programs, one of which is Technovation, a three-month online curriculum that selects girls from over 50 countries and teaches them visual blog-based programming language. Technovation encourages participants to develop apps that create a solution to a problem in communities around the world. Women mentors with STEM expertise provide guidance to the girls as projects progress. One team of participants developed a personal safety app for women living in India, and another team in Mumbai created an app that that was designed to help people in the slums of India find clean drinking water. This year the program attracted over 6,000 applications.
Goals for the future: "[She] didn't need a lot of words for her to convince me that she was out there to make a dent in changing this world," says Ulrich Alda, a mentor of Chklovski's and an Iridescent board member. Chklovski plans to launch a parent training curriculum that emphasizes the best ways to encourage growth within children and recognizing gender bias and how to address it. "She will continue to convince others that she needs their help to accomplish Iridescent's goal," Aldag predicts, "That process has already started on a global level: Iridescent is not only a nursery, it is also a seed company." Chklovski hopes Iridescent becomes the go-to place for STEM education. The current projections are to have 21,000 educators, 15 engineers and 1.2 million students participating in Iridescent programs in the next 15 years.
Thuy Dao, Co-founder and Chief Technical Officer, Fargreen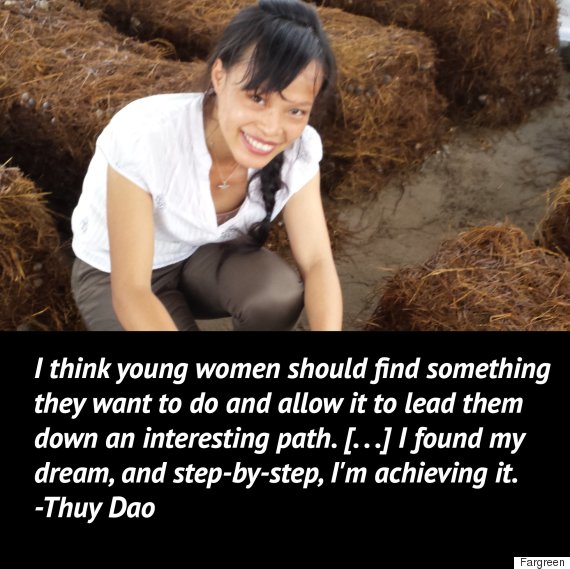 Degrees and STEM field of expertise: Bachelor of Science in Biotechnology, Master of Science in Biological Engineering from Autonomous University.
Impact project: Thuy Dao showed an aptitude for science at a young age. When Dao was in high school, her father took her to a nearby rice field that had been attacked by disease. As they looked across the dying rice field together, her father looked to her and shared his wish that she would one day solve the agricultural issues plaguing their community. Dao and her business partner, Trang Tran, grew up in rural Vietnam and witnessed firsthand the ill effects of open straw rice burning. A common practice in countries in Southeast Asia, this method of clearing out the remaining straw in rice fields through controlled fires adversely affects the air quality and health of local farmers and their families. After teaming up with her friend and former classmate, Dao leveraged her background in bioengineering to devise a sustainable solution to open rice straw burning. The two of them founded Fargreen as a result. The company "creates a closed cycle" in the agriculture in Vietnam that will improve the long-term air quality as well as the quality of life in rural villages. Fargreen works with farmers to harvest their rice straw and use it as a platform to grow mushrooms, which are sold as a high-quality product. Once the mushrooms have been harvested, the straw is then returned as biofertilizer to grow rice.
Goals for the future: While teaching the farmers has posed its own challenges, Dao hopes to extend the reach of Fargreen to all rural areas in Vietnam and to see the company turn a profit off of Fargreen's premium mushroom products.
Eden Full, Founder and CEO, SunSaluter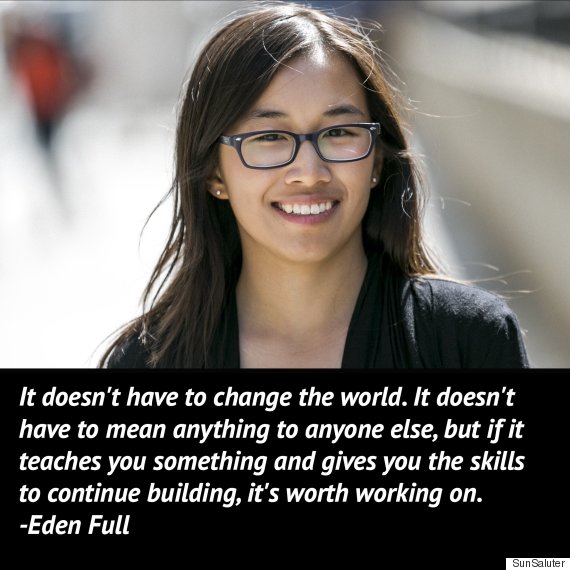 Degree and STEM field of expertise: Studied Mechanical Engineering from Princeton University.
Impact project: While still a student at Princeton, Eden Full developed the technology that became the basis for SunSaluter, a water weight system that positions solar panels to follow the path of the sun throughout the day. She wanted to create something that was simple to replicate and maintain by those who used it. By maintaining direct sun exposure, the panels' energy input increases by 30 to 40 percent, and the system doesn't require any energy. It works like a see-saw, with a counterweight balanced against water that is slowly released at a rate matching the movement of sun. According to Full's mentor, Danielle Strachman, Full doubted the simplicity of her design initially. "It wasn't the high-tech solution she thought it would be," Strachman remembers. Full realized her straightforward system would encourage successful application among those who didn't have Full's engineering background.
Goals for the future: "I think we're only seeing the tip of the iceberg," Strachman says of the SunSaluter's future. Currently, SunSaluter has a team and operations based in India, and projects in Malawi are in development. As for Full, she plans on using the SunSaluter as a stepping stone to create new technologies that will make the greatest impact in the world. Inspired by her role as a member of the Rowing Canada Aviron Development Team for pre-Olympic athletes, Full is also working on a design for a wearable sensor for rowers. As Strachman says, "Eden is a total force to be reckoned with."
CORRECTION: This story previously stated that Eden Full had graduated from Princeton. Full has verified that while she has completed her mechanical engineering studies at Princeton, she has not yet formally earned her bachelor's degree.
Cisco is committed to inspiring more people to pursue STEM education and careers. Through mentoring, IT training, and support for schools and nonprofits, they are working to increase the pipeline of STEM talent around the world.
Related