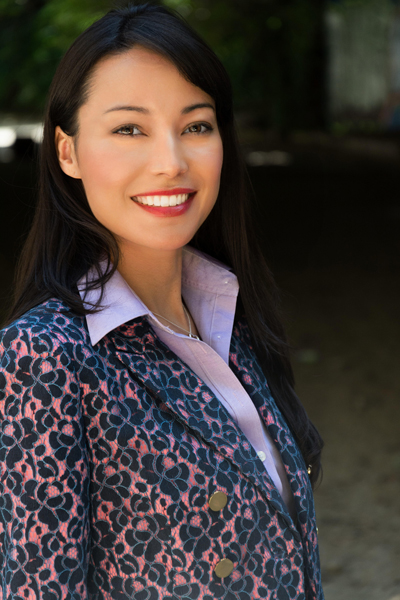 According to the National Center for Female Women in Information Technology's April 2015 survey, the U.S. computer science sector will have 1.2 million openings by 2022. Women currently represent just 26% of the computer workforce and the numbers are even more dismal for women of color. The number of female college freshman planning to earn Computer Science and Information Technology degrees has consistently dropped 7% since 2000.
Adriana Gascoigne, founder and CEO of Girls in Tech, wants to turn these statistics around. In February 2007, Adriana launched the nonprofit, dedicated to "empower, educate, and mentor women in the tech industry" across over 47 chapters located throughout the world.
Engaging more women in the tech space provides benefits for the tech industry, as well as for those posed to enter the work force. Gascoigne shares:

The benefits to having more women in high-tech corporations and startups is that technology will improve. To develop comprehensive, innovative and exhaustive products, teams need to focus on diversity. A diverse team incorporates unique perspectives, skills, talents and experiences which influences the devices we use, the infrastructure that's all around us, the mobile apps we download to our smartphones. We are missing a representation and a voice of 50% of the world's population.
The savvy tech leader hasn't always been in the technology sector. She graduated from University of California Davis with a Bachelor's degree in Sociology and Economics, going on to earn a degree from El Tecnologico de Monterrey in Aguascalientes, Mexico. She was working in the consumer brand marketing and advertising sector when she relocated to San Francisco to join the first of many startups, GUBA.
Since those days, Adriana has developed a comprehensive background in the tech sector in multiple roles including VP of Product Marketing for RxMatch and QwikCart SPI (CMO), Ogilvy & Mather (VP of Digital) and VP of Marketing for SecondMarket. She has also worked in the tech start-up space with companies like Indiegogo, hi5, Poliwogg, Roost, Algentis, Democracy.com, Vitagene, ImpulseFlyer, SocialGamingNetwork (SGN), Social Gold (Google) and PressFriendly. She's served as Strategic Advisor for a number of entities including the Nasdaq Executive Youth Board.
In 2009, Gascoigne launched SmittenWithMittens (now known as The YOUniform Project) to provide fair trade uniforms and educational resources to children in developing countries. She is also the co-founder of HelpLearnAsia, an eLearning platform for small and medium-sized businesses in Singapore.
At Girls in Tech, Adriana has innovated a number of programs to support women in the tech space, including The Girls in Tech Catalyst Conference, Girls in Tech Lady Pitch Night, XChange, Girls in Tech WORK, and The Hackathon, open to both men and women. Each program provides not only educational and training sessions but also networking opportunities Details are available on the Girls in Tech website.
Girls in Tech also matches mentors or business coaches with mentees, one of the most valuable resources for a girl interested in jumping into the STEM fields, a woman striving to excel as a leader within the high-tech industry or an entrepreneur launching a startup.
The idea of launching a business shouldn't be a scary experience; it should be an exhilarating and collaborative opportunity collecting the learnings of advisors, industry professionals, friends, colleagues who have already built successful startups and can help teach people how to pick up their bootstraps, learn fast from their pitfalls and benefit from having a "risk-takers" mentality.

How can students and professionals get involved in the tech space? Gascoigne suggests joining an organization like Girls in Tech, which may help find mentorship/sponsorships and the opportunity to intern or shadow at a startup or high tech company. Participate in networking events, conferences, and workshops. Subscribe to cutting edge innovation, tech, and gadget blogs.
For women considering a career change, Gascoigne adds:
Transitioning into the tech industry is a lot easier than most people think. The industry continues to grow and the phenomenal paying jobs it offers continue to attract many. I strongly believe that it's the subject matter experts who will help us innovate more effectively and efficiently in traditional, "non-tech" sectors such as healthcare, education, finance.
1. Teach yourself new skills online and familiarize yourself with the "lingo"
2. Dive in head first to get experience where you can - at an internship, incubator, high-tech company, an organization - the opportunities are endless.
3. Customize your online CV to reflect relevant elements of career and experience to the position you're interested in pursuing in tech.
4. ASK - Ask questions, ask for favors, ask "influencers" to be a part of your personal advisory board. These board members can help you navigate the wild wild world of Silicon Valley and immerse yourself into the industry faster and more strategically.
For more information on Girls in Tech, visit the website or email info@girlsintech.org. Join your city chapter's Facebook Fan Page or see the website for information on your local chapter.
Related
Popular in the Community