Collision Conference, a tech conference from the producers of Web Summit, moved towards their 2016 event in New Orleans, La. with an intentional women in tech initiative in place as their small way of increasing female participation in the industry.
10,000 free tickets were gifted to female entrepreneurs across all of the organization's events with a small margin allotted for Collision Conference, an offering that some considered both noble and relevant to the statistically undeniable.
However, while their web copy claims that Collision desires "to inspire and connect female entrepreneurs, senior executives and leaders," many female attendees felt the follow through beyond emailing free tickets to nominated women fell short of a true initiative.
Meanwhile, other women did not feel the need to have a discussion about women versus men at all, and prefered to keep the dialogue focused on the startup environment and their roles simply as founders.
The reality is only one female-focused session was planned by Collision. Eager women did arrive to this roundtable that quickly filled its approximately dozen available seats on a first-come-first served basis through online pre-registration. Then once it began, it eventually ballooned to nineteen women, the balance including those who happened to find out about it and simply showed up without proper credentials.
After finding out about this missed opportunity, Alison Gibbins, a career technology professional currently with The Working Group out of Toronto, took to Twitter to do what women are often known for: bringing people together. She was determined to create an opportunity for discussion and community herself on the final day of the conference.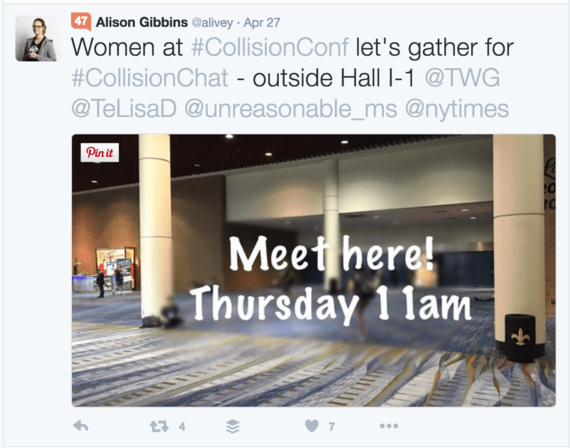 Gibbins approached the organically growing meetup in a MacGyver-esque fashion, equipped with a sticky easel pad, Post-it notes, packing tape and a butter knife to slice the clear adhesive. Slowly, women wandered towards one another asking each other if they were in the right place.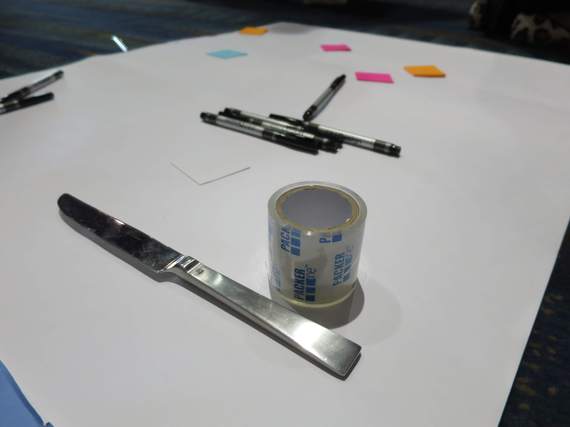 Once several women gathered anticipating instruction, Gibbins asked the surging crowd to network with each other while also taking a moment to review each poster board that individually included questions like, "What was the best part of your Collision experience?" and "How can we support diversity in tech?"
From there they were to use a single sticky note per idea and place it on the corresponding easel page located on the convention center wall.
Women immediately filled the easel pages with their ideas, sharing them with each other and going back to add additional notes.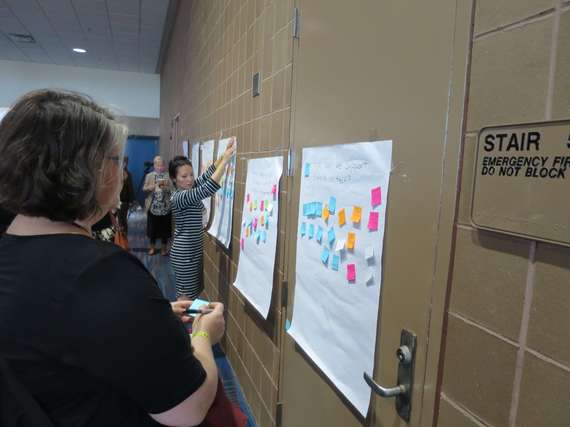 When asked about her intentions behind the unofficial women in tech gathering in relation to Collision's efforts, Gibbins stated, "It's not meant to be combative or anything. It's just meant to be like, 'What can they do better next year,' right?'"
While Collision prides itself in its Night Summit evening events focused on pure networking, several women shared their desire to attend networking events that were not in bars, nor revolving around alcohol. Instead they suggested events that were in quieter, more intimate environments like coffee meetups or dinners at local eateries. They said they desire situations that were more conducive to meaningful connections with their female counterparts and less likely to turn into potential awkward pick-up experiences, of which many could share stories from even the evening before.
One particular attendee had a unique perspective and was quick to praise Collision. Louisamay Hanrahan was attending as a co-founder of LuvGuru, a crowd sourced match making app, but she also happened to have previously worked for Collision in Ireland, where she resides.
Hanana shared, "What you have to realize is that Collision is still a startup in itself, so every year they get better and better.
They started the diversity from within, so when you work for the company it's like 50-50, if not even more women than men; and in Ireland there are a lot of problems with women in tech, so they are one of the first companies that I found that had such equality from within. I know they had a small women in tech event yesterday, but I am sure they will respond to the feedback to have more."
Meanwhile, Ayumi Fukuda Bennett, founder of Startup Southerner, had an even different opinion on the lack of women-focused activities.
"As startups we are all in the same community, while also swimming in the sea alone. I can't say that I came [to Collision Conference] and felt immediately supported as a female, but I think that's just part of being in tech or part of being in the startup life. You've got to take the initiative to make that community your own," Bennett remarked.
With many opinions shared throughout the exhibit hall over the course of the three-day event, what cannot be denied is some effort was made with a promise to continuously build on the effort to narrow the gap between represented genders at Collision Conference and its sister events.
Event organizers say that Collision is surpassing their flagship event's growth after reflecting on their 1,500 person attendance in 2014 compared to their 15,000 attendees this year. So if there was a tech event organization primed to make a difference, perhaps they are the one. In the meantime, it looks like women like Alison Gibbins will simply take things into their own hands to create supportive women in tech communities of their own.
Calling all HuffPost superfans!
Sign up for membership to become a founding member and help shape HuffPost's next chapter