When I first attended the Webby Awards in 2001, I noticed an anthropological paradox: The line to the ladies' room was nonexistent, the men's, long.
Where were all the women? Surely they existed in the then-budding Internet industry (I did!). Why weren't they celebrated at the event CNN then pegged as the "Oscars of the Internet"?
The More Things Change, the More They Stay the Same
That was eight years ago. It's 2009, and I just attended TechCrunch50, the Sundance for Startups -- and a vantage point from which things don't seem to have changed much.
Of the conference's judging panel of 20 experts -- a distinction meant to highlight the industry's most influential entrepreneurs, VC's and media -- only one was female (Google's VP of Search Product and User Experience Marissa Mayer). And out of the 50 start-ups selected to pitch at the conference, a mere two had female founders: Alexa von Tobel of Learnvest and Christina Jenkins of HealthyWage. That's an average of less than five percent female representation.
One might argue that there aren't that many women actually present in the tech industry, and that this can be traced back to the low female-to-male ratio at any college -- or even high school -- computer science program. (I was the only girl in my high school computer science class, for instance.)
There's some truth to that. Valley-based entrepreneur and venture capitalist Yanda Erlich, who previously worked for Mayer at Google, divulges that, during his tenure at principal investment firm Battery Ventures, he only saw about 10 percent female entrepreneurs walk in the door to pitch their startups. That's low. But remember that these were women who were filtered from a pool of hopefuls. And this figure is still double that of the aforementioned five percent.
There are indeed a good number of influential women in this industry -- ranging from Gina Bianchini, CEO of well-funded ($120M), do-it-yourself social networking site Ning, to Sheryl Sandberg, Facebook's chief operating officer who Fortune named one of the 50 most powerful women in 2007, to Caterina Fake, a serial entrepreneur who co-founded photo-sharing site Flickr and just launched collective-intelligence, decision-making site Hunch.
Moreover, the companies women start and/or take leadership roles in represent all angles of the tech industry ecosystem. For instance, there's leading tech blog TechCrunch's CEO, Heather Harde, as well as founding partner of early-stage, uber venture capital firm Y Combinator's Jessica Livingston -- and Leah Culver, a software engineer who co-founded micro-blogging site Pownce, which was acquired by blog platform SixApart.
The aforementioned list doesn't begin to scratch the surface. In fact, it only represents the fraction of women who have already gathered a certain amount of attention. For every Marissa Mayer, there's also a Susan Wojcicki (VP of Product, responsible for Google's monetization and measurement platform products); both women have impressive backgrounds and run products that are core to Google's business. But most people and publications -- as far-reaching as Vogue -- only focus on one.
So why the gap in representation? After all, it's not a dynamic that's gone unnoticed. There are even women-in-tech type organizations, like Girls in Tech and Women 2.0, that have been running for years with the aim to close this gap.
One could blame the industry's flirtation with misogyny that may shun entrepreneurial women in the Valley away from attracting attention. Another culprit might be the infringing expectation the industry seems to borrow from the 1950s (as recounted by AMC's fictional hit show, Mad Men): If you're a woman, you might get noticed for your work as long as you're attractive, not particularly eccentric and generally easy for a company to wear.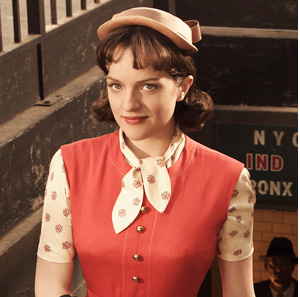 The problem is that to start a company in the Valley -- especially one that's conceptually fresh -- you're likely to ruffle some feathers and be generally riskier than this expectation provides room for.
While these observations are by no means exhaustive (and rather speculative and simplistic), they begin to trace a seeming Silicon Valley vacuum that is inherently difficult for women to enter. It's not that being a successful, widely renowned female entrepreneur in the Valley is impossible, but there's evidence of a greater barrier to entry for women -- a Silicon ceiling that may get in the way between the businesses they'd like to build and the venture capital and marketing vehicles required to get these businesses off the ground.
Whatever the reasons, let's hope this industry grows out of them quickly -- so that it can truly surface game-changing products and services, regardless of the gender of their innovators.
[Disclaimer: I had previously worked at Flickr, one of the companies mentioned in this article.]
[photo credit: AMC, Elisabeth Moss as Peggy Olson in Mad Men]
Related
Popular in the Community