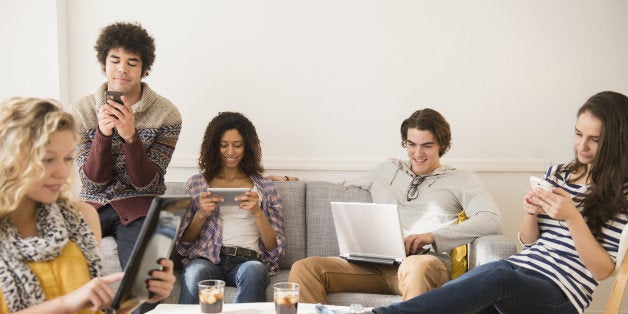 The debate about women in tech and diversity is everywhere. Anyone who is an avid tech and startup reader can't go a day without reading at least one article on the issue. While it is great that these issues are being brought to light, there is a lingering perception that women's strengths as entrepreneurs lie in very specific fields -- fields like fashion, fitness, cooking, etc. Recently, the Financial Times came out with a piece about women winning VC backing that I am sure was well intentioned, but continues to reinforce the stereotype of women predominately starting "girly companies," stating, "(money is starting to go to) women's beauty and fashion, areas where many new female founders have chosen to focus." While it is true that historically women have had success in these areas, I find it frustrating that given the breadth of areas woman are having an impact, if you are a woman entrepreneur, the spotlight has a relatively narrow focus.
With women starting 1200 new businesses on a daily basis the world needs to realize that women are doing a lot more. They are running high tech companies, media companies, and security companies. They are creating apps that will revolutionize the social game. These women are taking the startup tech scene by storm and need to recognized. I have listed a handful of these game changers below:
Natalia Burina -- (San Francisco) Natalia comes from an impressive run in the corporate world where she was a product manager for companies like eBay, Microsoft and Samsung. She already has one successful exit with a company she co-founded called Flockish, an group conversation app, bought by StubHub!,Currently Natalia is the co-founder and CEO at Parable, a fast, beautiful and fun way to share your most meaningful thoughts with everyone. With the Parable app, users can have conversations about parables crafted with distinct personal aesthetics.
Tifini Kamara -- (Detroit) Days after Detroit declared bankruptcy, Tifini was frustrated with how the media reported from outside of the city. She decided to create a platform that gave a voice to real Detroiters called Never Say Die, now operating as an alternative news magazine. NSD is available online 6/year covering topics important to millenials based in metro-Detroit in the form of video, photography and infographics. The premier issue features creative women such as Frannie Shepherd-Bates who teaches Shakespeare to female inmates and 11-year-old Asia Newson, named Detroit's youngest entrepreneur, who pitched Dan Gilbert her candle making business on the street.
Emily Cole -- (New York) Originally from Philadelphia, Emily moved to London to pursue her Masters in psychology. She ended up spending 11 years there teaching and getting her Phd before relocating to NYC in 2013 where she founded Admittedly with her cofounder Jess Brondo, a free platform that helps students to not only find their ideal college based on their personality, but also to provide them with the tools and resources they need to understand and manage the college application process. Admittedly is currently working with Big Brother Big Sister, the Foundation for Teaching Entrepreneurship and the NYC DOE.
Keyun Ruan -- (Ireland) For starters, Keyun coined the term 'Cloud Forensics'. She was co-founder, chairperson and chief research officer of New York based cloud security start-up XENSIX Inc., pioneering solutions for cloud forensics. She has worked as the Technical Lead at the National Institute of Science and Technology and has served as Senior Scientist and Chief Scientist of a leading Irish information management company. She is a registered expert at RANE Network an independent risk expert network founded by former MD of Goldman Sachs, David N. Lawrence. She is currently working on a stealth mode start-up on risk analytics, cross-mapping knowledge domains from medicine, finance and cyber, supported by RANE.
I urge everyone to think about women in tech differently and realize the true potential that is half of the world's population. Do you know other rock star women entrepreneurs who are breaking boundaries? Please include them in the comment section.
REAL LIFE. REAL NEWS. REAL VOICES.
Help us tell more of the stories that matter from voices that too often remain unheard.