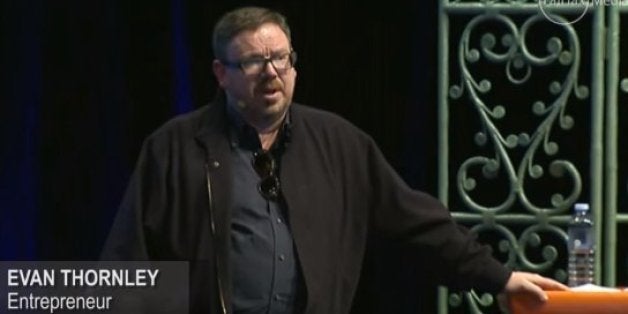 Tech executive Evan Thornley offered a tepid apology one day after comments he made about the gender pay gap were widely panned as sexist.
"What I was trying to say folks was 'gender inequality sucks everywhere but esp. in tech -- I do what I can to combat it.' Sorry it didn't come out that way," Thornley wrote.
Thornley is a former Australian lawmaker who now heads the venture capital firm SBDO. But his comments at the conference came during a discussion of the early days of LookSmart, Australia's first tech firm to list on the Nasdaq stock exchange. Thornley co-founded the company, and he said he often hired women for a certain reason.
"Just call me opportunistic," he said. "I just thought I could get better people with less competition because we were willing to understand the skills and capabilities that many of these women had."
"We would give them more responsibility and a greater share of the rewards than they were likely to get anywhere else," Thornley said. "And that was still often relatively cheaper to what we would have had to pay someone less good of a different gender."
The slide accompanying the comments showed two women in drab 1990's business attire giving each other high-fives. In addition to the text about women being cheaper, it included small print that read: "If you don't like it, helps us right it." Thornley said he wasn't "advocating inequality," but rather just pointing out a nifty business proposition for startup owners. He did not immediately respond to The Huffington Post's request for comment on Wednesday.
The dearth of women in the lucrative technology industry became a forefront issue last year when Sheryl Sandberg, Facebook's chief operating officer, published Lean In, a book encouraging women to seize leadership roles in the workplace. While men dominate much of the U.S. tech sector, a recent study by the American Association of University Women found a high level of pay equality between men and women in engineering and other professions involving math or computer science.
Women have fared somewhat better in Australia, according to the Australian Financial Review. Last March, Karen Stocks, a former Google executive who now heads Twitter Australia, told the magazine that women have found positions of power as that country's tech industry has expanded in recent years.
"Because the tech industry is moving at such a rapid pace and there's no history, it's a brand new area to create," she said. "So there's no history of women not being in leadership positions."
Popular in the Community