For centuries, women have been deeply involved in the art world as creators, patrons, collectors, muses, historians and critics. The business of art has, however, long been male-dominated. In 2015, men helmed all 12 of the world's top museums (based on attendance), while women directed only five of North America's 33 most prominent museums, as was recently noted in The New York Times.
Our latest Rulebreaker, Brandi Reddick, is no stranger to navigating the dynamics of this male-led industry. Her career in public art - first as Curator and Artists Manager of Miami-Dade County Art in Public Places, then Cultural Affairs Manager for the City of Miami Beach - is emboldened by a personal passion for progressive, reactive work that sparks important conversations. I sat down with Brandi to discuss her journey.
Ilaina Edison: How did you become interested in art, and turn that love into a profession?

Brandi Reddick: I'm originally from the small town of Fort Valley, Georgia, and grew up not knowing that art could be a career. In my first year at the College of Charleston I took painting and art history - I loved it, but I was premed. Then my junior year of college, my father fell ill with cancer and passed away. A year of spending so much time in and out of hospitals made me realize I could never be a doctor - I wanted to do something that brings happiness to people. So I switched my major to art history, and eventually went to grad school at the Savannah College of Art and Design. I dug deeper into the possibility of an art career: working at a museum, and then moving to Miami where I worked with Virginia Miller Galleries and taught at the University of Miami. I became familiar with the public art program and got lucky - after about two years here, a curatorial position came up.
IE: What was the gender landscape like in the art world when you began your career?

BR: I was fortunate at the beginning of my career to work with Virginia Miller, who has been working as a curator and dealer since the 1970s. I learned a lot from her - she was of a generation that really had to fight to make it in the art world as a woman. Professional women like her, and professors from college, helped guide me.
In public art, a lot of men are still driving things. I have often walked into a setting in which I'm the only woman in a room of 20 people. And because public art in Miami is so closely tied to real estate, I often work with architects, general contractors, and representatives from construction teams - rooms full of men. Trying to sell them on the idea of art can be very challenging. The art world itself is also still largely male dominated. There are great women like Mary Boone [owner and director of the Mary Boone Gallery, one of the most successful gallerists of her generation], but if you walk through Art Basel you'll find that many gallery owners are men. It remains a man's world.
IE: How do you navigate that?

BR: I was brought up to believe that men are no different from women, so I am blessed in that regard. From the onset, I was encouraged to do anything I wanted, so I never really had the idea that I was different from any man. I was challenged to succeed - in my career, athletically - to always compete on the same level. I saw the challenges of an overwhelmingly man-led world, but knew inside that I was equal. It's a mindset.
IE: Have your experiences driven you to particularly highlight and support women artists?

BR: I think art should be based on the quality of the work and not be gender-specific. It is important to me that the work comes first. That said, I've done a lot of public art projects with women. The convention center incorporates the work of Sarah Morris and Elle Harvey, while Barbara Neijna and Michele Oka Doner are featured prominently at Miami International Airport. I worked with Naomi Fisher on her first public art commission - she learned the ropes with that and is now on to bigger work in New York and Los Angeles.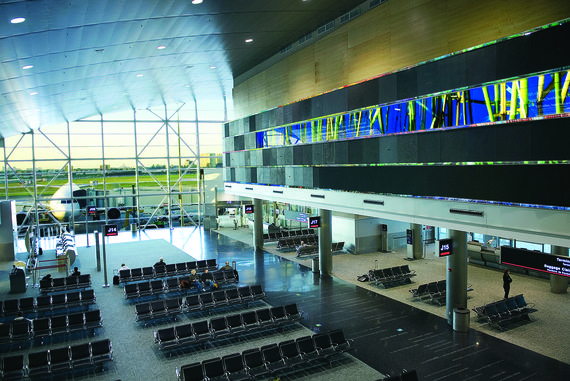 Barbara Neijna, "Foreverglades," 2007; Miami International Airport. (Image courtesy of Miami-Dade County Art in Public Places)
IE: You've also supported artists and pieces that really push the envelope.

BR: Yes. During Art Basel in 2014, for example, I co-curated a piece entitled Auto Body by the performance artist Kembra Pfahler. Working with her is a rush because you never know what she's going to do - she comes to the site a few days before the performance and puts something together. The idea came about amid a feeling that everything at Art Basel felt very commercial and very male.
She came to Miami and called up her girls, a group she called "future feminists". She painted them all different neon colors - completely nude - and had them ride into this exhibition space on Dodge muscle cars, chanting. I don't know how to put this delicately, but let's just say Kembra had a crucifix, while another did a handstand... It was the craziest thing I've ever seen. The intention was to express that what was done for feminism in the past is no longer working today - that new roles have to take place to create a new dialogue. It's about gender equality and finding new ways to achieve that.
IE: Was that risky for you?

BR: The art world is somewhat lenient, but it's a risk to do something like that. The Miami art world isn't as reactive and progressive as some other places.
IE: Why do you think that is?

BR: There is lots of support, but there isn't quick money for artists to act. With this project, we were able to pay the artists within two weeks to do something relevant to the conversation happening at that exact time. With anything government sponsored you're at least a year out, and a public project can go on for five years. It's just a completely different way of commissioning work.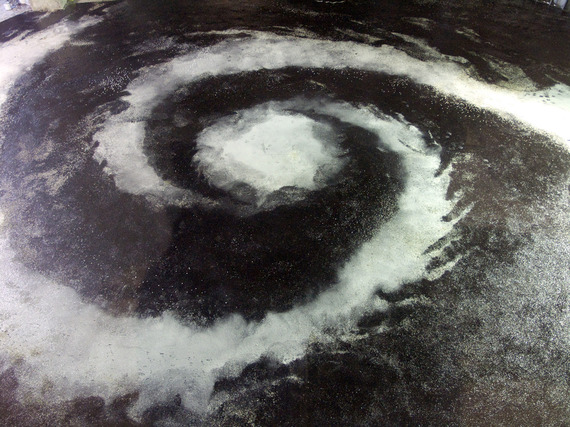 Michele Oka Doner, "From Seashore to Tropical Garden," 2008; Miami International Airport. (Image courtesy of Miami-Dade County Art in Public Places)
IE: What do you think we'll see over the next 10 years - both from the Miami art scene and from you?

BR: I thought I'd leave Miami within three to five years of moving here, but 16 years later here I am! I like that not everything has been done here, that there's room for growth and innovation. And I see our arts communities increasingly bonding together across disciplines, whereas in the past, everything was separated. That collaboration is very interesting.
I'm also interested in working with government, which in Miami is very supportive of the arts. I'd like to find a way to create special zoning for arts districts, so that when an artist comes in and wants to do a project there is already a permit in place that we can quickly activate. Nothing like that currently exists here, and it would create an opportunity for the arts to be even more progressive.
Calling all HuffPost superfans!
Sign up for membership to become a founding member and help shape HuffPost's next chapter