This week, in my series, Women in the Performing Arts, I am spotlighting University of Oklahoma faculty member Lyn Cramer, who generously and remarkably took time out from her wedding weekend in Taos to answer my questions. Lyn is a devoted dance professor, choreographer and author of the book, Creating Musical Theatre: Conversations With Directors And Choreographers. -Twelve in-depth interviews with the most prolific creative artists on Broadway today including Casey Nicholaw, Susan Stroman, Jerry Mitchell and Rob Ashford, among other greats.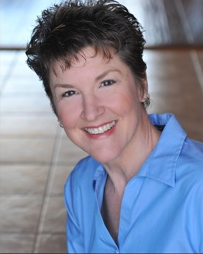 How long have you been on faculty at the University of Oklahoma?
I've been at OU since 2001, I am an Endowed Professor of Musical Theatre Dance.
How is the OU program different?
Our School of Musical Theatre is different than most schools in many ways. Our department has a self-imposed cap of 50 total students. This provides unmatched individualized training, where each student receives special focus, guidance and advisement in every area of their craft. Students study in the School of Theatre, Dance and Music so they receive instruction from top faculty in all three areas, making their training truly interdisciplinary. There is no territorial feeling here at OU. It's a unique place to learn and grow.
What is your department's philosophy about educating young artists?
Growth in your craft is a process. Most young people today have little patience and seem to want all things now! But it is also true that a good student is willing to work very hard and persevere over time. So as a faculty member and part of a team we have to create the right learning environment for courage to try anything, safety to fail, complete student support, and individualized learning approaches. If a student realizes growth every semester, there is no limit to their success.
What does the future hold for your graduates?
We just celebrated our twentieth Broadway musical, meaning we have now had students in 20 Broadway Shows. This doesn't count the endless regional theatres, international theatres, cruise ships, theme parks and touring companies in which our students are working professionals. We just want to keep this record climbing for future graduates.
What is your greatest professional bliss?
Before my book was published, I would have said "watching a student master a dance step," but I must say, that takes second place to something that just occurred last Fall. My choreography class full of seniors sat in the studio and I asked one question about my book and something they were to have read. Eighty minutes later they were still talking about the book at a passion level I cannot explain. My students had a lot to say! So much so, that I had to practically force them out of the room. And I had a tap class next! It was the most rewarding class of my career.
Give me four adjectives to describe an OU musical theatre grad.
-Passionate
-Creative
-Educated
-Professional
REAL LIFE. REAL NEWS. REAL VOICES.
Help us tell more of the stories that matter from voices that too often remain unheard.