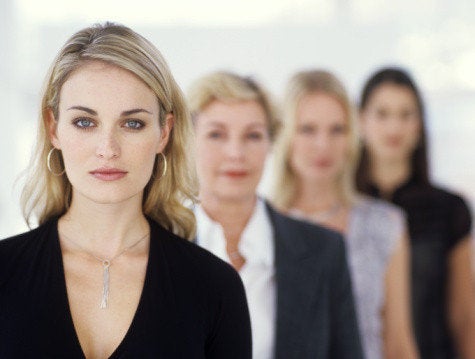 In the 1980s, Arlie Hochschild wrote that "working woman" evokes in our collective consciousness a picture of a woman with a briefcase in one hand, and a baby in another. In my research on women living in New York City 25 years later, I found that many women still share this image. Almost half of those who grew up in working-class families felt discouraged about their own work prospects, because this woman -- likely a lawyer or doctor with good grades--was not like them, nor was she someone they could hope to become. One subject, Angela, a white working-class woman, decided she should prepare to work only occasionally, because she wasn't cut out to be "a major career woman."
This past week many companies celebrated Take Our Daughters and Sons to Work day. Started in 1993, the original goal of the day was to introduce girls to paid work, particularly in fields dominated by men. Since then, Catherine Bolzendahl and Daniel Meyers have found growing public support for women's paid workforce participation and research by Phyllis Moen and colleagues suggests that, regardless of their own workforce participation, mothers now hold different expectations about paid work for their daughters than they did for themselves.
My research finds that, on the verge of adulthood, middle-class women are much more likely to anticipate a lifetime of full-time workforce participation than are working-class women. One participant, Jodi, explained these expectations "weren't vocalized, but I was expected to go to school and do well in school. And it was just a given that I would be going to college and then to work. There was nothing more to it than that." My research suggests that middle-class families may be better positioned to help their daughters take advantage of the cultural shifts that made women's workforce participation more acceptable. When middle-class parents take their daughters to work in law firms or accounting offices or universities, their daughters can reasonably expect that they will be able to find comparable work one day.
Women who grow up in working-class households, on the other hand, are much more likely to wonder whether or not they will work for pay. Because full-time women's work is associated with the middle-class, many working-class women grow up thinking it is out of reach. Working-class women saw their own families' dismissal of women's paid work, their mother's unsatisfactory work experiences, bad school experiences, and early romances as signs that they should forgo full-time work. A guidance counselor told a working-class participant, "What do you want to be a doctor for? Ha! You're going to grow up, get married, and have kids. What do you want to be a doctor for? That's just going to hold you back."
Working-class women are now much less likely to participate in the paid workforce than are middle-class women. In fact, as women's education levels increase, so, too, does their workforce participation, as a 2008 report from the U.S. Bureau of Labor statistics report shows; 85 percent of women with postgraduate degrees work, compared to 80 percent of college graduates, 68 percent of high school graduates, and only 48 percent of women with less than a high school degree.
If we want Take Our Daughters and Sons to Work Day to benefit all of our children, additional focus must be placed on girls growing up in working-class families. These girls are the ones who might most benefit from participation in the day's events. A recent report from the Institute for Women's Policy Research suggests that education in the Science, Technology, Engineering and Math fields could provide greater economic security for low-income women. Introducing them to these fields would be an important step in the right direction. Of course, women face many obstacles to their continued paid work and expectations about workforce participation are only one of many factors that contribute to continued participation in the labor market. Working-class women would also benefit from stronger equal pay laws, like the Paycheck Fairness Act, which the New York Times editorial board has supported. Women's perceptions of the opportunities available to them strongly influence their expectations about future labor force participation. Changing their opportunities through support of this bill and through their introduction to potentially lucrative fields could benefit millions of women and their families.