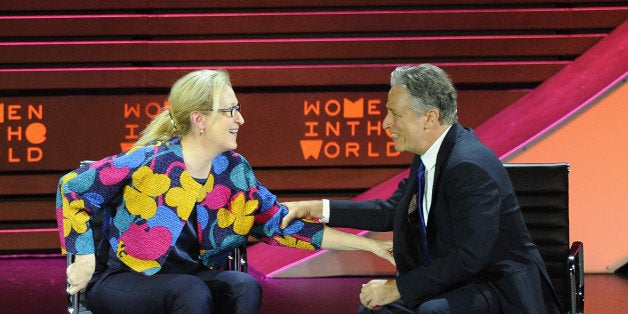 Why is it so hard to get movies made about women? According to Meryl Streep, it might be because many male viewers lack the imagination needed to appreciate them.
Then again, they've never needed it.
Streep elaborated on this idea on April 22 in a conversation with "Selma" director Ava DuVernay and Pakistani documentary filmmaker Sharmeen Obaid-Chinoy, moderated by Jon Stewart. The impressive panel, called "Story Power: Three Great Women In Film," was part of the sixth annual Women In The World Summit, presented by Tina Brown Live Media.
In the clip above, Streep discusses one possible reason women storytellers who seek to tell women's stories have a harder time getting industry support than their male counterparts.
"The women who have been directors have been, largely, they've had a really rough time breaking in in our business," Streep said. "But a lot of it has to do with imagination. This act of empathy, that women go through from the time we're little girls -- we read all of literature, all of history, it's really about boys, most of it. But I can feel more like Peter Pan than Tinker Bell, or like Wendy. I wanted to be Tom Sawyer, not Becky!"
Streep goes on to describe how a cinematic landscape dominated by men and male stories has all but demanded girls learn to empathize with male characters. But boys have rarely been required to do the opposite, because they have always seen male experiences reflected back at them in literature and film. Constructing narratives that nudge male viewers towards the mental leap of identifying with female protagonist, Streep said, is "the hardest thing" to do as a female actor.
"Women are so used to that active empathizing with the active protagonist of a male-driven plot. That's what we've done all our lives. You read history, you read great literature, Shakespare, it's all fellas. But they've never had to do the other thing," Streep said. "And the hardest thing for me, as an actor, is to have a story that men in the audience feel like they know what I feel like. That's a really hard thing. It's very hard thing for them to put themselves in the shoes of female protagonist."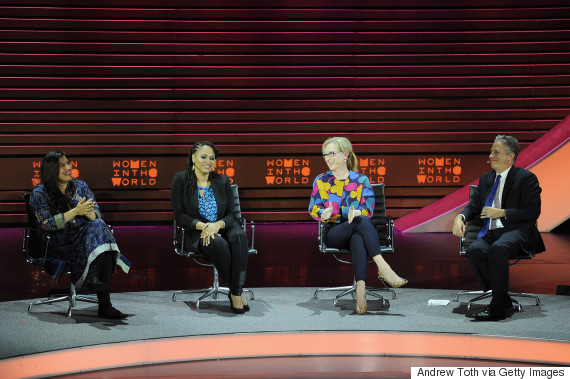 Stewart asked Streep, DuVernay and Obaid-Chinoy if they felt a responsibility to be activists through their art in a male-dominated industry. "When a woman makes a film, that is a radical act," DuVernay said. Though more true than it ought to be in 2015, it's a powerful statement nonetheless.
REAL LIFE. REAL NEWS. REAL VOICES.
Help us tell more of the stories that matter from voices that too often remain unheard.
BEFORE YOU GO
PHOTO GALLERY
39 Stunning Images Celebrating Women's Work Around The World