Hundreds of protesters descended on an ancient Hindu hill temple in India on Wednesday, seeking to thwart women who, until recently, had been banned from entering the popular pilgrimage site. 
The mob also verbally and physically assaulted several female Indian journalists who were covering the protest ― some of whom say police didn't do enough to protect them. 
"I refuse to believe that this could not have been avoided," Republic TV bureau chief Pooja Prasanna said about having her car battered by a group of angry men while she was inside. "[The protesters] broke down the law and order to such an extent."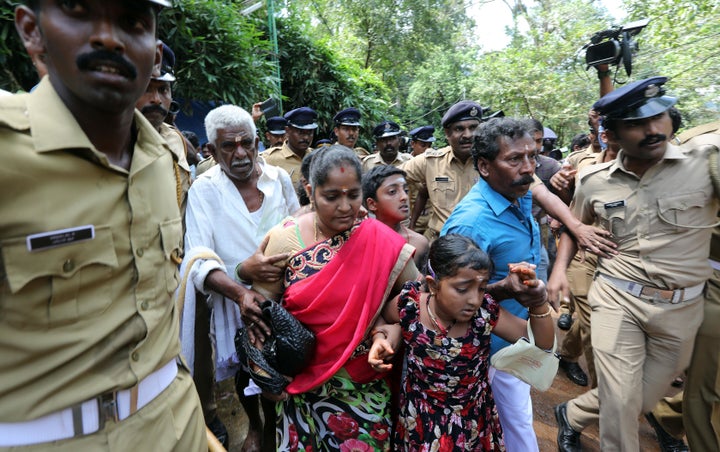 But many conservative Hindu devotees resented what they considered a secular intrusion into ancient religious practices. Temple authorities are petitioning for a review of the Supreme Court's ruling, The Associated Press reports. In the meantime, they asked women to refrain from entering the temple when it opened its gates this week for the first time since the ruling.
Kerala's state government has pledged to uphold the Supreme Court's decision. About 1,000 police officers were dispatched to the area on Wednesday to control protesters and arrested 11 people, according to the AP.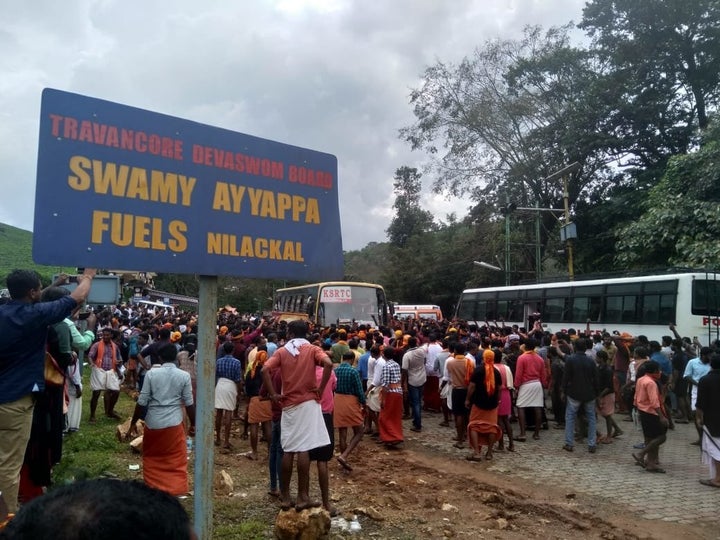 But some reporters said Kerala's police failed to ensure the safety of journalists and female devotees seeking to enter the temple.
CNN-News18′s Radhika Ramaswamy posted disturbing footage on Twitter of male devotees at Sabarimala trying to intimidate her. The conversation began civilly, but as soon as she mentioned the Supreme Court verdict, the crowd started banging on her car and demanding that she leave. 
"I'm a reporter!" Ramaswamy can be heard yelling in Malayalam as devotees break her car's windshield. "Stop!"
The News Minute, an Indian digital newspaper, said reporter Saritha Balan was physically attacked while embedded with a group of devotees traveling to Sabarimala on a bus. A mob of around 20 men reportedly forced Balan to exit the bus before kicking her, taking her photograph and calling her "derogatory names," the news site said.
"The News Minute condemns this cowardly intimidation tactic by anti-women mobs claiming to be devotees, and stopping journalists from doing their job," the paper wrote. "Why was the police not prepared to give protection to all women in the region?"
Sneha Koshy, Kerala bureau chief for NDTV, said protesters heckled her while she covered the protest. Koshy said that NDTV and other media organizations have gotten pushback for sending female reporters into the tense situation.
Koshy said she was "appalled" by that line of reasoning.
"In a situation as this, I and other women journalists get immense pride to report what is happening on the ground accurately. It is our job. There is no question of gender here," she said in a post for NDTV.
"We don't mind not being allowed in. We don't mind waiting until we turn 50," Kalyani Jacob, a devotee of Lord Ayappa who lives in New Delhi, told The Guardian. "The ban is not anti-women. This is just a very old custom the supreme court should not have interfered with."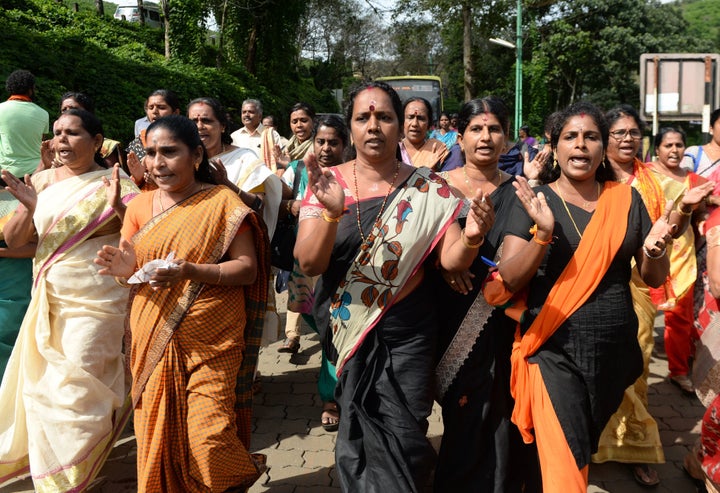 A few female devotees of Lord Ayyappa have threatened to commit suicide if women of menstruating age are allowed to enter the temple, Reuters reports.
TV footage showed conservative female devotees blocking roads to the temple and singing in support of the ban.
Other Hindu temples in India have bans that prohibit women from entering when they are on their periods. Sabarimala's blanket ban on all women of menstruating age angered some Indian feminists.
"Who are men to decide where women can go or not?" she asked.
Calling all HuffPost superfans!
Sign up for membership to become a founding member and help shape HuffPost's next chapter
BEFORE YOU GO
PHOTO GALLERY
Must Read Books On Hinduism