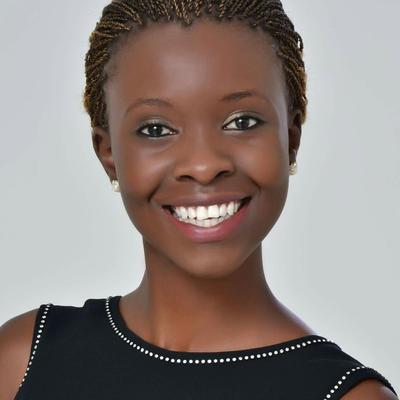 One of the best parts, for me, of being involved with the YALI program is that I get to stay connected with the young African entrepreneurs I teach. I have to admit, that many of the women in my class impress the hell out of me with their creativity, collaboration and intent to make positive change in the world. With that in mind, I'd like to introduce you to a few of them over the next several months.
Second in this series is Faith Chege from Kenya. I met Faith when she spoke to my Design Driven Entrepreneurship classes in Nairobi this winter. She was Mandela Fellow in 2014 and I was truly inspired by her energy and drive and her stories of using human centered design. She's also currently representing Kenya in this year's Global Entrepreneurship Summit in Silicon Valley.
What do you do now?
I'm currently the Chief Financial Officer of Barefoot Power, a renewable energy multinational, where I oversee financial operations in the African region. I am also the founder of Dalah Ventures, a pre-investment support company, building an ecosystem of bankable projects in Africa.
How would you describe your current business?
Barefoot Power offers renewable energy solutions through manufacturing and distribution of home solar products. We have pivoted a lot over the last years based on feedback from our customers and market data. This has equipped us to design products that address our customers growing energy needs in the most effective way.
For a long time, we were leaders in the solar lanterns market where we focused on eradicating the kerosene lamp. However, we realised that our customer's energy needs were growing and it was our responsibility to get them up the energy ladder. Therefore, in recent years, we have become followers in the solar lanterns market and leaders in the home solar systems market. Our products range from mobile phone chargers, radios, 22" TVs, fans, fridges, laptop chargers, security lights, farm kits and LED tube lights, elevating livelihoods through clean energy.
With competitors like Elon Musk creating batteries that power gigafactories and electric vehicles, ignoring innovation is not an option. Leapfrogging fossil fuels to clean energy is an exciting opportunity in Africa, one that we intend to make a reality. In addition, initiatives such as COP21- Africa Renewable Energy Initiative that aims to add an additional 300 GW of renewable energy capacity to the African energy sector by 2030 make the future much brighter.
What is the main benefit for the customer with your work?
Our customer lives in the rural areas and has no access to power from the grid. As a result, he/she uses kerosene for lighting and lacks power to charge mobile phones, radios, TVs, fridges and other electronic appliances. Our solar products are therefore a solution to this gap by providing clean lighting as well as solar powered electronic appliances.
Describe how you use or have used design thinking or human centred design in your work.
As a solar energy provider for the bottom of the pyramid (BOP), our largest barrier is end user financing as most of our customers in rural Africa live on less that a $1 a day.
That said, we discovered after carefully studying our customer, that financing becomes a barrier mainly when your value proposition is weak. The BOP have working financing mechanisms to finance purchases of water tanks, mobile phones, cattle and other products they feel add value to their livelihoods.
During our sales sessions, we presented to the customers the 1st product, a 1 lamp solar lantern that replaces the tin lamp. They were not excited, if anything they bargained to have it for $3 instead of $10 claiming they could not afford anything pricier.
Then we presented to the same group of customers the 2nd product, a 2 lamped solar system that can charge up to 6 mobile phones. Their concern was how many phones it could charge before draining the battery, not how much it cost. They still bargained for a cheaper price.
Then we presented to the same group the 3rd product, a 4 LED lights solar system with a motion sensor light. This can not only charge phones but a tablet and a radio. At this point, the customers had moved closer to get a feel of the radio and try out channels. They talked about lighting their bedroom, kitchen, living area and their neighbours seeing the security light go on and off through the night. They were no longer buying lighting but lifestyle.
Finally, we presented to them the 4th product, a 22' solar TV, digital, flat screen with an inbuilt DVD player. The customers wanted to know how much it cost and how soon we could deliver. Were there warranty terms in place if they faced technical issues? Then they started making phone calls to secure micro loans to procure the $400 bundle of a TV, 4 LED system and motion sensor light. Financing was no longer a barrier as long as the value proposition was strong and matched their needs,
Economics dictates that a person living on less than a $1 a day using kerosene for lighting, whose fumes equate to smoking a packet of cigarettes a day according to the World Bank, should find more value in lighting than entertainment. But that's not the value proposition that gets the customers attention.
Our customers desire to climb the energy ladder, they desire products that improve their livelihoods all round. It took listening to our customers to fully understand their needs and design our solutions to adequately meet this needs.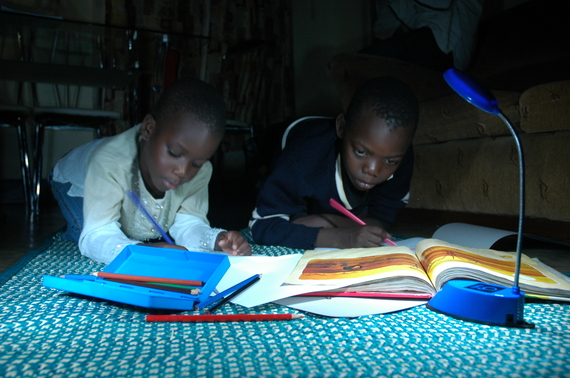 How has that impacted your customers?
Design thinking has delivered satisfaction to our customers. Satisfaction as per their definition that varies greatly from what is perceived through desktop research.
Involving them in the design process has meant that they are highly receptive to our solar products. It has also informed our designing of financing mechanisms to piggy back on what already works in their societies. This has resulted to faster delivery of projects and more impact on households.
How has that approach impacted your business team?
After reaping the fruits of design thinking, you can't afford to go back. The ease of doing business and implementing projects has made our team choose to focus more on the customer. It sounds like an amazing idea, but what do our customers think? Such questions have become a norm in our strategy meetings. The testimonials of greater impact have fueled our motivation to make a difference and, with a winning model, light up more homes.
What is the biggest challenge you see for African business to become more design oriented and customer obsessed?
African business requires a paradigm shift. Some of us have been lucky enough to get exposed to design thinking and human centeredness and now reap the fruits of it. But most African business entities lack the exposure to the principles and potential they carry to transform business especially in the social enterprise space.
Most of the schooling on social entrepreneurship has been based on non-profit sector ideologies. Some which result to people deliberating on issues concerning people living in rural areas from afar, usually doing the strategy in posh air conditioned hotel conference rooms and then forcing these solutions down rural customers' throats.
It's vital to therefore widely educate the private, non-profit, development and government sectors on design thinking and human centeredness business approach as a best practice. The more people hear of the benefits both for the customers and businesses, the more they will adapt these principles.
What design advice would you give to other aspiring African entrepreneurs?
As you design a solution, you must have your customers validate the solution you are offering. There is nothing as frustrating as developing a product then taking it to the people you perceive need it and finding out that they attach no value to it. It's a waste of time and resources.
There are higher chances of success when prototypes are developed based on feedback from customers. This feedback is vital in the development of a strong value proposition and a sustainable business model.
Design thinking however, is a continuous process. As your customer's needs change, you as the entrepreneur must be alert enough to note that need for something new and fast enough to create the solution to address it. That's what tells Apple from Nokia.
Calling all HuffPost superfans!
Sign up for membership to become a founding member and help shape HuffPost's next chapter