Fresh off declaring victory in the battle to retake Mosul from the self-proclaimed Islamic State, Iraqi forces captured 20 foreign women in the city who were believed to have joined the extremist group, according to press reports this week.
One such individual is a missing 16-year-old from Saxony, Germany. German authorities on Saturday confirmed that she is a girl named Linda W. who is believed to have run away to Turkey in July 2016, en route to Syria and then Iraq, to join up with ISIS.
Citing privacy concerns for minors, German officials continue to withhold her surname, although many other publications have reported it and alleged images of her with the Iraqi army are being shared widely across the internet. The Guardian published one such photo, citing it to "an unofficial Iraqi special forces Facebook page."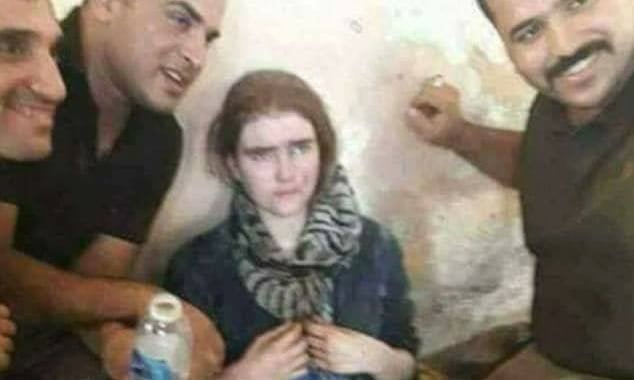 Canada's federal government is also investigating unconfirmed reports that two of the women captured in Mosul are Canadians who fought for ISIS. Global Affairs Canada, the department that manages Ottawa's diplomatic and consular relations, said in a statement provided to The Globe and Mail that it is still in the process of contacting local officials in Mosul to gather more information.
The capture of the two Canadians and the German teen are part of the 20 foreign women captured in western Mosul on July 13, according to Kurdish media. All were apprehended on suspicion of joining ISIS.
That report cited Iraqi counterterrorism official Haider al-Araji, who said the captured women, in addition to the two from Canada and five from Germany, came from Russia, Turkey, Chechnya, Libya and Syria.
It was unclear what information the German government had ascertained about those other four alleged nationals. But a source in Germany's foreign ministry told Reuters on Tuesday that the government was investigating the matter.
Since ISIS' rise in Syria and Iraq, terrorism experts have noted how effective the group has been at attracting female adherents. A "PBS NewsHour" report in late 2015 described the group's "growing and loyal following" of young women.
A 2016 report from the New America Foundation, a Washington-based think tank, called the number of female ISIS recruits from Western countries "unprecedented." It claimed that women accounted for 1 in 7 Western militants in Syria and Iraq.
There are currently around 20 Canadian women who are known to have traveled overseas to join the Islamic State, CBC's Evan Dyer said during a "World Report" broadcast Wednesday morning. Women constitute approximately 20 percent of total extremist travelers from Canada, according to a 2015 Public Safety Canada report.
"Women were rarely if at all represented among militants in previous jihadist conflicts," the New America Foundation report said. Now, "they are playing supporting roles, often marrying frontline fighters and sometimes working as a kind of police force that enforces ISIS's draconian laws."
This story has been updated with the news that German authorities confirmed Linda W. is one of the women captured.
Calling all HuffPost superfans!
Sign up for membership to become a founding member and help shape HuffPost's next chapter