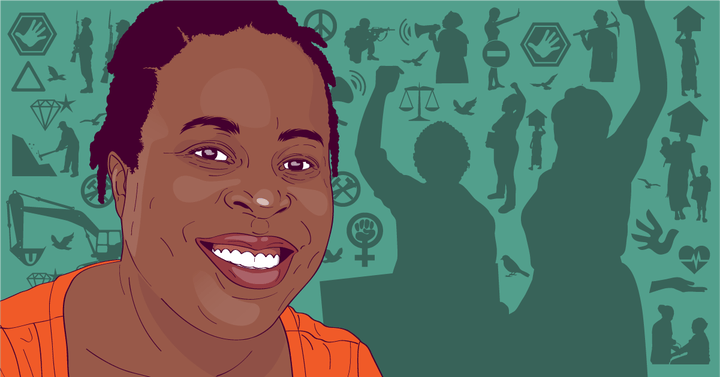 This Saturday, April 22, the world will mark Earth Day. Women and men in Washington, D.C., throughout the U.S., and around the world will take to the streets to "March for Science," in recognition of climate science and the critical importance of governments upholding commitments to global environmental protection efforts and climate change accords. It's an important moment to rally as leaders' denial of climate change and science in the U.S. carries devastating implications for all of us.
For women around the world, every day is Earth Day. They are fearlessly working to defend their lands. They are climate justice warriors, on the frontlines fighting for clean water, equal land rights for women, and protecting indigenous lands.
In my years working with women and girls and learning from their experiences in their own communities, I know that for many women, land is intensely personal. Land is full of possibility, and it holds years of rich history.
Land rights are a very personal thing: they're often passed down by generations, most often from fathers to their sons. At Global Fund for Women, we know that land rights are also inextricably tied to other issues, like economic empowerment and independence. With ownership over a piece of land, new economic opportunities open for individuals and for families.
For women in Latin America, in places like Guatemala and Honduras, land is the only thing that their communities have. It holds ancestral knowledge and deep culture. It also holds rich resources, making it ripe for land grabs and dangerous environmental plots that could ruin the land.
""Sometimes I think it's dignity that I'm fighting for. Women are supposed to be treated with dignity, with respect. For the women I interact with, land is their dignity.""
Land rights and women's rights go hand in hand, and for many women, land means a real livelihood.
Around the world, individual women and women's groups are taking the lead in extraordinary efforts that are transforming societies. They're leading and shaping powerful grassroots movements for land, climate change, and women's rights.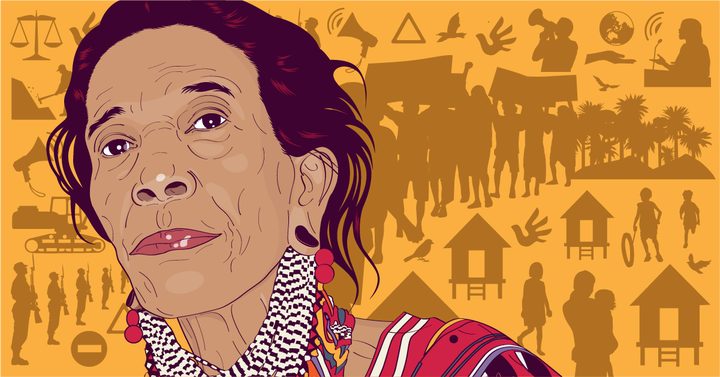 Women like Bai Bibyaon in the Philippines, a leader known for organizing communities to resist destruction and occupation of their ancestral land. The government forced Bai's people off their lands in favor of mining companies, but Bai led the resistance to protect the forest. Where the companies see profit, the Manobo people see the loss of the mountains that are their age-old source of food and livelihood. They see their very survival threatened.
Bai—the only woman chieftain of the Manobo tribe—continues to lead her people in protests to protect their land. She says about her work: "…this is not only my struggle, but the struggle for my people and our struggle is in defense of humanity."
Women are leading the struggle in Guatemala as well. Ana Sandoval was still in high school when she began asking the questions that led her to co-found the organization "La Puya", a women-led movement that uses non-violent direct actions to defend land against environmental destruction.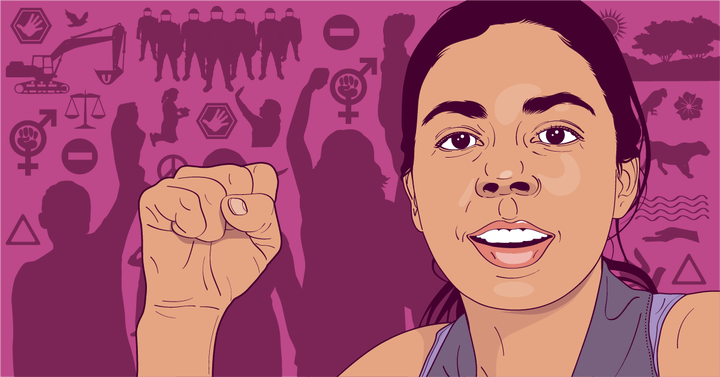 Ana began to investigate the mining projects around La Choleña, her hometown in Guatemala. Fearing the environmental disaster and economic plunder they had seen in neighboring mining communities, the women decided to organize and demand that the mining megaproject leave their community.
For four years, women, men, and children have organized protests around the clock to prevent gold mining operations on their lands. Crowds of local activists like Ana put their lives on the line by lying down in the road to block the entry of mining machinery.
In Zimbabwe, the story is similar. Melania Chiponda remembers a time when people came to her village Marange to buy cattle or to pick fruit from the majestic baobab trees. Today, the mines have displaced the people and destroyed the trees. Families have been forcibly relocated by the government and were cut off from the land that sustained their lives and livelihoods. Women and children have been left homeless.
Melania sums up her work in these words: "Sometimes I think it's dignity that I'm fighting for. Women are supposed to be treated with dignity, with respect. For the women I interact with, land is their dignity."
For me, too, land is very personal.
Twenty years ago, my father-in-law, who was then 80 years old, divided his land to his children and he included a piece of land to his daughter and to me. This was neither culturally nor legally permitted in Kenya but 'Pa', as I called him, had come to believe that it was an injustice not to affirm the role women play in families and caregiving. Pa's action had many implications in our village but the bottom line is that, it changed the whole of our extended family norms about land inheritance. Today, the laws about inheritance in Kenya include women. Our family was way ahead of the law and the times, and that is a good thing.
For too many women around the world, this is still not the case. I'm so inspired by the incredible women and men around the world who boldly defend their right to land, work to advance women's access to land rights in their communities and change deep cultural norms, and advocate for changes in laws and policies that dictate how land rights are devised and passed down, and to whom.
We need to work together to continue to fight for women's rights to land, water, and livelihoods. We need to amplify the incredible work of women like Bai, Melania, and Ana who are relentless stewards of environmental protection.
Melania's words ring so very true—for women around the world, "land is their dignity".
Not just on Earth Day, but every day, let's commit to using our voices and resources to help advance the critical work of women defenders of our earth and, together, build a better world for everyone—no exceptions.
Related
Popular in the Community