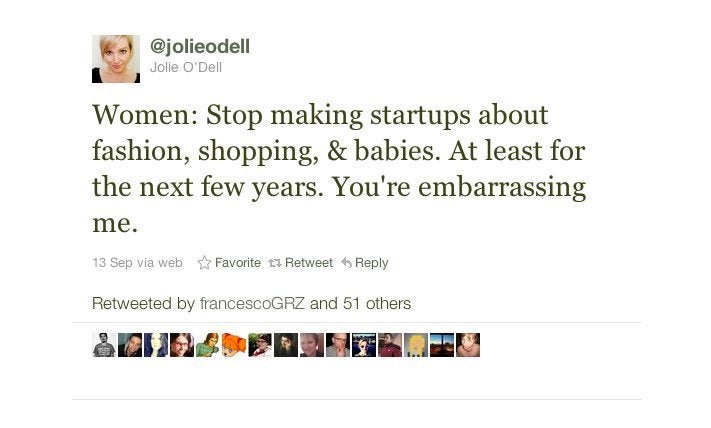 "Women: Stop making startups about fashion, shopping, & babies. At least for the next few years. You're embarrassing me."
The phrasing of this tweet, sent by tech writer Jolie O'Dell earlier this week from the technology conference DEMO 2011, was less than diplomatic, but it raised a question worth considering (and one that provoked responses all over the web): Are start-ups that cater to the female consumer damaging the credibility of women entrepreneurs?
Over at Forbes Woman, J. Maureen Henderson took the conversation from the Twitosphere to the blogosphere, asking female entrepreneurs whether they should indeed avoid more traditionally "feminine" products and services in order to increase their credibility in the entrepreneurial world.
Speaking to Forbes Woman, Erica Douglass, the co-founder/CEO of Whoosh Traffic, made the excellent point that it's not just women starting companies around "fashion, shopping, and babies:"
That female demographic Douglass is discussing is a hugely influential one: Women make 80% of purchasing decisions, making "fashion, shopping, and babies" big business. Since that's the case, creating a business around products women want and need arguably has more potential for success than one that doesn't. How is that embarrassing?
Caperton of Feministe writes:
"Seeing more female-lead startups [sic] in male-dominated fields would be awesome. It's on the list of other things to work toward: Getting more girls and women interested in tech fields. Gaining widespread recognition for women already in tech fields. Supporting women in all areas of the workplace, top to bottom... giving interested women the opportunities for entrepreneurship that have traditionally been the territory of men... but when we're trying to encourage entrepreneurship among women, it's disingenuous to then say, 'Wait! Stop! We didn't mean that kind of entrepreneurship. That kind is embarrassing and not okay.'"
I agree with Caperton: We need to encourage female entrepreneurs across the board. Statistics show that women business owners in general may finally be catching up to their male colleagues -- the Center for Women's Business research reported that business ownership among women is growing at nearly twice the rate (17%) of all businesses (9%) -- but we haven't reached parity yet.
Until then, and even then, why not support women-owned ventures across the board?
Popular in the Community