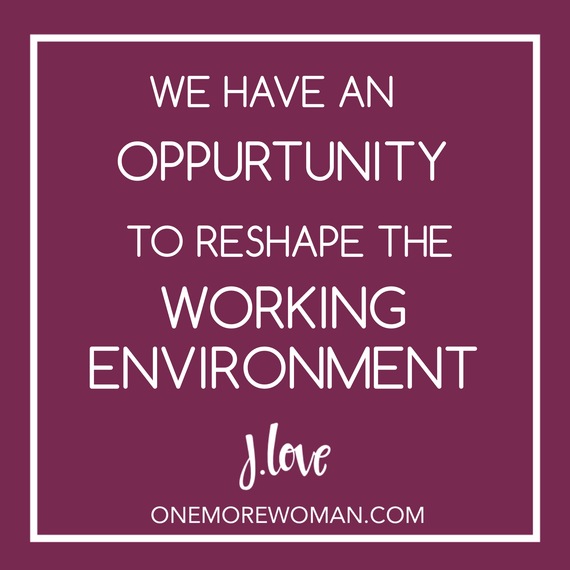 To ensure the success of women and girls is to ensure that they attain literacy and self-confidence in financial matters big and small. And it's happening! The International Day Of The Girl was celebrated in early October; Canadians are celebrating Financial Literacy this November.
Each of these events is an opportunity for women and girls to learn how to confidently thrive in today's world. The increased support and confidence around financial literacy means women are better equipped to take on new challenges, and that includes becoming successful and financially independent women business owners.
This is definitely reason for applause, but there's still much work to be done. In a political environment of unrest, many business women are questioning if the accepted norm will be continued misogynistic 'locker talk' that directly affects their balance sheets. They'd hoped that this would be an issue of the past. The Wider Opportunities for Women Study reported that over 41% of the female population struggles financially. They are either poor, at the brink of being poor, or living from pay check to pay check.
Yet despite the difficulties, progress is being made.
During the past couple of decades, more and more women have attained financial independence by embracing roles as entrepreneurs, moving out of traditional workplaces they find stultifying to create their own dynamic workplaces.
The trends are impressive:
● In the U.S. alone, women are now entering entrepreneurship at a rate of 2:1 in comparison to their male counterparts.
● Since 1997, the number of women-owned small businesses increased by 68% (outpacing the overall growth of 47% for all new businesses). This means that 29% of small business owners are women, up from 26% in 1997.
● Women-owned small businesses employed nearly 8 million workers, providing one in seven jobs in the private business sector.
● These businesses generated almost $1.5 trillion dollars in combined revenue.
These growth rates and successes look to continue, so as young girls become women, they will also become our future leaders.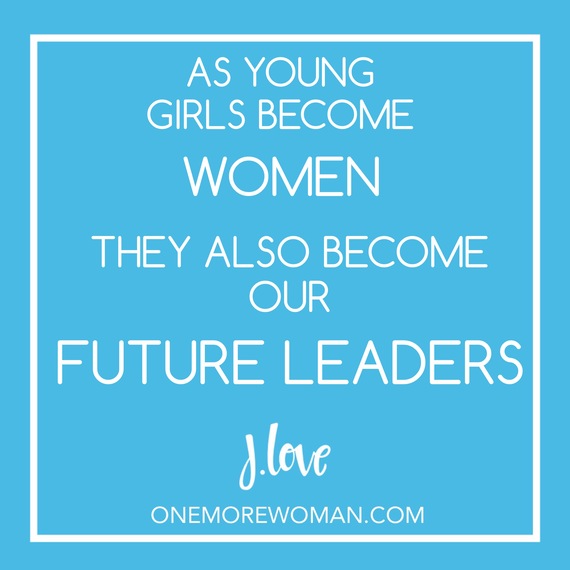 After the society-changing migration of women into the workforce beginning after World War II (and all the benefits this movement reaped for women and society in general), it's yet a new era as women are leaving traditional workplaces and often moving back into their homes. But this time, women are moving up in the world of business, becoming entrepreneurs.
This trend has increased even more so during the past few years. A number of factors are at play, including the interconnectedness of our digital age and the emergence of the "New Economy" after the 2008 Great Recession. The time is ripe for a transformation. With more women starting small businesses and finding success, there is an opportunity to reshape the working environment. As the growth rates of women entrepreneurs continue to rise, they will play an even more powerful role as the change makers in our society. Entrepreneurs and small businesses fuel economic growth and job creation. They are also the innovators whose efficiencies far outpace government and politics.
And what does the new landscape look like? Women are forging businesses that align with their personal values and are using their superpowers to build the world they want to live in.
In 2011, Andrea Shillington left her global corporate life as a brand strategist working for Fortune 500s to launch Brands For the Heart. Through her company she supports impact-driven entrepreneurs to create a new wave of conscious Fortune 500s. She was driven to do this because of her heartbreak at watching incredible entrepreneurs with world changing ideas not be able to reach their full potential due to budget constraints. Andrea saw an opportunity to co-create with designers and entrepreneurs to develop a new business model that integrates the old 'brick and mortar agency' model with the 'crowdsourcing and info product' model. She now helps these entrepreneurs step into their power and position their businesses to become unbeatable in their marketplace at rates they can afford.
Theresa Laurico began her career in radio, TV, and music production. Yet, on set one day, she had an existential crisis. In that moment, Theresa asked herself, "Is what I'm doing WORTH my heartbeat, my only life?" When the answer that came back was "no," she committed to making media that moved humanity forward. Within four months of winning a local radio stations entrepreneurial contest, she launched SociaLIGHT (LIGHT - Leaders Impacting Global Humanity Today). Sir Richard Branson opened her first conference with a keynote speech attended by 1000 entrepreneurs, startups, and leaders in the audience.
Today, SociaLIGHT is the largest event company in Canada, with a focus on impact and contribution to the world. They are forging private-public partnerships to ignite civic action, and SocialLIGHT has recently partnered with Intuit/QuickBooks to launch Project 10K with a goal to provide financial literacy for 10,000 startups/entrepreneurs in 2017.
Each of these is a great example of a woman stepping up to lead business as a force for global change - on her terms!

"Feminism isn't about making women strong. Women are already strong. It's about changing the way the world perceives that strength." -- G.D. Anderson
We can look at the trends and certainly be optimistic. Yet there are obstacles that still stand in the way of female entrepreneurs that must be overcome:
● Women continue to have limited access to the funds they need to grow their businesses:
- Of all venture capital funds, a mere 7% goes to a company owned by a woman or with a woman on the executive team.
- Only 16% of total dollars from conventional small business loans and just 17% of SBA loans are going to a company run by a woman. In monetary terms, only $1 of every $23 in conventional small business loans goes to women-owned businesses. So not only are women struggling to get funded, but when approved for lending, the loan amount is significantly less than what their male counterparts receive.
● While it remains something of a "taboo" topic, women regularly deal with sexual harassment as they actively pursue funding to grow their business.
● Women are generally lacking the mentorship and encouragement they need to scale their business growth. For women entrepreneurs in particular, encouragement has been scientifically proven to positively impact their success. (More successful women entrepreneurs will lead to more mentors.)
● Women are more likely to face steep challenges involving handling their households and family life as they pursue their entrepreneurial goals.
Here's how two women entrepreneurs are overcoming these obstacles:
Lisa Berkovitz is helping put a dent in the lack of mentors for women entrepreneurs. She started her career as an M.B.A., launching large-scale projects for Fortune 100 and Fortune 500 multinational companies as well as the World Economic Forum. She managed a $90M product portfolio and served many of the world's most influential business leaders, including Richard Branson, Oprah Winfrey, and Bill Gates.
She discovered that her passion was tapping into human potential, and she would stay late at the office researching this topic. But eventually she felt something missing and had a major revelation: Selling 'stuff' and climbing the corporate ladder left her feeling cold and flat. Many women can relate.
Lisa left her corporate career and undertook a deep inner journey, learning about herself and her passion and unlearning the "shoulds" that others projected onto her. Today Lisa views business as a vehicle for self-mastery and planetary change. If that weren't enough, Lisa is a master-level NLP practitioner and Reiki Master who puts 'soul' squarely at the helm of business by acting as a mentor to many entrepreneurs and leaders.
Michelle Goldblum left her big corporate pharma job when she came to the conscious decision that she wanted ONE life instead of TWO. She was done with living two separate lives, one life of wellbeing and fun (home) and a second life of toxic misery (work). What shifted Michelle's outlook on what was possible was her discovery of a community of women living their best life.
As she stepped out of her corporate job she stepped up by leveraging her marketing skills to help others create more meaning in their own lives and work. Ultimately Michelle co-founded I Am Creative and Soul Camp where she now lives ONE integrated life that is rewarding, connected, and serves others. Michelle has successfully overcome the difficulties of running a household while working as a successful business woman.
The women above are great examples of feminine leaders who successfully redefined how "business" would work in their lives. Each of these women stepped up, led by example, and overcame obstacles--each on her own terms!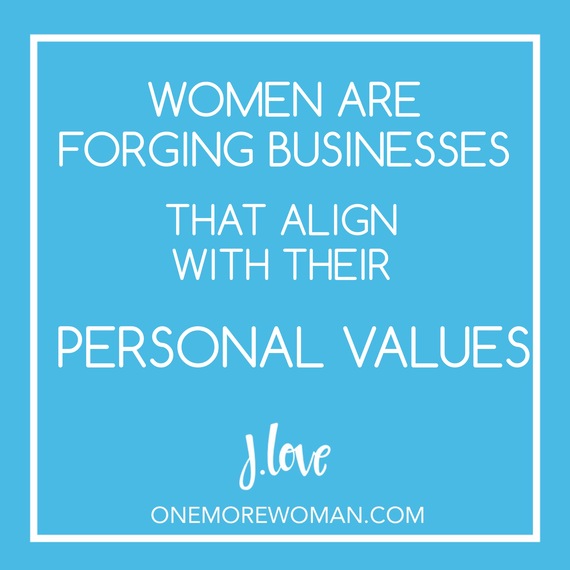 More and more, women are gaining the financial literacy they need to not only survive in the world but to thrive as successful entrepreneurs. The power woman leader's hold as global change agents lies largely in their ability to break through limiting belief systems and to successfully make and manage money that they leverage for planetary change. But we're not fully there yet.
To reach the goal of equality for women in business, women must come together and deeply support each other, thereby opening a pathway for future female leaders to follow. This point is critical and not to be taken lightly. The days of the 'crab in the bucket' mentality must end. When we all have each others backs, we ALL WIN. So, let's stand together One More Woman at a time.
Help us in supporting women to step up and fully own and earn their worth by sharing this article and watching this manifesto video. Join us in becoming a catalyst for young girls and women's financial success both today and tomorrow.
Jennifer Love, Visionary CEO
It's Time To Own & Earn Your Worth!