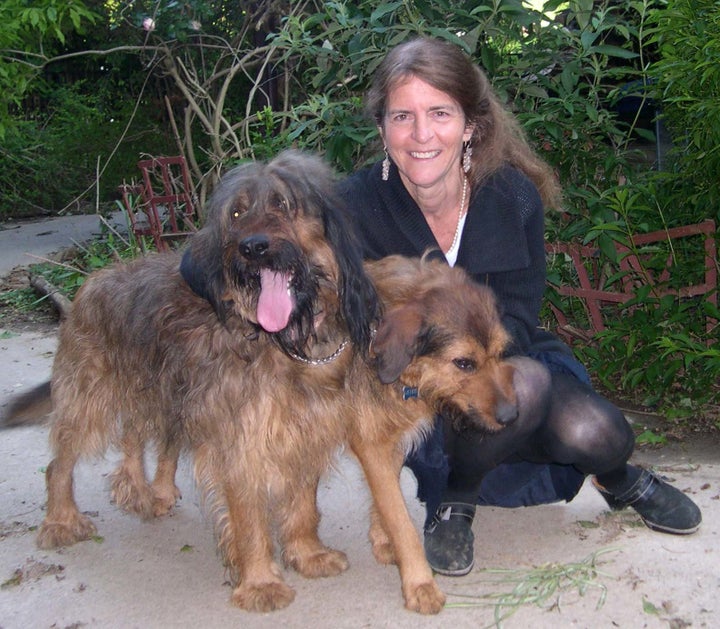 A gift from her father when she was 8 years old sent Jean Bennett onto a career path in science and medicine, one that will benefit generations to come.
Bennett's late father, William R. Bennett, was a physicist, inventor and co-developer of the gas laser while working at Bell Laboratories in the 1960s. The laser he developed – and received a patent on ― is used in surgeries and every retail checkout for the past few decades. And the gift he gave his daughter was a microscope.
"He was a total inspiration in terms of my interest in science and love of biology because I also worked in various labs in elementary school," says Bennett, professor of ophthalmology of the Center for Advanced Retinal and Ocular Therapeutics at the University of Pennsylvania Perelman School of Medicine, and a featured researcher in the documentary, "The Gene Doctors," airing through Nov. 7 on PBS.org. It will then stream on Amazon Prime beginning Nov. 8.
Her father was a professor at Yale University, and growing up in New Haven, Connecticut presented many opportunities for her to have part time jobs in research labs. "I knew I wanted to go into basic research," she says.
After graduating from Yale undergraduate in 1976, and earning a masters in biology in graduate school at the University of California at Berkeley in 1980, Bennett then went on to University of California-San Francisco because she did not like the competitiveness of pre-med programs, and wanted to concentrate on research.
Years before the genome project was even launched, she was working in the UCSF lab on studying the genes of mammals. She asked her mentor how this work could transfer to humans. He told her to study the roots of diseases by going to medical school. So she did.
Bennett enrolled at Harvard Medical School and began work on gene therapy. With funding from a $50,000 grant, her career was launched and she arrived at the University of Pennsylvania in 1992, as one of only two female professors on the medical school faculty.
"To them summer vacation was leaving at 5 p.m.," Bennett says. "Things have changed a lot in 25 years" for women in science and medicine, Bennet says, "But it's not ideal. It's not 50/50." Of the 669 full professors at Penn Med today, 24 percent, or 163 are women.
As one of the doctors featured in the documentary from HHMI Tangled Bank Studios on genetic illnesses, Bennett says he hopes to bring more awareness to the "orphan diseases" that each affect fewer than 10,000 people, but collectively affect more than a million babies born each year with these rare diseases. The exposure from the one-hour documentary has been enormous.
"I'm a shy kind of person," Bennett says. "But I love sharing the stories and my enthusiasm for the work."
While funding is difficult in this climate, and Bennett says for large grants for instance, male co-investigators tend to take the dominant portion of the grant, "ignore the gender differences and try to explain the work and show the outcomes."
The outcomes are nearly miraculous.
Boys and girls should be encouraged at an early age to study STEM, Bennett says. "I am cognizant of the challenges for women and I have a lot of trainees in my lab," Bennett says. "I want them to see what is possible."
Yet, teachers may not feel prepared. A new study from SAM Labs shows that 78 percent of U.S. teachers feel they have not received enough training to be able to teach technology in the classroom.
According to SAMS, "Eighty-two percent of U.S. teachers believe that students who use technology in the classroom are more prepared for their future careers. And while 42 percent of teachers do feel that technology in the classroom further supports students' interests in math and science, the benefits extend beyond tech-oriented subjects."
Joachim Horn, CEO of SAM Labs, adds, "Because they are on the front lines with students every day, teachers are in the best position to identify the opportunities – and the challenges – that the government will face in supporting students' education. By first focusing on how we can support and train our educators, we will quickly see U.S. students excel in STEM."
Support in education may begin early, but needs to extend throughout a science career.
Recognizing the need for funding of women in science for what is possible, L'Oréal USA recently announced five recipients of the 2017 For Women in Science Fellowship, honoring female scientists at a critical stage in their careers with $60,000 grants to advance their postdoctoral research. Celebrating its 14th year in the U.S., L'Oréal USA's For Women in Science fellowship program has awarded 70 postdoctoral women scientists over $3.5 million in grants.
"Women make up nearly half of the workforce but hold only a quarter of STEM jobs in the U.S.," says Lauren Paige, vice president of public affairs & strategic initiatives at L'Oreal USA.
This program assists "women postdoctoral scientists at a pivotal moment in their careers where additional support can help ensure they reach the highest levels of science. We believe that by recognizing and rewarding leading women scientists for their innovative research and dedication to inspiring the next generation of women in STEM we can help increase the representation of women in STEM fields," Paige says.
From genetics to quantum physics, the five 2017 fellows are Kellie Ann Jurado, a postdoctoral scientist in Immunobiology at Yale University; Felicity Muth, a postdoctoral fellow in Biology at University of Nevada, Reno; Ritu Raman, a postdoctoral fellow in Mechanical and Biomedical Engineering at the Massachusetts Institute of Technology; Sydney Schreppler, a postdoctoral fellow in Physics at University of California, Berkeley; and Molly Schumer, a postdoctoral fellow in Genetics and Evolutionary Biology at Harvard Medical School.
"Today, more than ever, we are proud to support our country's most accomplished women scientists at a key moment in their careers, and to empower them to continue their groundbreaking work," says Frédéric Rozé, President and CEO of L'Oréal USA.
These private sector initiatives are critically important to advances in science.
"It's so hard to carry out basic research now," Bennett says. "Almost impossible." She adds,"You cannot be a tenured professor without two large grants," she says. "This will cause major problems in women doing science down the road. "
Other top women leaders in science agree there are challenges for women in STEM.
Dr. Christyl Johnson, deputy director for technology and research investments at National Aeronautics and Space Administration's Goddard Space Flight Center, at the recent the Advancing Women in STEM session at the 2017 United Nations Women Global Innovation, Technology and Entrepreneurship Industry Forum in New York, told Elana Lyn Gross writes at Forbes, "Women bring to the table an amazing, unique perspective that should absolutely be celebrated. I learned that when I was a manager for a team. "
Dr. Johnson tells Gross the story of a senior chief engineer on a problem solving task. "He would walk into the laboratory and tell the engineers that were under me, 'You need to try this. Tweak this over here. Make this adjustment.' I said, 'You can't just walk in and do that.' "
Dr. Johnson tells Gross, "When you have a problem and you don't know what's causing that problem, you need to be methodical about what you change so that you can pinpoint exactly what caused the problem and exactly what needs to be done to fix it."
A summit of female scientists and leaders November 8 in Washington D.C., In Pursuit: An Atlantic Summit on Women & Science, is underwritten by L'Oréal USA and "will bring together leading scientific experts to highlight recent achievements by women in STEM as well as strategies for ensuring that more female innovators flourish in the field," according to the site.
"Despite the tremendous impact of just a handful of women scientists, only 24 percent of today's STEM workers are female. How does this substantial gender gap impact the economy, human development and the environment? And what can be done to pave the way for today's women scientists ― and future women scientists ― to unleash the discoveries of tomorrow?" according to the site.
Bennett, whose daughter is a post-doctoral scientist, says she emphasizes the importance of the research and discoveries of women in STEM, with an eye toward more future advancement for women scientists.
"I get to do exciting work and be gratified," Bennett says.
Since the airing on PBS of the documentary that features her gene therapy successes in restoring sight and moving toward disease cures, she says, "We had an FDA meeting to review the data from our study and they unanimously approved it." She adds, "I am a leader."
Popular in the Community