By Teddy Landis, Harvard Class of 2020
On Tuesday February 28th, a panel of six incredible women convened in the JFK Jr. Forum at Harvard's Institute of Politics to discuss their roles leading the "resistance" against the Trump administration. The event was moderated by Meighan Stone, the president of Malala Fund and currently an Entrepreneurship Fellow at the Shorenstein Center. She decided to organize the event after students kept visiting her office hours wanting to learn more about resisting, specifically from the young women who have taken charge of the movement.
The hour-long discussion was wide-ranging, inclusive, and drew on audience participation as Stone discussed different approaches to resistance with her panelists.
Here are five ways to resist the Trump administration from the leaders of the Resistance:
1. Dig Into Those (Grass) Roots
In the days after the Trump administration announced its travel ban, thousands of Americans gathered at airports to protest the executive order and express their support for Muslims and refugees. This rather organic and spontaneous reaction was in large part due to Jess Morales Rocketto.
As the former Digital Organizing Director for Hillary for America, Morales Rocketto had significant experience with digital organizing. In the moment, those skills didn't matter. All she needed to do was connect people. After hearing that an immigration advocacy group was sending protesters to JFK, she hopped on Twitter to amplify the message. Soon she was doing the same for airports across the country. People would message her and ask if anything was happening at their nearby airport. "Sure" she would say and then connected them with a lawyer in case they needed help.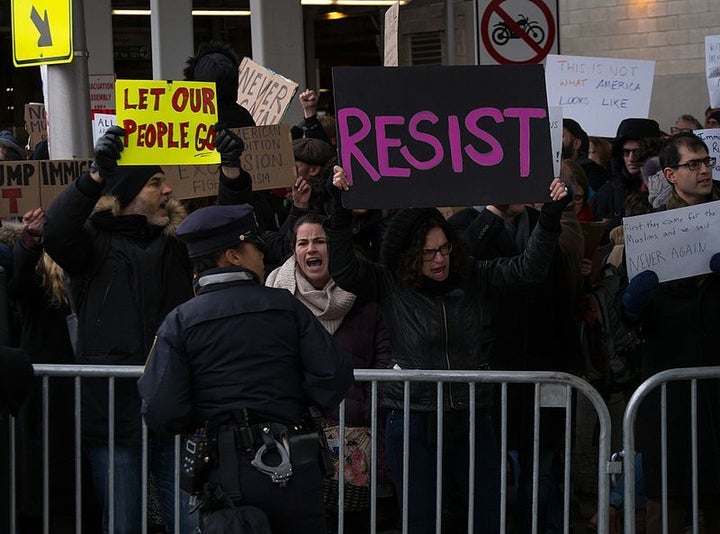 In this case, the organizing strategy behind Occupy Airports (as it became known) was simple: find friends, text them, pick them up (so that they can't bail), get signs, come up with two chants, and go to the airport.
Sometimes the most basic grassroots strategies are the most effective.
2. Diversify
Panelist Andrea Hailey was disheartened to see that of the two billion dollars spent on outreach during the 2016 presidential campaign, very little went to communities of color. 59 percent of millennials of color in battleground states reported not having any sort of outreach at all in the lead up to the election.
After researching which groups were most effective at grassroots organizing in communities of color, she founded the Civic Engagement Fund. Her hope is to help groups scale their efforts, giving them the resources they need. In addition, she hopes to examine how to better improve communication so that the Democratic party can have a better strategy for reaching millennials of color.
By challenging political consulting culture, she hopes to affect the decision makers who chose where resources are directed. Only if we ensure that people at the top have a wide range of lived experiences and high levels of cultural competency will politicians be able to effectively message groups like millennials of color. Without these efforts, we're missing people.
3. Get Connected (Figuratively)
In the days after the election, Leah Greenberg and some fellow former congressional staffers started the Indivisible Guide. Now widely considered to be the legislative center of "the resistance," the guide shares tactics citizens can use to lobby their representatives and senators.
A major factor in its success, according to Greenberg, has been its ability to get people to connect with other people in their communities--in person. It's important to get off the Google Doc, she says.
Recently folks have formed their own local Indivisible groups where they create signs and strategize how to effectively get their message across to their representatives through town halls, meetings, calls, and letters. While using technology to connect with others is important, actually forming in-person organizing groups is key to a successful resistance movement.
4. Go High-Tech
Debra Cleaver saw that campaigns were spending millions of dollars reaching out to voters to motivate them to vote, yet they were not that successful. One method they used is canvassing, going door-to-door to register but, according to her, this method takes $315 to produce a single vote. She advocates a method with a better return on investment: texting.
Using hyper-targeted messages, Cleaver's Vote.org is trying to do something about the 40 million voter drop-off that is expected for the 2018 midterm elections. Research shows that the way to create a life-long voter is to get them to vote in a presidential election and then getting them to vote in the very next election. Cleaver's strategy will be targeting the approximately 20 million first time voters and repeatedly texting them to remind them to vote.
Costing about $4 per vote, she declares that this is the most effective way to challenge America's voter turnout problem.
5. Go for a Run!
Panelist Amanda Litman saw a problem and an opportunity. In 2016, nearly 40 percent of state legislative elections were uncontested. When you look at local-level elections, the number is even higher. In Cook County 63 percent of the municipal races went uncontested. And unlike national elections, these races are often inexpensive, requiring little more than forming relationships in the community.
In response she created Run for Something, a group encouraging and training people under 35 to run for local office. To make her pitch Litman says, "You are smarter, a better listener, and harder worker than the president of the United States. You can serve on your city council."
"You are smarter, a better listener, and harder worker than the president of the United States. You can serve on your city council."
As of the morning of the Forum, more than 7000 young people had signed up to join this "progressive slate" of candidates hoping to change politics at the local level.
Summary:
These amazing women have put together some incredible organizations that challenge the Trump administration in various ways. You can learn more about their efforts by watching the forum here.
Teddy Landis is a freshman at Harvard College and plans on concentrating in Sociology. In addition to being a member of the JFK Jr. Forum Committee, Teddy works with the Harvard Public Opinion Project at the Institute of Politics.
REAL LIFE. REAL NEWS. REAL VOICES.
Help us tell more of the stories that matter from voices that too often remain unheard.