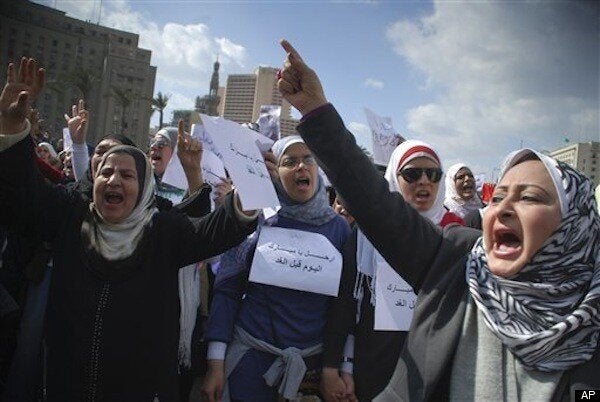 Spring in Washington, D.C. has been especially satisfying to me this year. Not simply because of the beautiful blooming tulips, cherry trees, dogwood and azaleas, but because of the many extraordinary women leaders whom I have had the honor to hear from and meet.
March 8, International Women's Day, is when my spring began with a ceremony at the State Department to honor its Ten Women of Courage for 2011. Each of the ten was truly inspirational. Their stories are personified by a quote borrowed from one of them by Michelle Obama: "If we women do not accept risks and work, no changes will happen." Certainly, all of us at CEDPA believe to the core that women are instrumental to leading change in their communities -- whether that "community" is a household, a village, a province or a nation.
But, one woman's remarks that day particularly struck me. Ghulan Sughra, CEO of the Marvi Rural Development Organization in Pakistan, has been an inspirational leader in the Sindh province. She is known for fighting against child marriage and becoming the first woman from her village to graduate from high school. Ghulan spoke modestly about her successes, but also highlighted one of those intangibles that make a leader. She said it so simply, "Something got into my head and turned my nerves to steel."
Are some of us born with that gene that turns "nerves to steel"? I wondered about this further as I saw the television images of women in Egypt and other Middle Eastern countries peacefully marching in the streets for political change. Even when confronted by stones and verbal abuse, they persisted. They seem to draw from an inner strength and their nerves of steel.
In early April, CEDPA had a training of trainers workshop with three CEDPA alumni, two from Egypt and one from Jordan, who were here to work with CEDPA staff to design a special training program for women in the Saudi Arabia region. Again, I was struck by their strong commitment to women's rights, their courage to stand up for those rights while demonstrating sensitivity to "tradition" and the ability to lead within their cultures. What gave them that strength?
My colleagues at CEDPA, especially those who conduct our leadership, management and advocacy training workshops, know the answers to these questions. Over the years, they and their predecessors have trained more than 5,300 grassroots, community leaders. From experience, they know that many are simply born to lead and it comes natural to them. But, they also know that the "steely spark" can be ignited, especially for women.
For a host of cultural reasons -- and I might add that this appears to be true for ALL cultures -- too many women are hesitant to step forward as leaders. I've heard Swanee Hunt, former U.S. Ambassador to Austria and founder of the Institute for Inclusive Security, describe this unfortunate truth in amusing ways -- e.g., that studies show women will not apply for a job unless they feel they meet at least 70 percent of the required position requirements; men will apply if they meet 30 percent. It's easy for all of us to smile at this anecdote, even though it probably rings true to too many of us. Given that expectation of modesty or, in some cases, lack of self confidence, how can we get the needed "nerves of steel" if we weren't born with them?
CEDPA's Leadership and Capacity Building program forges it in every workshop, whether here in Washington, D.C. with women from multiple countries or overseas with women from a single country. As they are teaching me, the ways in which one does leadership training makes a difference. By using participatory training approaches, by providing a safe space to encourage participants -- even the reluctant -- to speak up and lead within the training room, and by using appreciative inquiry techniques, they help participants evaluate problems in new ways. They help them define the possible, acknowledge their strengths and create new solutions.
Some leaders, like Ghulan Sughra in Pakistan, may be born with those steely nerves. Most of the rest of us need help in getting them. We at CEDPA are committed to helping women all over the world forge their own.
Related
Popular in the Community