An international episode of "The Bachelor" recently aired a surprising twist.
During a rose ceremony on "The Bachelor: Vietnam," which is currently airing, one female contestant told the show's male lead that she had fallen in love with a fellow contestant, not with him.
"I went into this competition to find love. I've found that love for myself, but it isn't you. It's someone else," contestant Minh Thu tells the Bachelor, Nguyen Quoc Trung, covering her mouth and fighting back tears.
She then walks over and hugs fellow contestant Truc Nhu, tearfully asking her to leave the show with her.
Nhu, who appears overwhelmed by emotion, responds to Thu by nodding her head yes.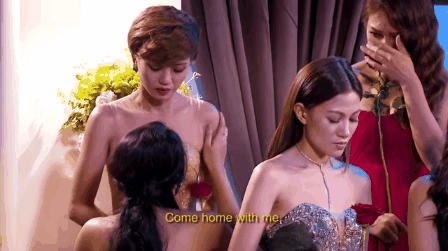 Nhu then walks over to the Bachelor, still holding his rose — which he'd given her to indicate he wanted her to stay on the show.
"I'm sorry. I really want to get to know you because you're someone who made me feel special, and I haven't felt that way in a long time," she tells him.
Trung, the Bachelor, tries to talk her into staying.
"I want to ask, if you decide this, would you feel regretful? This doesn't change my decision," he says. "I'm not going to give this rose to anyone else. You only get one chance in this life and you need to take it. Only you, not anyone else. I want to let you know that I think you'll have regret if you continue with what you are about to say, Truc Nhu."
Despite this impassioned speech, Nhu twists the rose in her hand and ultimately gives it back to Trung, simply saying: "I'm sorry."
The two women then shock their fellow contestants, the host and the Bachelor by walking out of the elimination ceremony together.
According to NextShark, a site that covers Asian and Asian-American topics, the two lovebirds did not live happily ever after.
NextShark says that in an uncut version of the episode, Nhu reportedly changed her mind after having a heart-to-heart with Trung.
A screenshot on NextShark features Nhu hugging him. The caption to the screengrab reads: "After talking to Trung, I've changed my mind to accept this rose and continue this journey."
Though the clip is not on the show's YouTube channel, there is a heartbreaking clip in which Thu tells a fellow contestant how she and Nhu had a private conversation off-camera about their feelings for one another. 
NextShark also cited showrunners who reportedly said there are 30 international versions of "The Bachelor" worldwide and that they had never seen anything like this happen on-air in Bachelor history.
Calling all HuffPost superfans!
Sign up for membership to become a founding member and help shape HuffPost's next chapter