After an exhaustive search, The Huffington Post could not find a single example of a room full of women standing around making major health decisions about what men can do with their bodies.
This absence is in stark contrast to what President Donald Trump did Monday in one of his first acts in office. Surrounded by men in the Oval Office, the new president reinstated a federal ban on U.S. funding for international health organizations that counsel women on family planning options that include abortion.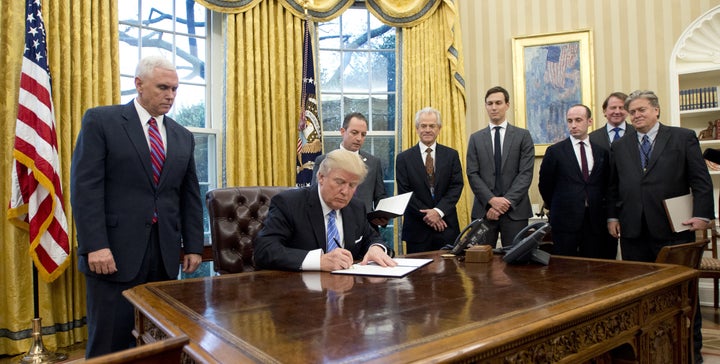 President Ronald Reagan first put the Mexico City policy, also known as the global gag rule, in place in 1984. Since then, it's been rescinded and reinstated depending on the political party of the man in the White House.
The United States spends about $600 million a year on international assistance for family planning and reproductive health programs, making it possible for 27 million women and couples to access contraceptive services and supplies.
None of that money is spent on performing abortions. The Helms Amendment has prevented U.S. tax dollars from funding overseas abortions since 1973. Proponents of the global gag rule believe the policy is nevertheless still necessary, arguing that Helms isn't strong enough by itself.
Men ― often without much input from women ― have long been making decisions about women's health. President George W. Bush, for example, also signed the Partial Birth Abortion Ban Act in 2003 surrounded by male congressmen.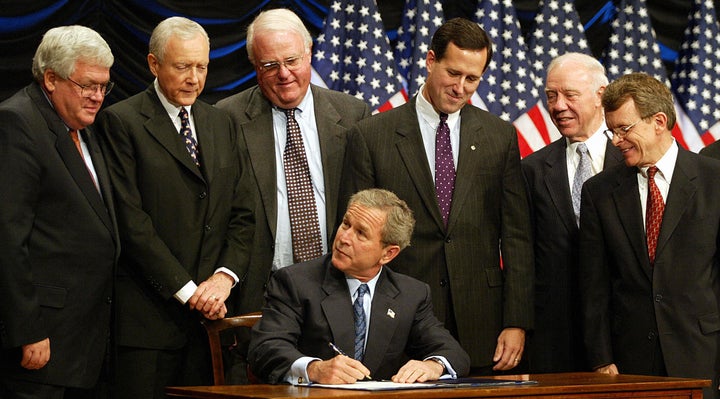 In 2009, during a debate on whether the federal government should be allowed to define the health benefits offered through private insurance, Sen. Debbie Stabenow (D-Mich.) highlighted the importance of having women in the room when making these decisions.
Then-Sen. Jon Kyl (R-Ariz.) said the federal government should be prohibited from doing so because, for example, "I don't need maternity care, and so requiring that to be in my insurance policy is something that I don't need and will make the policy more expensive."
Stabenow interjected: "I think your mom probably did."
Until the Affordable Care Act's passage in 2010, women could be denied private insurance policies if they were pregnant or even considering becoming pregnant.
Want more updates from Amanda Terkel? Sign up for her newsletter, Piping Hot Truth, here.