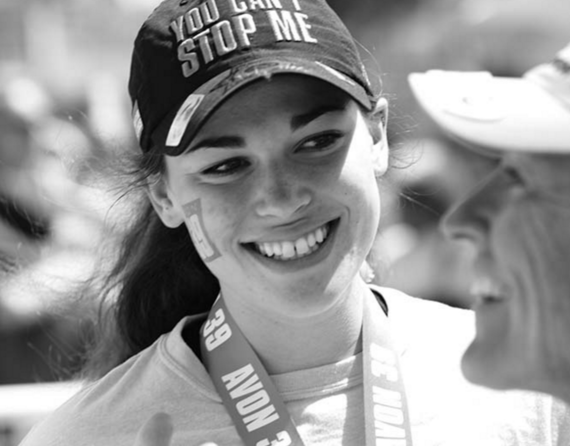 Cancer has declared war on women's breasts and we must unite forces and go into battle against it. I'm amazed and inspired to see how every year, thousands of people across the country welcome the trek of 39.3 miles in just two days, to raise awareness and motivate funding to end breast cancer. Join AVON39 this year and as any good soldier, train for battle. I invite you to stand up to breast cancer and walk for those battling the disease from their beds. Lend your legs and save a woman's life.
Fellow soldier Vanetta Wallace, an Avon representative for 19 years is walking this April 30th in Washington DC for her warrior best friend, Lorraine Waugh. A two time breast cancer survivor, Lorraine was not defeated by the disease. She bravely endured many rounds of chemotherapy, a double mastectomy and a heart attack because her strength, faith and will to survive are unbeatable.
Lorraine's courage inspired everyone around her, including Vanetta. Her closest friend was able to afford treatment and she received the best, but sadly other women are not as fortunate. For those in need, the Avon Foundation for Women acknowledge their plight and supplies them with the arsenal necessary to receive treatment, care and meals they can't afford. Cancer is the enemy, and though it seems to win some battles we must not allow it to win the war.

39ers like,Vanetta fight the fight others physically can't. For this AVON representative, "Breast cancer affects everyone, and everyone has a story to tell". These stories are similar because they are about us, love, life and surviving. You can participate by sponsoring a walker. AVON39 kicked off this past weekend in Houston and the Texans raised over two million dollars. The 39ers will then hit Washington DC, Chicago, Boston, San Francisco, and Santa Barbara finishing this year's campaign on October 16th, in New York. Please register in a city near you and join an amazing community of over 200,000 warriors ready to take down breast cancer. A woman in your life will thank you for it.
It's not easy to walk, to get out of our comfort zone, to give. We often desire to make a change only after we're wounded, but this war rages on now my friends. This war affects us directly or indirectly. We must stop this enemy that decimates our mothers, daughters, sisters and friends. 39 miles will feel like a few steps when it gets us closer to saving a life.

Images via Avon
Popular in the Community