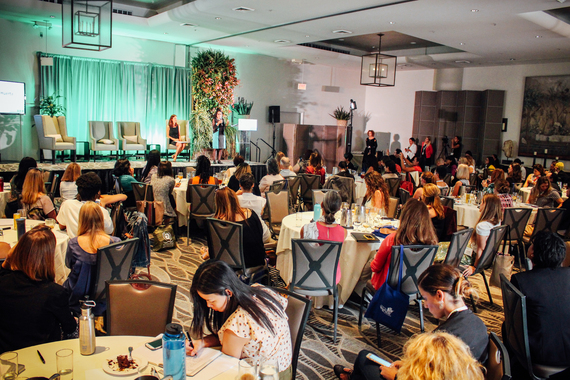 I had the privilege of attending the first Women in Green Forum in 2010. This conference is the brainchild of Jaime Nack, the President of Three Squares, Inc, a consulting firm specializing in developing sustainability plans. The mission of the conference has been to promote women's leadership across green industry and develop future solutions to the environmental crises facing our planet. Jaime's team does this by curating fabulous speakers, informative workshops, and break-out sessions that always leave me inspired and is the reason why I try and attend every year. This year she might have outdone herself.
The theme was "Business as (Un)Usual: Where Purpose Meets Profit" and included an assembly of renowned female professionals from the energy, technology, transportation, consumer products, professional services, and nonprofit sectors. We heard from leaders including Luanna Huber, Director, Environment & Conservation, TDM & Environmentality Integration at The Walt Disney Company, Rose Mckinney-James, Board Member at MGM Resorts International, Michelle Moore, CEO at Groundswell and Dr. Lisa Dyson, CEO at Kiverdi as to how they are addressing sustainability within their organizations. We even learned some practical feng shui tips from Lori Tierney, President and CEO of Tierney Management on how to keep the energy in your environment in balance.
There were several awards presented including the Women in Green Forum Trailblazer Award which went to Dolores Huerta, Activist and President of the Dolores Huerta Foundation for her work. And since there are no coincidences in my life, it was my friend Lora O'Connor who presented the clip of a documentary film on Dolores's life that has been submitted to Sundance.
You might be surprised to know that a global airline has a strategy, much less a person to direct it, but increasingly companies are adding titles as high as Chief Sustainability Officer to their hierarchy. What really got my attention is that in addition to having a four-pillar commitment to the environment, which includes fuel efficiency and carbon management, sustainable travel products and services, alternative fuels, and partners in sustainability, United is the first airline to use biofuels - fuels produced directly or indirectly from organic material including plant and animal waste - to power their flights out of LAX.
They've partnered with AltAir Fuels, who took an idle commercial oil refinery in Paramount, California and retrofitted it to produce biofuel. Not only is the 30/70 blend of biofuel with traditional jet fuel expected to reduce carbon emissions by 60%, but it also created over fifty new jobs! I found it very impressive that an airline in a difficult economic period, would continue to make the environment a priority.
There has been so much progress made in sustainability since the Women's Green Forum started in 2010 and since I launched Greenopia in 2006, but there is also so much more to do. As always happens when I find myself in a room full of smart women passionate about building and creating sustainable businesses I leave with fresh, new ideas. The first is to work with Jaime Nack to help take this event to the global stage.
The second is to make everyone aware that green initiatives don't need the budget of a United Airlines behind them to make a difference. Changes can be made, no matter how small your business, to make green thinking a part of your company's culture. They include choosing LED lighting over incandescent and fluorescent which contain mercury and other toxic gases, installing a water infiltration system to eliminate the use of plastic bottles and save money in the long run, using recycled paper, stocking non-toxic cleaning supplies, choosing green vendors to do business with (Greenopia has great listings!) and serving healthy and organic food at meetings.
What's so wonderful about taking these small steps is that in addition to helping the greater good, you are creating a safer work environment, which means healthier employees, greater mental alertness, and more productivity - what Jaime called purpose with profit at the Women's Green Forum- and what I call living with a green heart.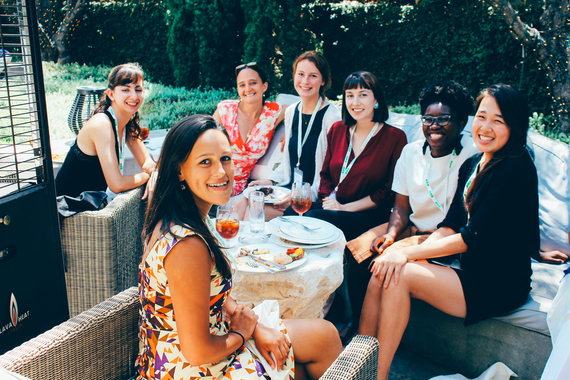 Calling all HuffPost superfans!
Sign up for membership to become a founding member and help shape HuffPost's next chapter