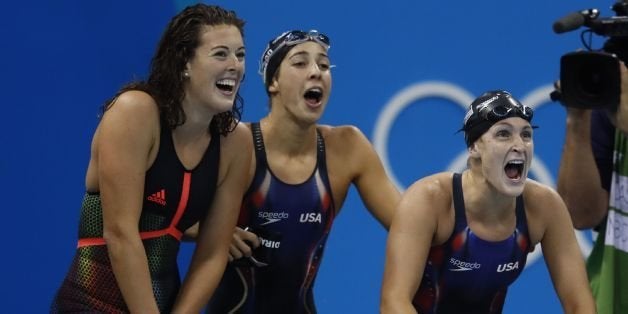 Co-writers Jennifer Cunningham and Nell Callahan

Over the weekend one of us accidentally retweeted the story about the Corey Codgell headline debacle -- "Wife of a Bear's Lineman Wins a Bronze Medal" -- with the hashtag Katinka Hosszu. A communications professional wouldn't ordinarily make an error like that. But it never occurred to us that members of the media had twice celebrated the husbands of different women Olympians.
It shouldn't have happened once.
You know what else shouldn't have happened? Swimmer Katie Ledecky -- after winning the gold medal and beating her own world record -- being referred to as the female Michael Phelps.
It's tempting to condemn this dismissal of women's success as deliberately hostile but the trend actually reflects a deeper, more insidious worldview: the media simply does not take women and our triumphs -- particularly in sports as -- seriously as those of men.
A major issue is, clearly, the way women are talked about. Just days before the Olympics began, CNN reported on a UK study that:
Analyzing over 160 million words from decades of newspapers, academic papers, tweets and blogs ...finds men are three times more likely than women to be mentioned in a sporting context [i.e. "strong, big, real, great or fastest,] while women are disproportionately described in relation to their marital status, age or appearance [i.e. "aged, pregnant or unmarried].
The disparity is not, however, simply the language that is used; there is real inequality in women's treatment as well.
Despite no physiological reason for it, women's Olympic swimming, running and cycling races are shorter than men's. Olympic boxing limits women's participation to three events, men get to compete in ten. The Wall street Journal points out that: "The Rio Olympics will feature 169 events for men and 137 for women, meaning that men will walk away with more than 55% of the gold, silver and bronze medallions handed out." In that same Wall Street Journal article, a spokesman for the International Cycling Union said "the shorter women's course makes for a more entertaining race."
That's a compelling argument. Is entertainment the same reason the women's Olympic volleyball team wear bikinis while the men's team wears t-shirts and long shorts?
There is decreasing tolerance for this treatment, both from women athletes themselves and from the public in general. This past December the U.S. Women's soccer team refused to continue playing games on dangerous turf, pointing that their male counterparts were never asked to do so. More recently they have raised a fight for equal pay.
Over the past few days the social media response to the dismissive treatment of Corey Codgell, Katinka Hosszu and Katie Ledecky was swift and unequivocal: this was not acceptable.
This response is encouraging but it's not quite enough -- because, again, it should not have happened in the first place. Let alone the second place. Or the third.
Our firm, SKDKnickerbocker, created a specific women's advocacy practice because we think it's important to advance women's issues and leaders. And as women leaders and advocates ourselves, particularly ones who work closely with members of the media, we would be remiss if we didn't call out a news trend that is not only disrespectful to athletes themselves but perpetuates an environment that is frankly biased against women.
These women are playing at the utmost top of the game. They deserve a level playing field, in every sense.
Calling all HuffPost superfans!
Sign up for membership to become a founding member and help shape HuffPost's next chapter