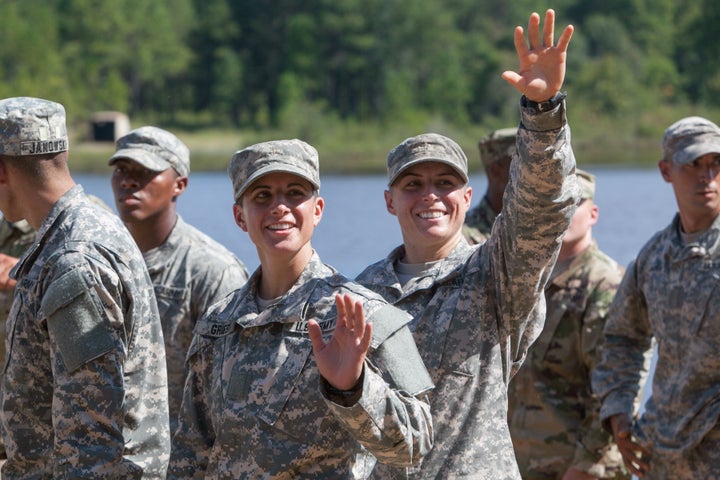 WASHINGTON ― A surprisingly strong and bipartisan effort to require women to register for the draft failed Tuesday, as negotiators on a defense bill indicated the provision would not be included in the final legislation.
The language had been tucked into the Senate version of the National Defense Authorization Act, which overwhelmingly passed that chamber in June. The provision also cleared a House committee, but GOP leaders later scrambled to remove it from their version of the NDAA before it reached the floor, as some in their party protested. That left its fate up in the air for months as negotiators worked behind closed doors to hammer out a final bill.
Top aides from armed services committees told reporters in a Tuesday briefing that the proposal was ultimately axed and, in its place, there will be the legislative equivalent of sending a policy idea to its grave: commissioning a study.
"We still require the study," said one senior aide. "There's a study and a commission to look at selective service and look at the structure and what it does and everything like that."
Lawmakers who had been pushing for months to include women in the draft acknowledged it would have little practice impact, at least anytime soon; the United States has relied on an all-volunteer military force for decades. But many felt it was important to do anyway, to reflect the growing consensus that women are as capable of serving and leading in the military as men.
"There should not be one standard of what you have to be capable of to do certain jobs in the military ― one for men and one for women," Sen. Claire McCaskill (D-Mo.) told The Huffington Post earlier this year. "But as long as we're vigilant about that, women are just going to make us better."
"I don't think you want to take half your population off the sidelines in case of a national emergency," Sen. Lindsey Graham (R-S.C.), who served in the Air Force for years, also said at the time.
In the end, though, conservatives in Congress won this round, with their complaints about having to see women sent into combat.
"I cannot in good conscience vote to draft our daughters into the military, sending them off to war and forcing them into combat," Sen. Ted Cruz (R-Texas) said earlier this year. "I will continue my efforts to speak out against the effort to force America's daughters into combat."
Calling all HuffPost superfans!
Sign up for membership to become a founding member and help shape HuffPost's next chapter
BEFORE YOU GO
PHOTO GALLERY
On the Front Line: Women Photojournalists in War Zones