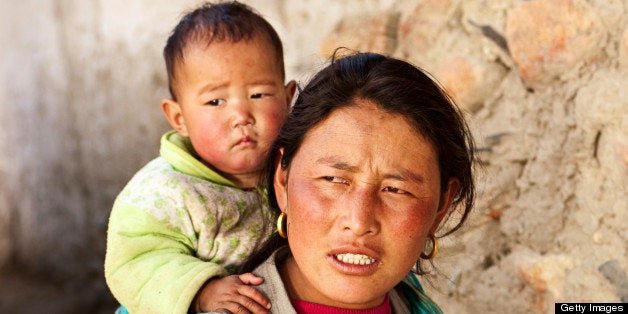 There's a lot of talk about investment these days; as the global economic crisis stumbles on, social services are cut from the USA to Uruguay, and the planet faces ever more urgent environmental threats. But next week, women and policymakers from around the world will gather in Malaysia to foment a revolution. Their call? Investment of a different kind, investment in girls and women for the sake not only of people, but also for the planet.
We already know that investing in girls and women -- and especially in family planning services -- is one of the smartest, safest, cheapest, most impactful decisions any nation can make. In Texas, we see this firsthand, as the state legislature scrambles to up funding for family planning services after the financial costs of 2011's funding cuts became apparent.
But here's a new twist: as we face ever-wilder weather, ever-decreasing biodiversity, and ever-shrinking natural resources, investing in women becomes even more vital.
Women's health and the planet's health are inextricably intertwined. For too long we've pretended otherwise, but that is changing rapidly. In fact, there's a powerful ripple effect that emerges from women's empowerment. Women are healthier. Children are healthier. Death and disease go way down. All as a result of simple investments in basic technologies like condoms, the pill, and prenatal healthcare.
Investment in reproductive health also brings about noteworthy dividends for our planet's ability to sustain us all. When we empower individuals and families with the information and services they need to decide on all aspects related to reproduction and sexuality, we create more sustainable and just communities. Give women choices about their children, and they make smart choices about their environment, too.
But too often, international development work is done in silos. And despite the numerous campaigns and high level calls for investing in women and girls that have emerged in recent years, we still have a long way to go. Global funding for sexual and reproductive health and rights has decreased dramatically -- 65 percent between 1995 and 2007. And more than 200 million women and girls worldwide still lack access to the modern contraceptives they want and need, to delay or avoid a pregnancy.
Fewer choices mean far more challenges for women and families. When parents are worried about how to bring home enough food for their family's next meal, they're not worrying about whether they're taking too many fish from the sea, or cutting down too many trees to sell or to grow crops.
And when the environment is threatened, women are threatened too. In much of the world, women bear the brunt of the responsibility for providing food and water for their families, for collecting fuel to heat their homes and cook meals. A rapidly changing climate, increasing pressure on food prices brought about by drought, shrinking access to clean water, clean air and healthy forests -- all hit women and children hardest.
As the world gears up to enshrine a new set of global development goals and agreements, it's time for us all to make these connections. We have an unparalleled opportunity to secure a sustainable world of justice, choice and well-being for all people, and without a doubt, we need healthy, empowered women and girls to ensure that our planet can continue to care for us all.
Carmen Barroso is the Regional Director of IPPF-WHR. A native of Brazil, Dr. Barroso is attending next week's groundbreaking Women Deliver conference in Kuala Lumpur.
Calling all HuffPost superfans!
Sign up for membership to become a founding member and help shape HuffPost's next chapter