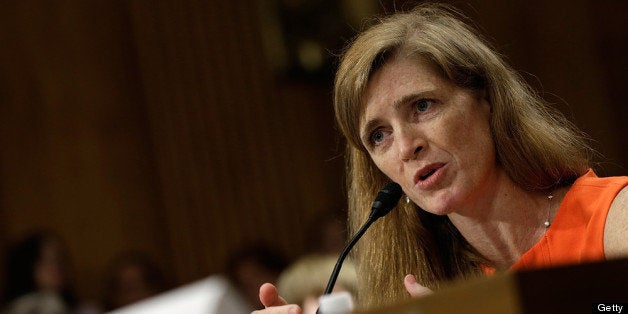 Here is what we know: where women succeed, communities prosper -- from Texas to Thailand. This is the basic premise that Planned Parenthood and civil society organizations around the world have brought to the table in the global conversation around how best to reduce poverty and foster sustainable development.
Yesterday the Senate confirmed Samantha Power as the new U.S. ambassador to the United Nations. She will follow Susan Rice who recently joined the White House as national security advisor. These women assume their new roles at a pivotal time for U.S. engagement at the UN and in international development.
On May 30, a high-level panel appointed by United Nations Secretary General Ban Ki-moon released a report setting the new global agenda on international development. For those of us fighting for the health and rights of women and girls, the news is good, with the report highlighting the need for support of reproductive health. John Podesta -- former White House chief of staff and a great leader in the U.S. -- represented our country in this conversation.
For more than a decade, countries around the world and UN agencies have joined forces to eradicate poverty, working toward the Millennium Development Goals (MDGs), an ambitious roadmap endorsed by the global community. The MDGs' eight core objectives -- designed to be both actionable and measurable -- have helped us to focus resources and political will on key development issues including gender equality, primary education, improving maternal health, and reducing child mortality.
But when they were set in 2000, the MDGs did not include reproductive health, and we have felt the impact ever since. Global resources have shifted and we have paid the price in women's lives -- indeed, reducing maternal mortality lags disproportionately behind many other goals. Evidence shows that investing in maternal and child health alone, without also ensuring access to family planning services and counseling, is not as effective as investing in both simultaneously.
In May 2012, UNAIDS, UNICEF, the United Nations Population Fund (UNFPA), and the World Health Organization (WHO) assessed progress of the health MDGs and concluded:
"These gaps within and between countries demand a much sharper focus on inequities and their consequences for health, and on health inequities themselves."
The challenge now before the global community is to decide what to do once the clock runs out on the MDGs. To address this, the high-level panel report lays out five "transformative shifts" for the new global agenda.
Among them, "Leave No One Behind" promises badly needed attention to the most marginalized and vulnerable people -- which must include young people, women and girls, women with disabilities, and also lesbian, gay, bisexual, transgender, and queer (LGBTQ) people -- everywhere in the world.
Additionally, it defines a specific target to ensure universal access to reproductive health care and rights under Goal #4 Ensure Healthy Lives, which focuses on several interrelated health issues, including maternal health and HIV/AIDS. And it draws particular attention to the sexual and reproductive health needs of young people -- calling on nations to break down barriers.
Ensuring universal reproductive health rights and access to care is no mere abstract goal but a promise that young women do not have to drop out of school because they are pregnant, that all young people receive accurate, age-appropriate sex education, that no woman suffers or dies from unsafe abortion, and that rape in conflict will be acknowledged, addressed and -- as we strive for peace and security in so many ways -- ended.
Both Samantha Power and Susan Rice have demonstrated their commitment to the health and rights of women and young people. As ambassador to the United Nations, Susan Rice led the U.S. delegation in several successful and critical negotiations to promote global gender equality. Last month at her confirmation hearing, Samantha Power stated that "countries that violate the rights of women and girls will never approach their full potential."
As a provider and advocate of women's health care, Planned Parenthood knows well the importance of equity in health care in the realization of human rights. Both Power and Rice will need to continue to exert strong leadership on behalf of the U.S. to ensure that the global community sets an agenda that achieves both. The stakes couldn't be higher.
As my friend John Podesta put it:
I urge the American people -- and U.S. policymakers -- to take seriously the recommendations in the High-Level Panel's report, and to begin thinking about how we can work together to achieve the world we want in 2030. The generations living today can be the first to see a world without extreme poverty. We must not squander this opportunity.
Related