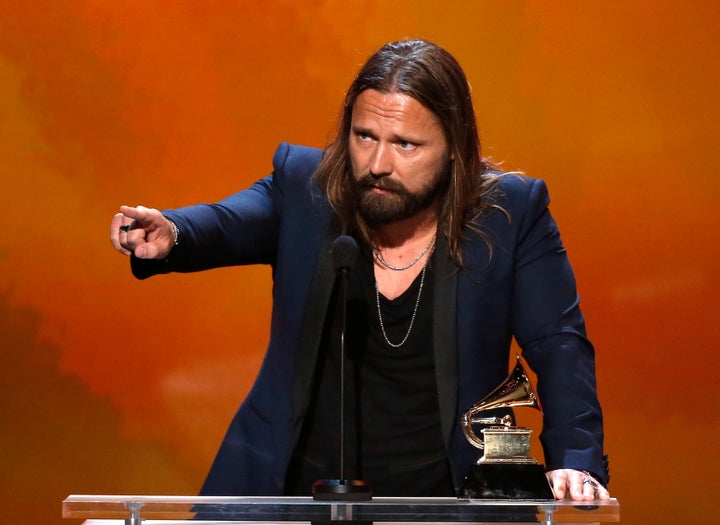 This week, one of the biggest names in pop music gave a very rare interview. And no, we're not talking Beyoncé.
The interview mostly dealt with his career and process of songwriting. But it also touched on his thoughts about including more women in crucial behind-the-scenes roles.
"I don't care where people are from, what their background is. If you're killing it, you're in," Martin began.
The Swedish producer doesn't like attention, so that's why you might not know his name. But few people likely understand the music industry's inner-workings over the past two decades quite like he does, which is what makes his take on the issue particularly noteworthy.
"It's crucial that we get more women in on the technical side," he added. "Today, there are many great female songwriters but there are very few women producers. We need to change that."
It's true that, if women aren't finding their way into production roles, it'll take industry bigwigs like Martin to help them up. But that's not all they'll have to do.
When they're not in front of a microphone, women in the studio have always had it tough. Still today, there are so few in music production that no one even bothers to count. The issue went largely unnoticed by the general public until a spate of sexual harassment claims cropped up a couple years ago, most notably Kesha's lawsuit against Dr. Luke, another power producer and a mentee of Martin's. Her lawsuit brought the process of creating all of that inescapable pop candy ― that is, hours spent in male-dominated spaces ― into the national spotlight, if only for the duration of a couple of news cycles.
For what seemed like the first time, the reality of music industry culture came into focus, and what we saw wasn't nice.
Perhaps that revelation came as a surprise. Unlike other segments of the entertainment industry ― looking at you, Hollywood film ― women are front-and-center in pop, where they are sometimes known as much for their image in tabloids as their passionate vocals. (Their male counterparts, meanwhile, are rarely subjected to the same level of visual scrutiny ― Justin Bieber being an exception.) Pop's image is that of a space where women reign. It's a clever trick on the part of record companies and people who stand to make millions off women's appearances in addition to their powerful pipes, but, not shockingly, it doesn't tell the full story. A quick look at who takes the stage when the Album of the Year is announced at the Grammys says everything: Behind Adele (in 2017) and Swift (in 2016) is a crowd of men. In pop, women sing, often write or perform instrumental bits in songs; rarely does anyone who's not a man handle the technical side of production.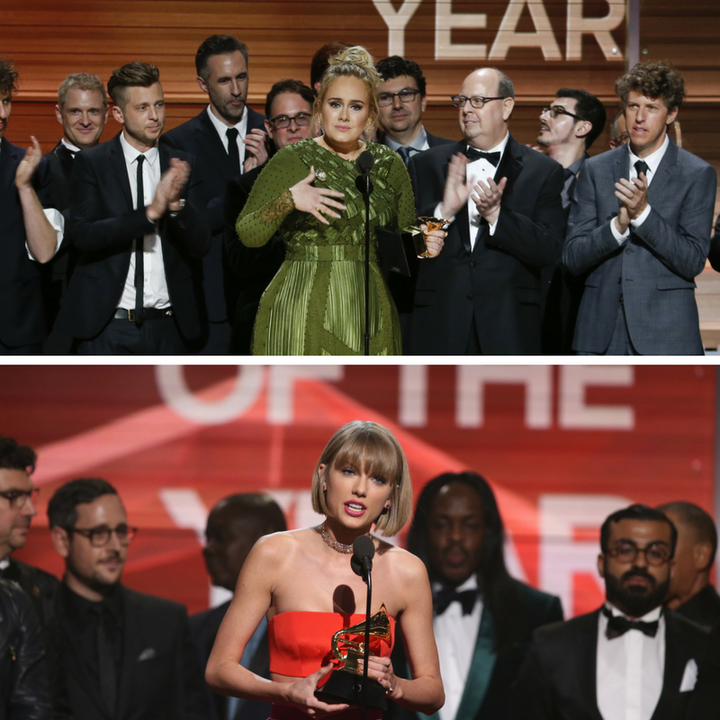 That means that while women may be the faces of pop, behind-the-scenes work is a space composed of men. It also means expecting women to fit the "cool girl" bill and ignore sometime misbehavior ― because music isn't about HR bureaucracy and filing complaints with managers. It's about throwing your heart into something, following your dreams, and having a fantastic time doing it.
So it has been, anyway, for ages. Asked about his active attempts to involve more women producers ― after working with a "homogenous" slate of Swedish men in the '90s ― Martin had a somewhat encouraging response, heaping praise on one woman he's started working with, the Swedish singer-songwriter-producer Laleh.
"Laleh is a genius. The best way to change things around is to bring in more role models like her. It sucks that there are so many men in my profession," he said.
It does suck, for the women who might be interested in production work but are assumed incapable, even if they aren't. The musician and producer Grimes explained in a 2014 interview with Fader how men in one studio discouraged her from making herself useful after a session.
"I was like, 'Well, can I just edit my vocals?' And they'd be like, 'No, just tell us what to do, and we'll do it.' And then a male producer would come in, and he'd be allowed to do it. It was so sexist," she said. "I was, like, aghast. It made me really disillusioned with the music industry."
It also sucks for any women who've experienced what Kesha says she's gone through ― gross mistreatment at the hands of a male producer.
Elevating more women producers behind the scenes is certainly a step toward parity. But if the men already there are continually allowed to create unwelcome spaces, it's not going to fix the problem ― and part of that stems from the way music professionals seem to view themselves.
Whereas Hollywood embraces itself as an industry ― loving nothing more than to gaze at its reflection, pushing out films about the process of making a film or becoming an actress (looking at you, "La La Land") ― pop seems allergic to mirrors. For some reason or another, music has managed to aggressively protect the idea that it's nothing but the organic product of a few pure, creative souls who head into a small glass room to do their thing and out comes a hit. But that often hasn't been the case for decades ― and, deep down, we know it. There are the Taylor Swifts and Kaley Cuocos, and there are people on the other side hunched over knobs and directing camerapeople. It's manufactured, a process that saps innovation from all over the landscape of music genres so out may come a pop hit.
Making pop music isn't so different from making any other form of entertainment that involves the exchange of millions of dollars. It's creative work in a professional environment. As Hollywood has begun to realize, bad behavior will have corresponding consequences.
Sure, elevating the work of women as Martin suggested is one way to help the industry. But once they're there, women producers need to be able to work in an environment not bent on pushing them out.
You can be highbrow. You can be lowbrow. But can you ever just be brow? Welcome to Middlebrow, a weekly examination of pop culture. Read more here.