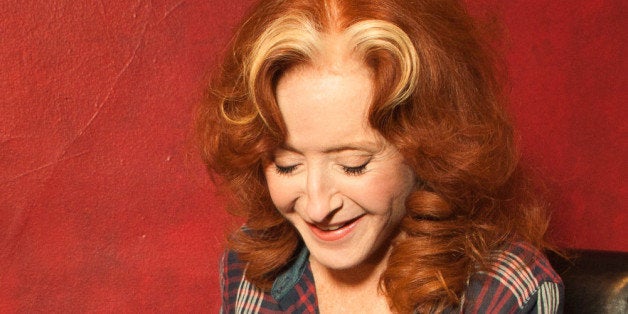 Here's "Something To Talk About." Bonnie Raitt is the only female selected by Guitarist Magazine's "Guitarist Presents 100 Guitar Heroes -- 100 of the World's Greatest Guitar Players" book. Raitt is a 10-time Grammy Award winner. Her 19th album, "Slipstream," sold over a quarter-million copies in 2012. She received the Lifetime Achievement Award for Performance from the Americana Music Association.
The daughter of Broadway singer John Raitt and pianist/singer Marge Goddard, Raitt received a Stella acoustic guitar as a Christmas gift when she was 8. She dropped out of Harvard/Radcliffe after three years to pursue a career in music and released her debut album in 1971 at 22.
She was inducted into the Rock and Roll Hall of Fame in 2000 at 51 and the Hollywood Bowl Hall of Fame, with her father, the next year.
Raitt ranked #89 on Rolling Stone's "100 Greatest Guitarists of All Time" list in November 23, 2011, selected by a panel of top guitarists and experts. The only other female who made the list was Joni Mitchell, at #75. No females were recognized on Guitar World's 2012 Readers' Poll of "The 100 Greatest Guitarists of All Time."
Gibson.com chose "The Top 10 Female Guitar Players of All Time" in 2014. They are: 1. Joan Jett, 2. Lita Ford, 3. Mary Ford, 4. Jennifer Batten, 5. Sister Rosetta Tharpe, 6. Orianthi, 7. Kaki King, 8. Nancy Wilson, 9. Bonnie Raitt, 10. Joni Mitchell.
Only two women made that Rolling Stone's list: #72, Joni Mitchell and #87, Joan Jett. Elle honored Joan Jett, Lita Ford, Nancy Wilson, Jennifer Batten, Donita Sparks, Kelley Deal, Carrie Brownstein, Poison Ivy, Ruyter Suys, The Great Kat, Marnie Stern and Orianthi.
A recognized activist, in 1988 Raitt co-founded the Rhythm and Blues Foundation to improve royalties. She is the first female artist to be honored with a signature model Fender Strat "Brownie" guitar. She contributed the profits to fund the Bonnie Raitt Guitar Project in 200 Boys and Girls Clubs of America, to inspire underprivileged youth to play music.
Who are your picks for female guitarists to be recognized on future lists?
Women continue to play second fiddle at Coachella and other music festivals this summer. According to USA Today, "Of nearly 160 acts at this year's Coachella festival, only 26 are female-fronted -- about 16 percent."
Meryl Streep may strike a chord and inspire female guitarists in her upcoming film, Ricki and The Flash, opening August 7. She plays a singer/guitarist who chases her rock 'n' roll dreams. The musical drama was written by Diablo Cody, who won an Oscar for Juno. The story is based on her rocker mother-in-law, Terry Cieri, who fronted bands.
When are female guitarists "Gonna Get What's Coming?"
Popular in the Community