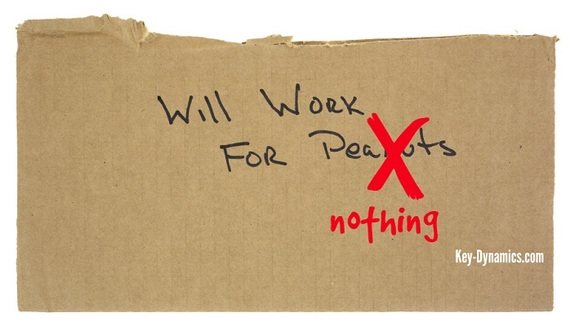 If you don't value yourself, no one else will, either. Don't give away your expertise. Charge for it.
This comment kicked off a firestorm in my social media group recently. One person said, "Sure, I get that. But how does that mesh with the whole 'pay it forward' thing? Or 'If you give it away, it will return to you'?"
These excellent points have merit -- as long as they are applied with carefully thought-out boundaries. And while women are more likely to to have permeable boundaries in this area, many men fall into this trap as well.
How to help others without going broke
First: You don't have to give away your services to "pay it forward." Join a community-action group. Donate money to your favorite cause. Tutor students in English. Volunteer to shelve books at the library. Join an Adopt-a-Highway group and pick up trash alongside the road. Sponsor a worthwhile event in exchange for publicity.
There are hundreds of opportunities right in your own town and none of them involve giving away the farm. Check them out.
Second: You already are helping people, through social media and your blog articles. You are giving tips and tricks. You are giving them the benefit of your vast storehouse of hard-earned knowledge and experience. You are sharing insider information about your industry and helping them make informed decisions. You are building your authority.
Third: The "giving in order that you may receive" is a lofty philosophical position, and one that will assure practitioners a spot in heaven. Give away too much, however, and you'll end up in the poorhouse.
So what is the balance? Where do you draw the line and say, "Beyond this point, you will need to hire me or buy my program or book"?
Think of your knowledge or service as a product in your local grocery store. Can you imagine the owners allowing people to help themselves to cakes hot from the oven? Of course not! If these cakes are exceptional, on occasion they will offer prospective customers a little taste, just to show them what they're missing. But the reasonable expectation is that customers will buy their own cake to take home and enjoy.
Why is it any different with your service? As a savvy business woman, you've given them a taste through social media and your blog articles. They know what you can deliver. If they want more than a sample, they need to open their wallets.
And probably most important of all: Why would anyone buy from you at all if you keep giving it away? You're in business, not running a charity. Don't forget the value of your time. Your expertise and experience didn't come cheap, either.
If you don't recognize your own value, no one else will.
There are exceptions, of course. Here's how to handle people who want something for nothing:
Create a policy so you're not caught flat-footed when someone wants to spend 10 minutes with you to "pick your brain." For example, you might want to reserve "free help" for family members and close friends. For the others, you'll want to come up with a script you can use. See below for a sample.
Decide in advance how much time you will spend with these exceptions to the rule. Establish parameters and clearly communicate them -- you will work with them for X amount of time a week or a month. Or you will only handle it by email. Make sure it works for you because even though you may love these people, they are still taking away time from you earning your living.
For everyone else who wants more than what you're willing to give away in your social media and blog, try this approach:
Tell them their question/issue is an excellent one, and you would love to work with them on it. Say something like: "If you're serious about moving forward with Y, I'd love to set up a time to talk about working with you on this topic. I think we'd be a good fit to do business together."
This will winnow out about 90 percent of the "gimme" types who want something for nothing. Of the 10 percent you do speak to, probably 9 percent will decline once they know the investment. But that 1 percent? There's your sweet spot! And if you're a really good sales person, you might be able to convert more of the 10 percent you talk to.
So go ahead and give -- but be judicious and thoughtful about it. I think you'll still end up in heaven!
What has worked best for you when dealing with people who want something for nothing? I'd love to add to my repertoire!
Popular in the Community