Megan Mjaatvedt for EVE PEARL
When it comes to applying makeup, every woman is unique in her needs. In this series, Eve Pearl shares her Before and After makeover images, highlighting the individual considerations of Women of Color.
Meet Shaina, a young woman who wants to even out her skin tone for a clear and balanced complexion. Eve Pearl used a dual foundation and salmon concealer to cover Shaina's hyperpigmentation while remaining true to her rich, natural color.
(Watch a video of her makeover here.)
For the foundation, Eve used a technique called Reverse Contouring, a method that contradicts traditional contouring effects to create a more natural look. With one side of the foundation brush, she applied the darker side of the dual foundation on the cheeks, nose, and forehead. Using the other side of the brush, Eve applied the lighter foundation on the chin and along the jawline.
After blending the foundation with a damp non-latex sponge, Eve used a salmon-hued concealer to cover the hyperpigmentation around her mouth and under her eyes. Once fully blended, the makeup was set with a dual pressed powder to ensure a long-lasting application. Eve then gave Shaina's face a healthy glow using all three tones of a blush trio (peach, pink, and bronze), applying the color to the hollow of her cheek and taking it up high on the cheekbones with a fan brush. (Watch a blush tutorial here.)
EVE PEARL® is Makeup with Skincare for Every Complexion. For more information, please visit our website at www.EvePearl.com. If you have any questions about what shade of foundation and concealer is right for you, feel free to email us at contact@evepearl.com.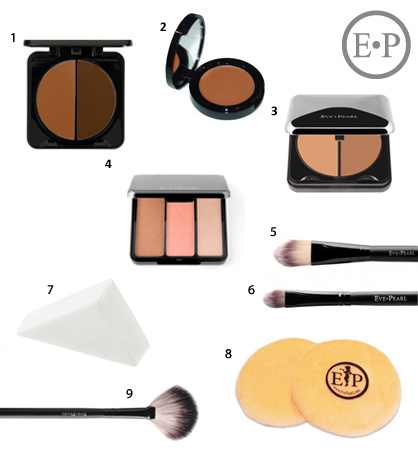 Related