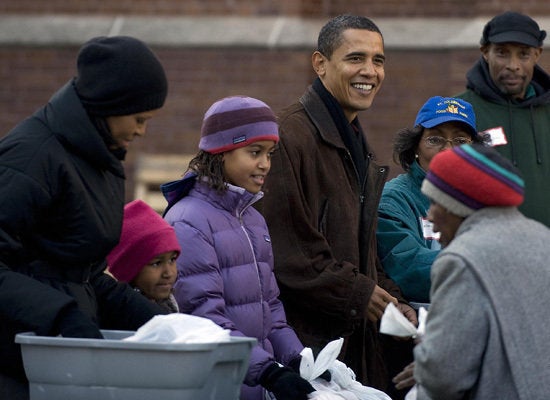 Today, like I do everyday around noon, I moved my car from one side of the street to the other as directed by the Culver City parking limit sign. While waiting at the stop sign, a block from the Brave New Films office (my employer), I watched as three Latina women crossed the street strolling along three white children. The women appeared to be related, la abuela, la madre, and the daughter following closely behind. Three generations of Latina domestic workers pushing three white-raced children in a stroller along the pristine streets of Culver City, California - what else is new? This wasn't the first time I've seen Latinas walk white-raced children around the streets of this liberal-leaning city. Fifty years ago, those Latinas would probably have been African-American women - the faces have changed, but not necessarily the situation.
All this got me thinking about women of color and where we fit into this new Obama era. While I don't believe any politician is ever more powerful than the will of the people, I can't help but wonder how Obama's power as President will address the myriad of low wage-(or no wage)-earning, care-taking, health-insurance-lacking, poverty-stricken women of color (WOC) in the United States.
African-American women still comprise over sixty percent of the labor force among women. Women of color in general are much less likely to hold managerial and professional jobs than white women. Women of color are more likely to be poor than white women, and with the exception of Asian-American women, WOC are considerably less likely to hold a BA degree or higher than white women. WOC earn less than white women with the same education level. Asian-American and Native American women in particular share in the highest proportion of female suicide deaths across race, ages 15-44. African-American, Native American, and Asian-American women are significantly less likely to than white women to report being a victim of sexual and domestic violence. Among women, Latinas/Chicanas are the least represented at the highest levels of education.
I thoroughly respect Obama's National Security choices, including Hillary Clinton, Susan Rice, and Janet Napolitano. Placing these women at high leadership positions symbolizes a societal transition toward forward thinking shape-shifters. Yet, just as we aren't in a post-race era, we certainly haven't transcended gender discrimination and economic and health disparities among women and men - especially as it relates to women of color.
My African-American mother is the sole caretaker of my white-raced father, a 78-year-old veteran, suffering from heart disease, diabetes, chronic obstructive pulmonary disease (COPD), and severe emphysema. She, like many other WOC who take care of sick and dying family members, is also unemployed - and not necessarily by choice. Despite the fact that she has chosen to go back to school and finish her Bachelor's degree, there aren't many options for a middle-aged black women (with a plethora of work experience) in this day-in age.
But my little familial anecdote isn't any different from, say, that of women in DC living with HIV, wherein 90% of them are black. Nor is my story any different from the Latina domestic workers in Culver City, or the large majority of Native and Asian-American young women struggling with depression, and taking their own lives as a result. We have progressed as a nation, and while we all can take great pride in our future First lady and First daughters (Michelle, Malia, and Sasha), the problems WOC collectively face in the U.S. are significant in comparison to that of white women and men. In other words, we still have work to do.
Issues concerning women of color span economy, education, health, poverty, and popular culture. While the problems that arise within these multiple modes of society vary, the fact remains that the struggles we face as women of the growing minority are compounded by race. The implications of an Obama administration upon the lives of women of color is yet to be seen. Though we understand that policies and legislation which positively influence the conditions of WOC can, in essence, impact the entire well-being of U.S. society. If women of color suffer, we all do - because we are the workers, the (First) mothers, the (First) daughters, and yet still, the struggling and dying many.
Calling all HuffPost superfans!
Sign up for membership to become a founding member and help shape HuffPost's next chapter