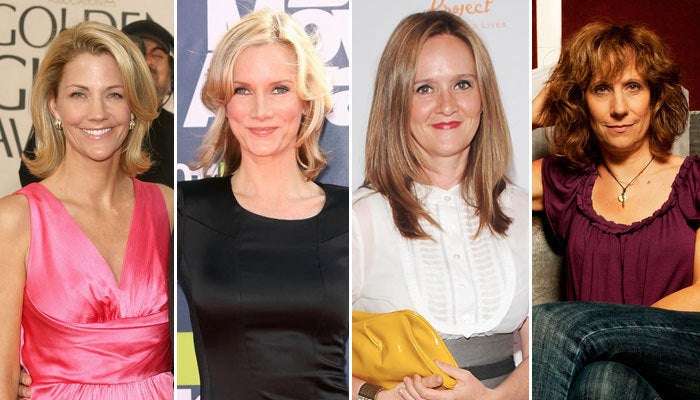 "The Daily Show" has been a launching pad for many celebrated careers. All of which happen to belong to men.
Jon Stewart, of course, came into his own as a comedic voice and satirist after taking over the anchor's chair, in 1999, and Stephen Colbert made the leap to hosting his own show after serving for several years as a 'TDS' correspondent. And then there's Steve Carrell, now a bona fide film and television star, as well as Ed Helms and Rob Corddry.
But where are the female breakout stars? Why isn't Nancy Walls hosting her own show, or starring in a $55 million rom-com opposite an acclaimed NBC sitcom veteran. Sure, we all know about the inequity in male-to-female staff members that plagues late night comedy, but that doesn't mean 'TDS' hasn't had its share of funny, talented women sitting in the correspondents chair.
Former head writer and co-creator Lizz Winstead finds the conundrum as puzzling as we do. In an interview with Vulture about her new book, "Lizz Free Or Die," Winstead lamented, "a lot of women have been genius on that show and should've been launched into the stratosphere."
Walls, Beth Littleford, Stacey Grenrock-Woods and Laura Kightlinger, along with current long-term correspondent Samantha Bee, are just a few of the women who have enjoyed popularity on the show, yet none have made the huge career leaps enjoyed by many of their male counterparts. Littleford ("Crazy, Stupid, Love") may have had the most post-'Daily Show' mainstream success, but she has been mostly relegated to smaller roles.
Winstead herself has steadily worked, toured and produced since leaving "The Daily Show", but even as the co-creator and former head writer of one of the most vaunted shows on television, she's not a household name.
So what's going on? Are funny women somehow ineligible for "leading lady" roles? Yes, Kristen Wiig has defied that stereotype, but for how long? Writer and HuffPost Blogger Erin Gibson recently addressed the way the media views funny women in her piece Pretty Funny (Minus The Funny). She attacks the tendency of television journalists to judge women by their looks, sealing the point with the question: "When was the last time a review of 'Two and a Half Men' felt the need to go into how Jon Cryer is 'such a normal-looking man?'"
Maureen Ryan also recently touched on sexism in television with her piece asking why "Girls," which is written and directed by its 25-year-old star, Lena Dunham, has been singled out for racism when the entire TV landscape reflects a woeful lack of diversity. Doesn't Dunham deserve some credit for even running her own show in a field still dominated by white, middle-aged men?
In her interview with Vulture, Winstead is hopeful that things are beginning to turn around: "I wonder if this might all change now that people are finally understanding that women are funny."
So while it may no longer be necessary to explain that, yes, women can be just as hilarious as men, it remains to be seen if Hollywood will continue to put funny women in the driver's seat, not to mention in starring roles.
If it does, execs might want to start combing through the list of former female "Daily Show" correspondents and set up some meetings.
Related
Popular in the Community