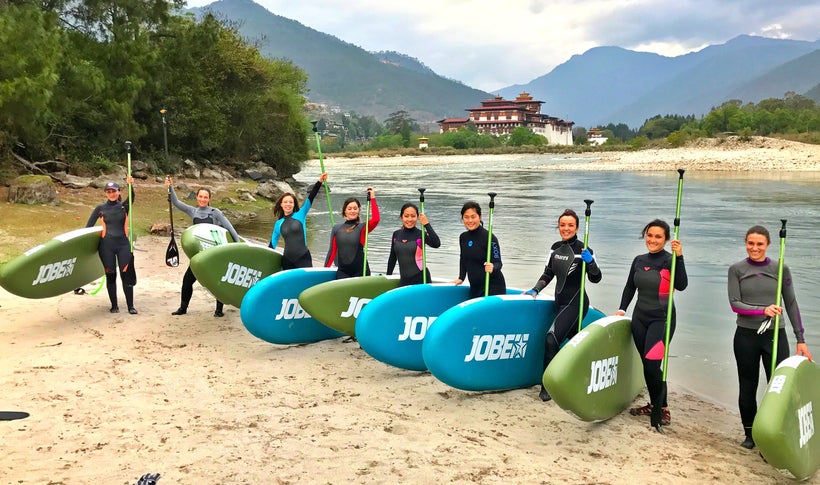 As eleven of us advance resolutely into the flowing, glacial river, a rush of excitement grips us. Admittedly, we are all a little nervous; feeling apprehensive because the currents below are strong. After months of training in the warm tropical coastal waters of Singapore and Dubai, my 'Women on a Mission' teammates and I can hardly believe we are finally here, in Bhutan, to begin the challenge we set ourselves about a year ago. The pristine, gushing rivers of this hidden Himalayan kingdom are a brand new environment for us to paddle in. In truth, the moment is made even more exceptional because ultimately, we know we are here to support a very worthy cause, and also because the adventure itself is pioneering. Indeed, we are the first - the first team to ever Stand Up Paddle Board (SUP) in the Kingdom of Bhutan and attempt the descent of two of its rivers.
In Bhutanese the country is called "Druk Yul", which means the Land of the Thunder Dragon. Today, as the kingdom manoeuvres through the process of development, the Royal Government of Bhutan has committed to achieving gender equality for the Bhutanese people. Furthermore, through its Gross National Happiness Commission, Bhutan prioritises the happiness of its citizen; and this is part of the reason why we are here.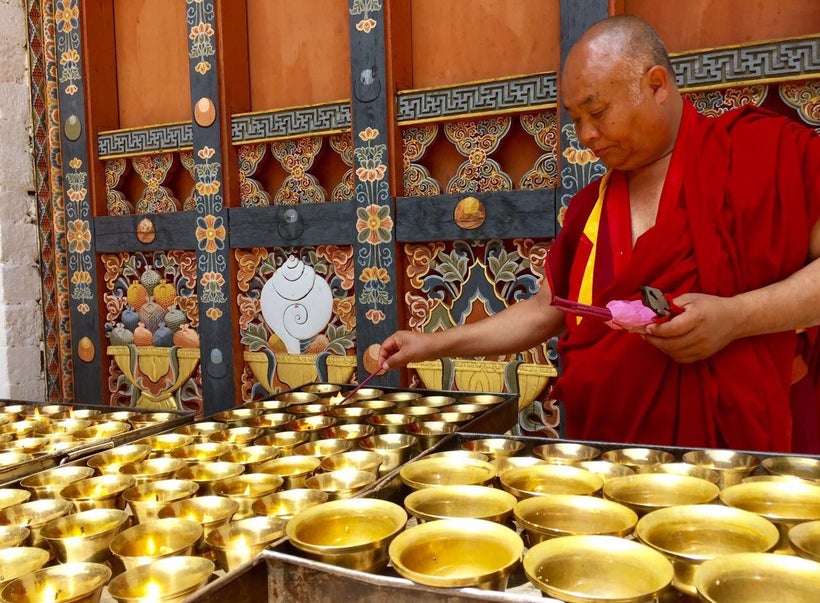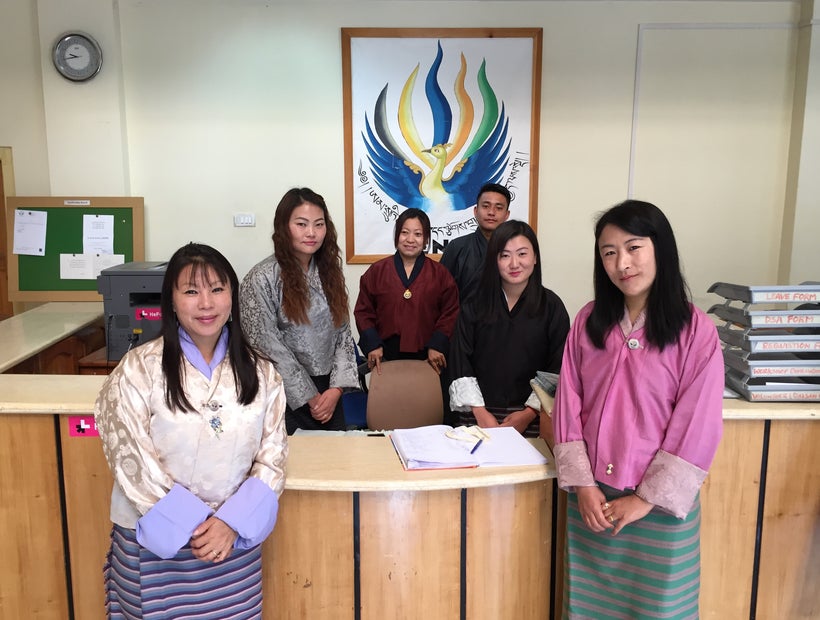 Our 'Women On A Mission' team's added objective is to raise awareness and funds for RENEW, a charity founded by the Queen Mother of Bhutan, which is dedicated to the empowerment of women and children, with specific attention to survivors of domestic violence. We have been in contact with RENEW for months now, and have learnt a great deal about how they operate. The charity offers survivors shelter and care to help them heal from their physical and emotional wounds, while also providing them with life skills training, to allow them to eventually become financially independent.
A few days earlier, when we land in Bhutan, after a hair-raising albeit breathtaking final approach, we feel ecstatic to have arrived at last. Paro International Airport is known as one of the most challenging airports in the world. Its tiny airstrip is 2,200m (or 1.5 miles) above sea level and surrounded by sharp mountainous peaks. Pilots have to manoeuvre through dozens of houses scattered across the ridges, while often battling strong winds that whip through the valley, resulting in severe turbulence. So treacherous is the airport that "only about 12 or 13 pilots in the world are qualified to land here," confirms our charming and ever-smiling Druk Air steward, as we make our way towards the rear of the plane to disembark.
From the moment we step off the aircraft, and breathe in the fresh mountain air, my teammates and I are captivated. Soon we meet our local guide, Karma, a man bubbling with enthusiasm and whom we later learn is somewhat of a local celebrity in Bhutan, having starred in a recent documentary called Power of the River. As we drive out of the airport, he tells us about his country: "Bhutan is situated on the ancient Silk Road between Tibet, India and South East Asia. Today it is in the midst of reconciling century-old cultures with rising modernity; in fact, it was isolated from the outside world for centuries and only began to open up to foreigners in the 1970s."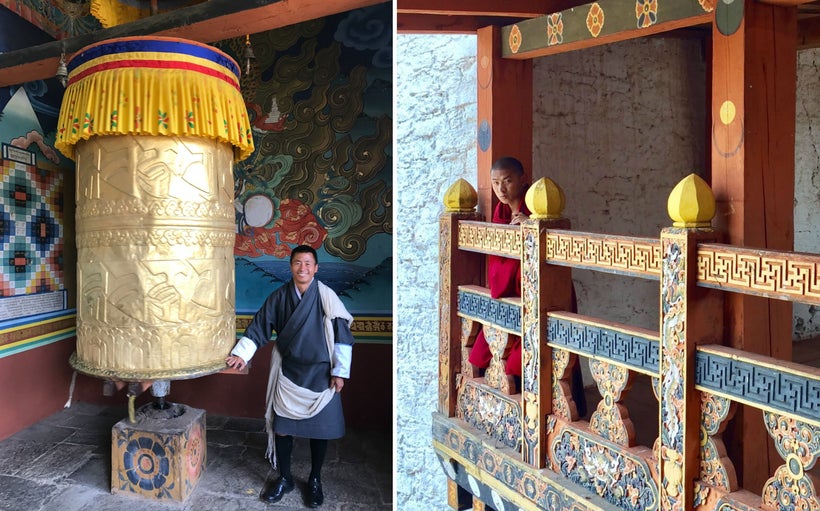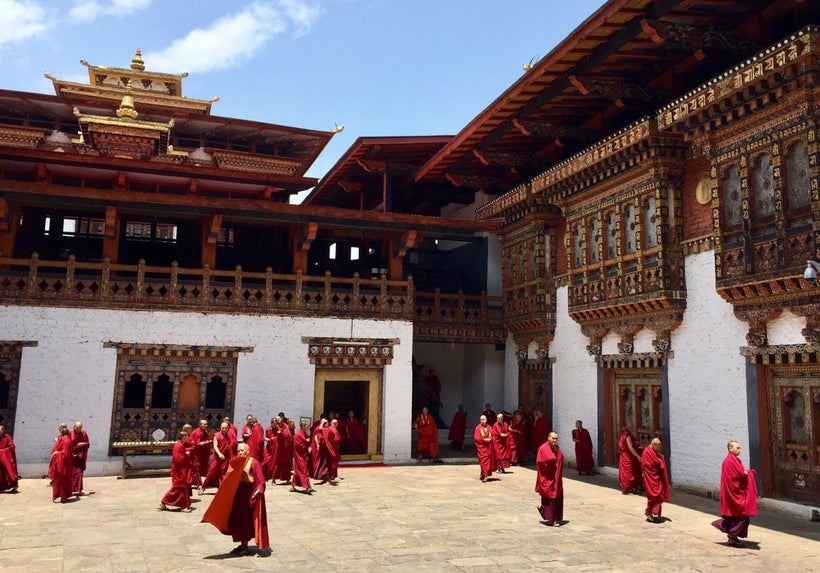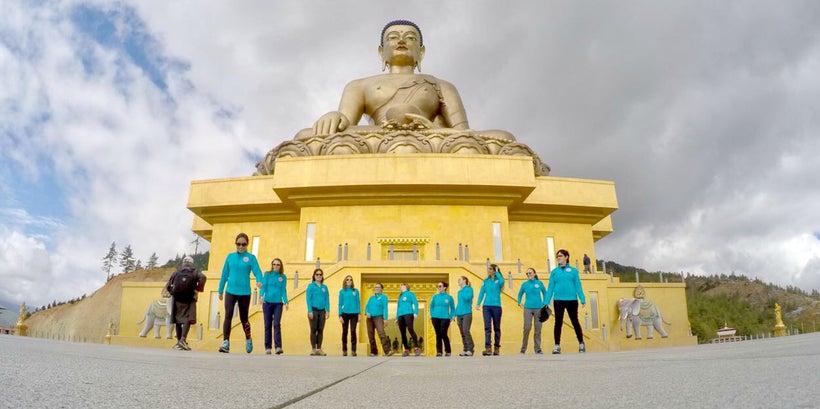 During the first couple of days of our journey, our group travels from Paro to the capital, Thimphu, and after a visit to Buddha Dordenma - a gigantic Shakyamuni Buddha statue - and a blessing at Thimphu Dzong, we swap the expedition bus for bikes to descend from the high Dochula Pass at 3,200 metres to the Punakha valley, where we base ourselves over the next few days for the SUP challenge.
There is an incident early on in the trip. One of our teammates has a bad fall while on the bike. She swerves to avoid some rocks on the road, and crashes violently to the ground. As a result she cuts open her chin, plus fractures four of her teeth. Because of the shock, she is close to fainting. We try to keep her alert and conscious, as she is carried on to the team bus and taken to the closest hospital. She is shaken but undeterred; and she joins us on the SUP boards the next day.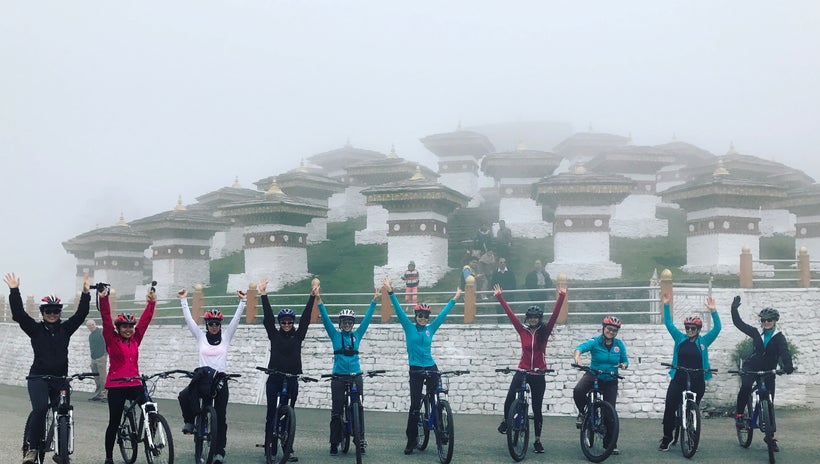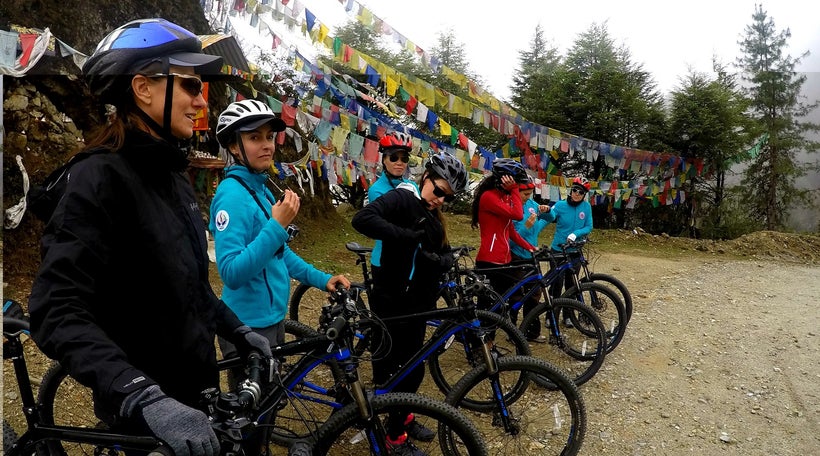 Over a period of four days, we paddle down the confluence of the Mo Chhu and Pho Chhu Rivers with the backdrop of the stunning Punakha Dzong. The locals have never seen anyone on SUPs before. The equipment has been shipped into Bhutan especially for our expedition, and so we attract a lot of attention along the riverbanks.
The currents and rapids are more unpredictable than we expected and very different from what we have experienced at sea. Fortunately, Anthony, our expert SUP guide, gives us a crash course on how rivers flow. Originally from the UK, he has been working in Bhutan for years and knows the country inside and out. In fact, two decades ago, he was asked by the royal family of Bhutan to map out the rivers, and then decided to stay on as a guide. "Most people assume a river follows the curves of its banks, but in reality, a river flows in a straight line" he tells us, drawing a sketch on the sand, while a local dog looks on intrigued. "This means that when a paddler approaches a turn in the river, he or she has to be very careful not to drift to the side and crash into the rocky riverbanks. The key is to try to remain in the central part of the river, which is usually the deepest and safest place to be." - Easier said than done.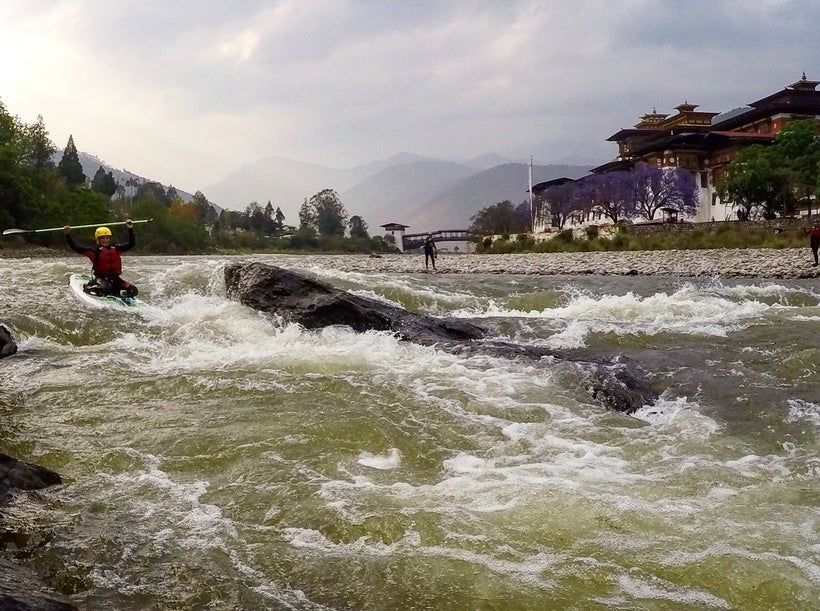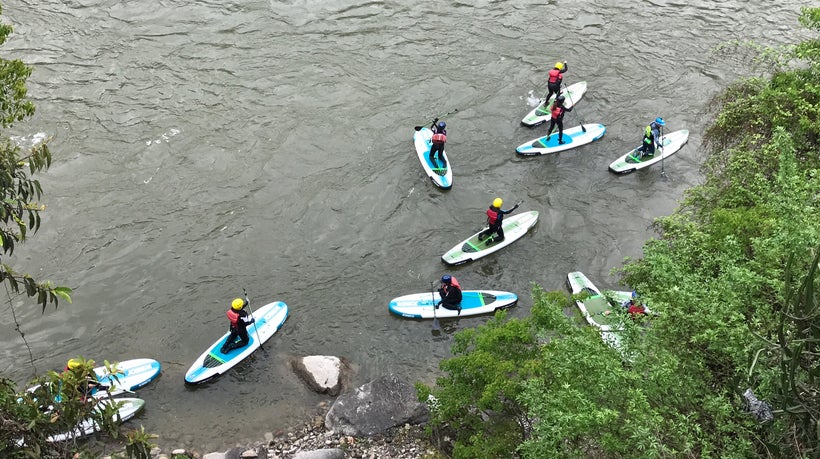 We learn the hard way, and our first day is spent falling off the boards in the churning rapids, so many times, that we lose count. As a result, when things get choppy, we become very good at going from the standing, to the kneeling position at lightning speed. We are reminded time and time again, that lowering our centre of gravity makes us more stable and reduces our chance of falling off. Ultimately, we come to understand that a flowing river's calm surface can be deceiving, and that currents should never be underestimated. Getting back on the board once we fall into the flowing river and avoiding oncoming rocks are the most challenging tasks. Many of us get badly bruised and cut, through our wetsuits – but we keep going, without losing momentum. Adrenaline is pumping and despite feeling exhausted, soaked and miserably cold at times, we are proud to tackle this unique challenge.
One afternoon while we are paddling down the Pho Chhu River, one of our teammates gets stuck in a large rapid, where some tree trunks have pilled up. She can't pull her quick release belt leash to liberate her board, which is causing her to stay wedged between two rocks. The water comes crashing wildly around her and she is submerged at times, while fighting against the current. Luckily, our two intrepid safety kayakers are with her within seconds of her fall, and help her get free. She manages to swim safely down the rest of the rapids and puts on a brave smile when she re-joins the team. In the evening we discover that she has a massive bruise and a cut that has pierced her wetsuit down the whole length of her leg.
On the last day, we start early in the morning. It's a beautiful and sunny day, the sky is blue, the birds are chirping and the water is crystal clear. We are getting more confident on the SUPs and the team is moving very well together, navigating the rapids with ease. When it's time to get out of the water, we are sad that our journey on the rivers has come to an end, but the women and children at RENEW have prepared a special show for our visit and we can't be late for that.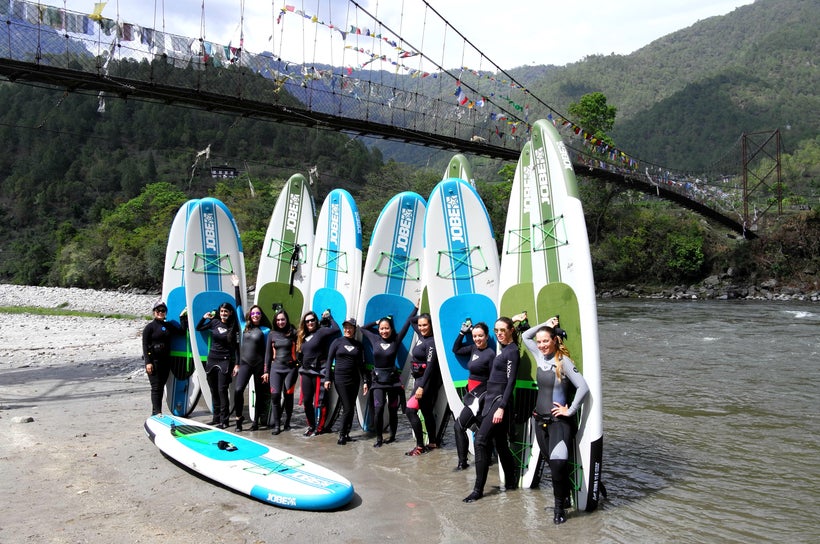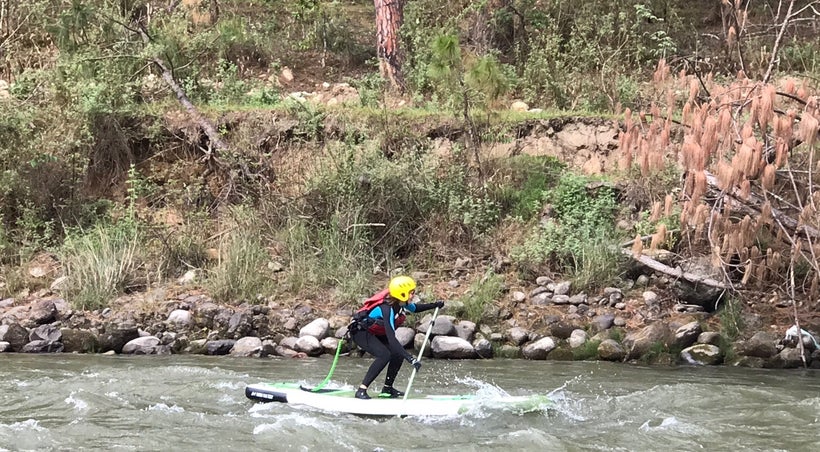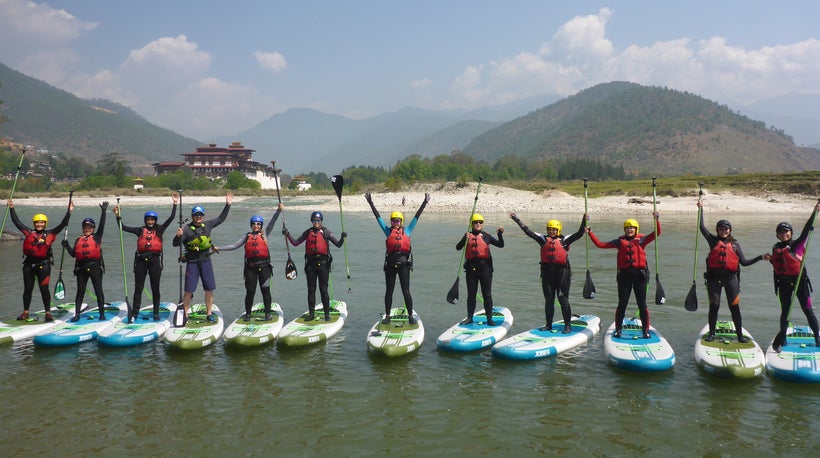 We arrive just in time. The children in particular have been waiting excitedly all day. To our disbelief, we learn that they are not the children of the women survivors of domestic violence living at the shelter, but survivors themselves, and it breaks our hearts. Some of them are as young as four or five years old.
The children dance beautifully, as they have been practicing all week, and you can see on their little faces that they are eager to do well. We meet the women survivors too. There is a deep sadness etched on their faces but when we ask them about the weaving they have learnt at RENEW, their eyes light up, and they show us their beautiful work with great pride.  We are told our team's donation will go towards building more shelters for the survivors; it's a small gesture, yet after speaking with the dedicated management team at RENEW we feel confident our efforts will have a lasting impact.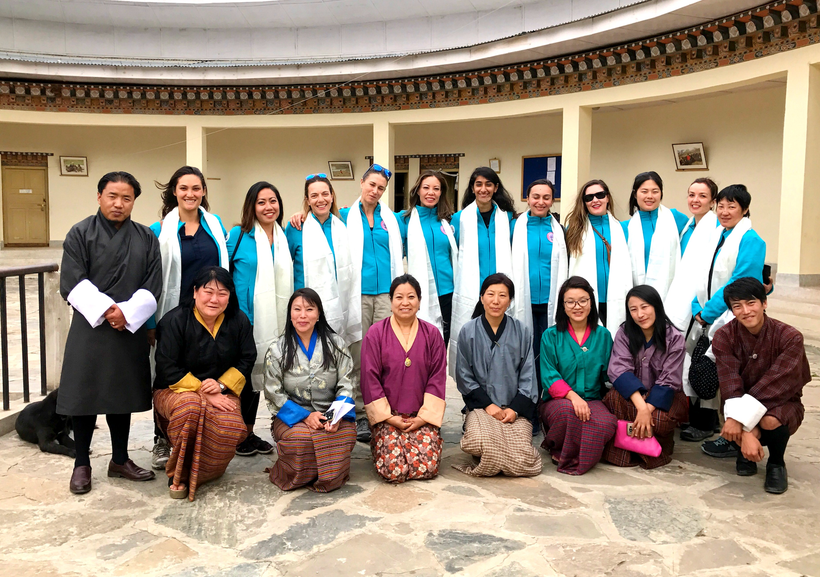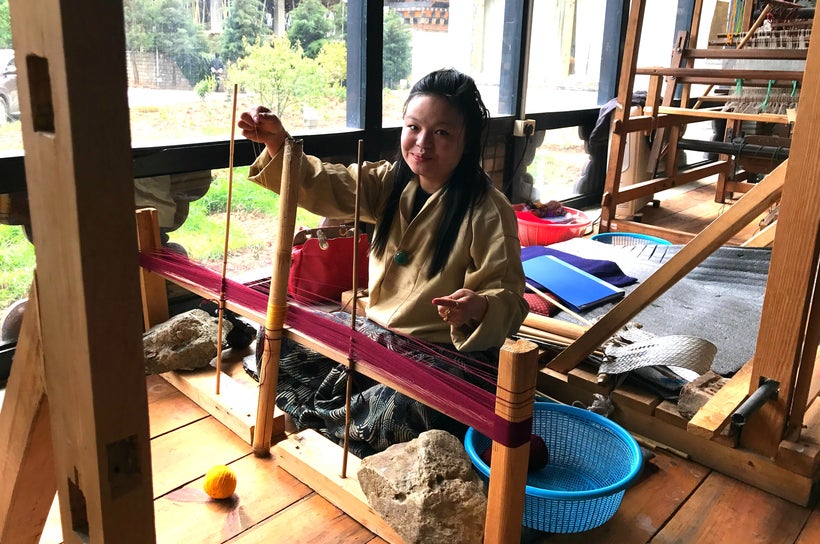 Our trek culminates with a hike up to the iconic Tiger's Nest to visit the Taktsang Monastery, perched on the very edge of the mountainside. This is a pilgrimage site for Buddhists from all over the world and Guru Rimpoche, who introduced Buddhism to Bhutan, is said to have reached this place on the back of a flying tigress. The climb and the views from the peak at 3,200 metres are simply awe-inspiring.
For our team, it has been a journey into a different and unique reality. From the multi-coloured prayer flags fluttering high above the suspension bridges as we paddled below on the sparkling rivers, to the silk scarves we received as gifts from the women and children at RENEW; the beauty of the Kingdom of Bhutan and the kindness its people will remain engraved in our memory for a lifetime. No wonder many believe Bhutan to be the last real-life, Shangri-La; most of all because of its unwavering pursuit of one of life's most elusive concepts – national happiness.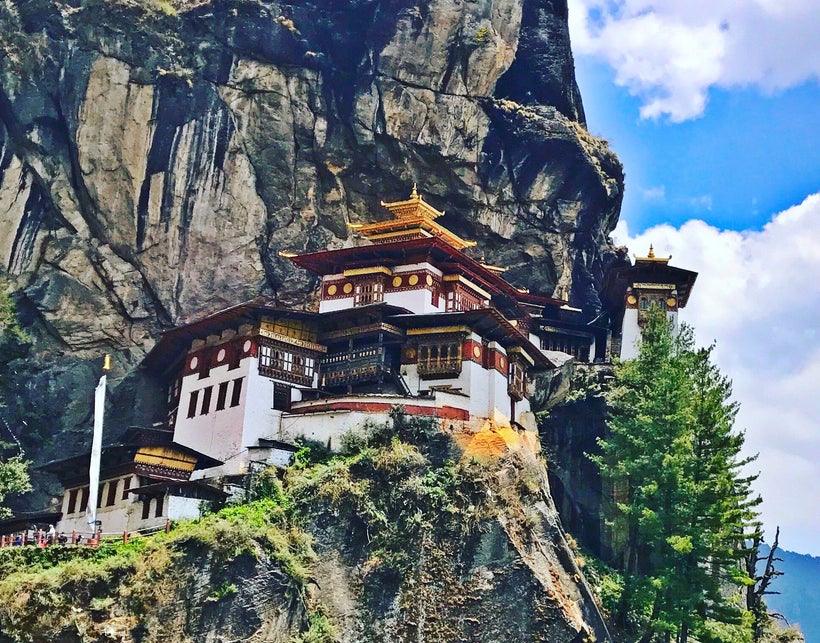 ------------------------------------------------
Women On A Mission (WOAM) is a non-profit entity headquartered in Singapore, which organises challenging, self-funded, expeditions to remote and majestic locations around the world as a means to raise awareness and funds for women survivors of war and to support and empower women who have been subjected to violence and abuse. This WOAM SUP Expedition 2017 to Bhutan was in support of RENEW, a charity founded by the Queen Mother of Bhutan, which is dedicated to the empowerment of women and children, with specific attention to survivors of domestic violence.
Calling all HuffPost superfans!
Sign up for membership to become a founding member and help shape HuffPost's next chapter
This post was published on the now-closed HuffPost Contributor platform. Contributors control their own work and posted freely to our site. If you need to flag this entry as abusive,
send us an email
.