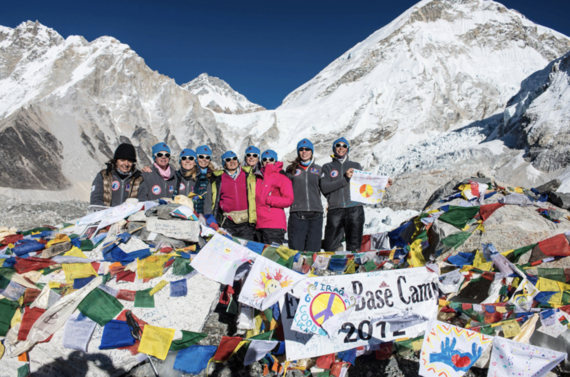 It seems particularly fitting to share this story given the horrific destruction brought on by the 7.8 magnitude earthquake, which struck Nepal almost a year ago today. It is my way of paying tribute to the beautiful people of Nepal, and to the Sherpas especially, who suffered heavy casualties that fateful day. On the afternoon of the 25th of April 2015, the shaking from the quake triggered a terrible avalanche onto the Base Camp of Mount Everest. At least twenty-two people were killed as a result, surpassing the tragic losses brought on by an avalanche that occurred just a year before, as the deadliest disaster in the history of the mountain.
Three and half years ago, I was privileged to be part of a group of adventurous women from Singapore who decided to embark on a two-week trek to this very place, in an effort to raise awareness and funds for women survivors of war. The climb, inspired by my friend and Everest summiteer Valerie Boffy, turned out to be the journey of a lifetime and a truly transformative experience for us all.
The Base Camp of Everest, from which countless attempts on the summit of the Goddess of all mountains have been made and continue to be made every year commands nothing but respect and humility. At an altitude of 5,364 meters (17,598 ft), it stands taller than any mountain in central Europe. Because of the region's spectacular mountain peaks, the loyalty and friendliness of its inhabitants, and the long days of hard hiking needed to reach Base Camp, mountain lovers consider this trek one of the most worthwhile on the planet.
After several arduous days on the road, as we finally clambered up the last few meters of uneven ground onto the shifting moraine leading to the Base Camp of Everest, a surge of elation and joy filled our racing hearts. We knew we had succeeded in accomplishing our goal as a team and as we embraced and congratulated each other with moist eyes and throats tight with emotion, we began taking in the incredible views from this symbolic place.
Just standing there, surrounded by majestic snowy peaks, a little breathless from both the excitement and the 50% oxygen levels in the air, it was hard not to imagine the legendary climbers that must have treaded very close to where we stood. Over half a century ago, Sir Edmund Hillary and Tenzing Norgay first climbed Mount Everest in 1953, using this south col route, forging a path through the treacherous Khumbu icefall at our very feet.
My teammates and I had been dreaming of this moment for many months, while training hard to be in the best physical and mental shape possible for this demanding trek. And as we savoured the feeling, on this windy autumn afternoon, despite the sun shining brightly in the cloudless azure sky, at this altitude, it was already a chilly minus five degrees Celsius. We didn't have much time before the sun would move behind the mountains and the temperatures would plummet to a crisp minus 15 to 20 degrees Celsius.
The challenging days of non-stop trekking had taken its toll on our group. Three members of our all-female team were on antibiotics, fighting flus and hacking coughs; and just a few hours earlier, two of our teammates had to be put on oxygen at the last stop - Gorak Shep (5,164 m). They had been suffering from pounding headaches over the last few days, which didn't seem to disappear with the intake of paracethamol. They were weak, very pale with blueish lips, clear symptoms of the onset of altitude sickness - an ailment not to be taken lightly. Just that morning, a French climber had to be airlifted from Gorak Shep because of this very condition.
Eventually, after receiving oxygen, our teammates felt marginally better, and having come this far, we decided to set off and accomplish our mission collectively. The added motivation, of course, was the fact that we had committed to taking on this challenge to support a very worthy cause, the plight of abused women. Thus, throughout the journey, during the more strenuous moments of the climb, this calling had guided us and given us additional strength and endurance. Thinking about these destitute women, who had lost everything because of war and conflict helped us focus on the task at hand. We felt incredibly grateful to be able to partake in such a special adventure, and as a result, to make a difference in their lives.
The journey to Base Camp can take anywhere from ten days to three weeks, depending on how many days of acclimatization you allow. This trek is classified as moderate to difficult, but it's not the terrain or hours on the trail that are the real difficulty, it's the altitude itself. You start off from the village of Lukla (2,800m), a short scenic flight from Kathmandu, landing at Tenzing-Hillary Airport - incidentally considered one of the most dangerous airports in the world. The single runway is 460m long by 20m wide (1,510 ft. by 66 ft.) with a 12% gradient. On one side you have the mountains, and on the other, sheer nothingness - a complete drop. So it's no surprise that when we landed there about ten days prior, we held our collective breaths and hung on tightly to our seats, as the pilot came in for the precarious final approach.
While many of the routes through the mountains are arduous, there are ample places to rest and enjoy a meal along the way. Furthermore, it's almost impossible to get lost; all you have to do is ask a local the way to the next village on your route, and they will direct you. From Lukla we made our way to the Sherpa capital of Namche Bazaar (3,440m). Even the fittest people can be prone to altitude sickness, and warnings about this are plastered all along the way into Namche. Once there, we visited the local Lama to receive his blessing for the journey ahead.
One of the most enjoyable aspects of this trek is the fact it is also a deeply spiritual journey in the land of the clouds. As we progressed through the various villages that took us to Everest Base Camp, we came across a multitude of temples, monasteries, stone tablets and prayer wheels depicting the life of the Dalai Lama. It's impossible not to feel that sense of peace and spirituality emanating from the very ground, and which is only enriched by the stunning backdrop of the Himalayan mountains.
Looking back and reminiscing, the trek to EBC was one of the most meaningful experiences of my life. It is an adventure I will always treasure and the reason I went on to co-found 'Women On A Mission' with my two teammates, Valerie and Karine. And while planning such a trip can be somewhat of a daunting prospect, clearly, one important and sustainable way to support Nepal and its people is to visit the country. This will help its tourism flourish and local businesses recover and grow.
Ultimately, the breath-taking vistas, the kindness of the people and the sense of peace and serenity you gain as you journey through the magnificent landscapes, have the power to heal broken hearts, mend lost souls and transform us in countless ways. Like no other place on earth, Nepal leaves an imprint on the heart of those who visit, and never ceases to inspire.
Photo Credit: Women On A Mission (WOAM) - a non-profit organization, headquartered in Singapore, which aims to raise awareness and funds for women survivors of war and to support and empower women who have been subjected to violence and abuse.
Related