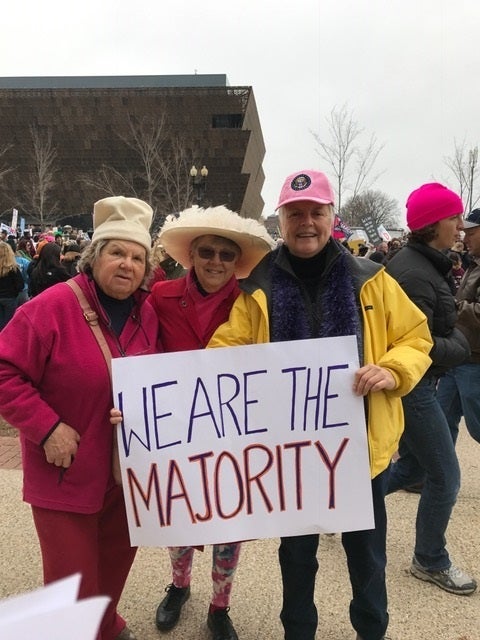 I flew from Florida to Baltimore to take part in the Women's March in D.C.
As soon as I got to the airport, there were women gathered in groups, laughing as they took pictures of each other. We chatted on the plane, commenting on badges, t-shirts, and hats. The atmosphere was elated, festive, and I felt optimistic for the first time since the election.
Amtrak was sold out and MARC was not running when I got off the airport bus at the BWI train station, so I shared an Uber with a woman from Chicago and her son. We said goodbye and the New Carollton Metro station as people in red hats and military uniforms came off the train, going home from the inauguration. Then as now, we were in the majority.
Failing to find my way, I asked for directions. I was swept up in a posse of very capable young women in pink, Peruvian-style hats, who carried me along with them to the right Metro line for my D.C. destination.
At my friends' house, we scanned the news channels for reporting on the inauguration. It was clear that the turnout was low. When we watched the live feed of the inauguration on MSNBC and C-SPAN, you could see the empty bleachers and thin crowds. When we watched it on Fox News, the reporter talked about the members of the crowd, saying how they had really hung in there for the duration of the event. However, the camera never showed the audience but focused instead on the parade itself—beautiful horses and shiny motorcycles--a great spectacle. Fox seemed to be carefully avoiding showing that there were not many watching.
After an evening of making signs to hold up on the march, my posse was ready to go. ON the big day, the subway was full of pink hats. Couples, pairs of friends, gangs of chums, a women with a trumpet!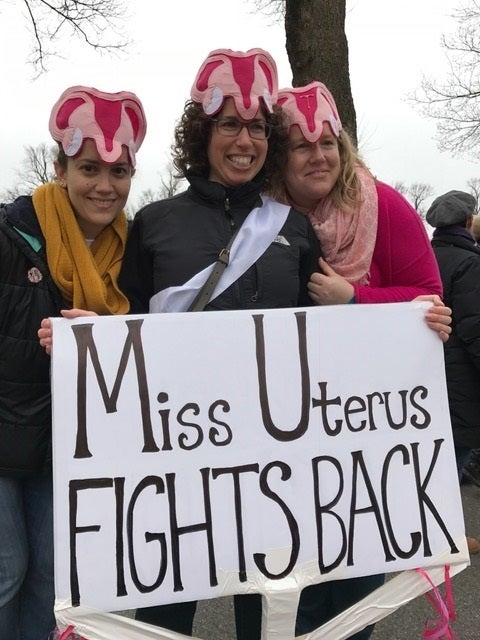 Probably almost every reader of this blog took part in this march or a sister march in another city. Turnouts exceeded estimations everywhere. The atmosphere in D.C. was celebratory, as though we were to be heard at last, despite the election results. It was enthusiastic, supportive, humorous, but not trivial. It was a gathering-in of the tribes. There were feminists, LGBT activists, members of Planned Parenthood, the ACLU, or Moms Rising. There were men. There were young women (I talked to high schoolers from Kentucky), old women (okay—that was mostly my lot). Moms with strollers, moms with grown kids, women with "dogs for democracy." There were Latino, Black and Anglo women; Christian women, Muslim women, Buddhist women, and proud atheists. All the issues: Women's rights, human rights, the wall on the border with Mexico, global warming—all marching together. There were mom's with kids, dad's with babies in slings, people with face paint. One brave young woman was essentially naked from the waist up with what looked like electrical tape over her nipples. The message painted on her chest said, "No, still not asking for it." As one sign read, "So many issues, only one sign."
But really, the hats were the biggest indicator of what was going on. Yes, the Trump supporters had those red hats and I am sure that a lot were sold all over this country, but...that's just it: his supporters had to buy them and they were all the same.
The pussy hats were all different and mostly homemade. Not everyone knitted their own but a friend made them, or their aunt did--or their niece. People bought them on Etsy, or got patterns off the Internet. There were dozens of styles, many different shades of pink. Some women of color wore brownish hats, some other women had knitted them in purple. Most hats were made as a longish rectangle of wool, folded over and sewn on the sides, the square shape making for little "ears" when worn. Some had bigger ears than others; some had tall ears, suggesting labia; some ears featured pompoms at the end of knitted strings, made to look like ovaries on the end of Fallopian tubes. Different colors of yarn, stripes in various shades of pink, different weights of wool--what this all said was that these people had a high level of personal commitment; that they were ready to do something, and that they were already doing it.
The hats are a powerful symbol. They resemble the liberty caps of the French Revolution.
It was fascinating, after the march, that President Trump's press secretary, Sean Spicer, seemed very angry about the disparity in the reports of the numbers of attendees at the march versus the inauguration. It would have been smarter to ignore the whole thing because anyone paying attention knew the truth, but that's not the Trump way. It was Spicer's first meeting with the press and he was furious, but was it with the press corps or was it with what he had been directed to say? He was over an hour late to the podium, which suggests a great deal of dissension about the message.
No matter, Sean, nothing you can say will change the fact that women (and men) are on the march, and we are in the Majority. Or perhaps just advise Trump's kakistocracy to hear us sooner rather than later.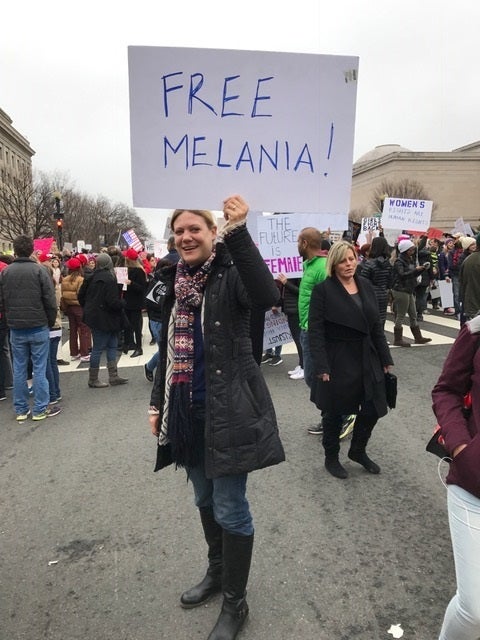 Calling all HuffPost superfans!
Sign up for membership to become a founding member and help shape HuffPost's next chapter