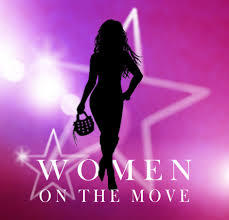 Women On The Move celebrated their ninth successful and motivating event at the historic NYU campus. Inviting industries most influential women to engage with a room filled with promising futures and potential influencers. Amongst the panel were supermodel, Jessica White; Grammy award winning singer, Estelle; President of Roc Nation, Chake Pilgrim and accredited writer, Kathy Iandoli. Every lady offered career advice, shared comforting similarities and answered questions from the inspired audience.
As a "woman on the move" myself, I was heavily swayed by the meticulous and in depth contract given to me upon my arrival. A requirement of the evening was to commit to oneself, push away doubt, and mostly, demand self-respect. Many of the mentionable are easily washed away with taxing day-to-day challenges. This constant reminder of pursuing our purpose and requiring accountability was the best way to kick off an evening of power, struggle and joined sisterhood.
I have added the contract as an added bonus so you can appreciate and understand how relevant it is, also holding yourself accountable for your journey.
I hereby agree and commit to take the following steps to improve my accountability toward myself, my personal goals, and career aspirations to increase my chances for success: I will not let a small misstep or big obstacle convince me that I am not adequate enough to follow my dreams. I will respect myself by refusing to engage in fruitless activities, jobs, and relationships. I will challenge myself to avoid living with and reacting from fear. Specifically, I will say yes to new opportunities, speak up and introduce myself, shine even if I'm told I'm too blinding, ask for a raise, and help or advice knowing one day I will pay it all forward.

I will not sacrifice my dreams and aspirations to simply make other people content or comfortable. Their reactions are reflections of them, and I do not own those. I will use all of the power in my being to shine and serve as a light for others, but most importantly, for myself. If conflicts arises between my goals and others, I will exercise compassion and understanding for myself and them when coming to a compromise.

I choose to be in charge of my own decisions and destiny. I will not talk, think, or act as if my partner, child, spouse or friends made me do it. My purpose will guide my heart, hands and head because my purpose is the reason I live and breathe.

I will do the aforementioned because I am worthy and deserving. I am a Woman On The Move...
Good right? After signing that it's obvious you are ready to defeat any and all obstacles. Another highlight of the evening was being present, literally attending an event where men and women are sharing goals and like-minded goals motivates the soul. In this downtown conference room, we sit side by side with the Empire State Building, together listening to Jessica embrace her faith and own up to her professional mistakes. She explained how we can get what we want without being argumentative or condescending. Chaka relating her work habits to those of her role models, and believing in surrounding yourself with real supporters. Kathy embracing her womanhood and not allowing anyone, on any level, to belittle or disrespect her. Estelle, oh my dear Estelle. In her elegant British accent, she calmly spoke to fans about teamwork and the greater incentives of trusting others. Of course, this resonates deeper for me because, although I don't sing... fine, I can't sing for shit, I do possess the vicious habit of control. She spoke directly to me when stating, "I listen because they know what works best for me." Should she sing off key, excel in another verse or breathe awful between words, trusting your team is key. Together agreeing on the power of their networks and trusting their instinct, these Pioneering women had something for everyone. These ladies spoke from experience and collectively have entirely different careers but share one vision... noble triumphs.
The ladies behind the program are also noteworthy and deserve to be mentioned. Dee Vasquez, who I clearly remember from last year's event, delivers warmth, power and defines the millennial woman. Articulating and delivering flawless conversation with a crowd and humbling guest seemed effortless for her. Alongside the renowned beauty, Amber Ravenel, these ladies have created a much needed platform for women. Amber, who I adore, has developed a reputation that is unexplainable. Meeting her was one of the most eye opening experiences and she boldly portrays a woman on the move. Without shifting stories and giving too many details, let's just say I drop to my knees to praise a woman so confident, goal orientated and set on a vision of success. There is no question that what these two ladies created would not only succeed, but exceed what they originally initiated.
The theme of the evening set Pioneering Women on a platform to interact with an audience but left even some established men with a spark. Whether motivating you to chase a dream, igniting an old passion or confidently owning who you are in any environment, this panel left us with an understanding that whatever our purpose was, own it. Do it and do it the absolute best you can. Never apologize for your craft or make excuses for your drive. Never settle and remember to communicate. Small tokens from an evening amongst peers, sisters and fellow women on the move.
REAL LIFE. REAL NEWS. REAL VOICES.
Help us tell more of the stories that matter from voices that too often remain unheard.