Broadway and ballet stages are not the usual first stop for those seeking images of female empowerment. But Friday and Saturday at Lincoln Center and at the Lyric Theatre in Times Square offered plenty of feminist food-for-thought.
New York City Ballet's Classic I
Friday evening's triumphant dispatching of George Balanchine's plotless Raymonda Variations by 13 ballerinas of New York City Ballet and one brave danseur underscored the supremacy of Mr. B's vision of the American ballerina as an athlete-nymph, who tears through woodlands at a breakneck pace, and who has no need for male companionship - though she may entertain it, if he can match her ballon and batterie.
Stepping in for an injured Ashley Bouder, soloist Erica Pereira breezed confidently through the lead role, but it was her five handmaidens who really sent sparks flying. Costumed identically, they represent different sides of the archetypal ballerina. Brittany Pollack was the sassy one, thrusting her hips then traveling about a mile in hops on pointe like no big deal. Kristen Segin delivered a hummingbird solo, landing turning assemblés on pointe. The imperial Megan LeCrone powered through a set of relevés on one leg without needing to put her heel down in plié. Meagan Mann pivoted saucily through her mercurial variation. The radiant Savannah Lowery nearly threw herself off-balance, but kept her foot on the gas, cool as a cucumber.
The finale saw the entire ensemble speeding down the autobahn, captained by the rocket-powered LeCrone and Lowery. Joaquin De Luz danced cleanly and ebulliently, and showed up right where Pereira needed him to be for her final heart-stopping dive toward the orchestra pit. (She may have been intending to have a word with the conductor, who propelled her through an insanely fast series of pas de chats without giving her enough time to point her feet properly inflight.)
The Raymonda tutus and painted backdrop are in urgent need of updating; they look like they were original in 1961. All those flowers are so yesterday. The sprightly, scrumptious Glazunov score, on the other hand, is timeless.
The blonde goddess Teresa Reichlen and mischievous sprite Sterling Hyltin, in conspiracy with the glorious soprano Marjorie Owens, reigned over Peter Martins' Morgen, keeping it afloat in the Dead Sea of dance clichés. The admirable Rebecca Krohn rounded out the female contingent; their earnest, hardworking partners wore a perpetual look of anxiety, mostly ignored by the choreographer and by the women, even when locked in the tightest of clinches.
Program notes tell us there is no story, just "an atmospheric exploration of love." The exploration went on for an awfully long time, considering that love in the world of Morgen is expressed mainly through two kinds of movement: promenades and pillows. In the former, the woman is whipped around in a circle - sometimes slowly, sometimes fast - while she stands on one leg. In the latter, the woman arches back in the man's arms and the man presses his head to her breast.
Martins has the women try these moves with different partners, which is rather modern, but he stopped short of having the women explore same-sex love - which would have been truly modern.
Perhaps out of boredom, the daredevil Hyltin takes a flying leap toward some guy, jumps up and twists in the air, landing with her back arched over his shoulder. He just stands there, his arms flung wide - a piece of furniture for her to drape herself over, or a coat-hanger. It's a stunning, reckless move. Ballet to the People has no clue what it meant.
Poured into divine cocktail dresses by Carolina Herrera, dripping diamonds down their backs, the women ended each episodic encounter by bourreé-ing off into the wings, their partners staring after them quizzically before they moseyed off in the opposite direction.
We could have listened to Owens sing Strauss lieder all night, her voice like rich butter cream frosting. With her blazing bronze mane, she too looked sensational in a black cocktail dress with asymmetric sheer paneling.
Like Raymonda Variations, Jerome Robbins' NY Export: Opus Jazz could use a Carolina Herrera updating. The black leggings and brightly colored sweatshirts may have looked provocative on stage in 1958 but we're all wearing those now. The stunning film version of Opus Jazz, released in 2010, had the dancers in their street clothes, roaming the five boroughs. That look totally worked.

There is absolutely nothing else about Opus Jazz that needs tinkering with. The punchy designs by the great social-realist artist Ben Shahn inspire awe, starting with the opening backdrop - an abstract tangle of TV aerials and telephone poles. Robbins' kids saunter on stage, with attitude. They stake out their turf, and take turns showing off. Girls face off against boys; they declare an uneasy truce.
Three guys roam an urban rooftop, restively, on the lookout for rival gangs. Firecracker Georgina Pazcoguin explodes on the scene. She takes on the gang leader. They call in reinforcements, but there is no contest. Pazcoguin becomes the new capo.
Taylor Stanley and Ashley Laracey steal away from the pack to explore the magnetic fields around each other's bodies. The sexual heat from their brief encounter could have powered the entire theatre in the event of an electrical failure.
Robbins deploys balletic steps, along with hints of mambo, sparingly in this distillation of urban teenage angst, set to Robert Prince's striking jazz score. The memories that linger are of eloquent, highly charged gestures, the unspooling of patterns in the glow of Shahn's incandescent artwork, and individual personalities - above all, the fierce and fearless Pazcoguin.
Giselle at American Ballet Theatre
Across the plaza at the Metropolitan Opera House, Giselle made landfall, on Saturday afternoon, in the person of Isabella Boylston.
This 19th century Romantic classic makes a problematic feminist statement. On the one hand, the wronged peasant girl saves a worthless aristocrat's bacon, thereby preserving the patriarchy. Yet, the true heroine is not the titular Giselle (no slight intended to Boylston, who makes a convincing transformation from captivating, headstrong village girl to magnanimous wraith) but Myrtha, the baleful Queen of the Wilis.
Devon Teuscher is a revelation in this role. She swans on stage initially in a blur of bourrées that cut through the fog like a knife, stopping on a dime, with a sharp twist of her head, as she senses the approach of prey (mortal men.) Her enormous jumps seem to come out of nowhere, and land as if on a pillow. While her upper back does not appear as pliant as other Myrthas we've known, her proud carriage commands fear and admiration. She is momentarily moved by Giselle's stalwart defense of the indefensible Albrecht (Alexandre Hammoudi); we see a slight tremor pierce her armor - perhaps a recollection of a past infatuation of her own - but it's only a momentary weakness. Many Myrthas fall into the sand trap of camp, but Teuscher masters the complexity of the character, and sustains the image of an avenging angel, the steadfast grassroots organizer of outcast women.
Act II opens on the poignant sight of brokenhearted village youth Hilarion (the compelling Roman Zhurbin) fashioning a simple cross out of wood and rope to place at the head of Giselle's grave. That Giselle and her fellow Wilis are buried in this grim forest and not in the village cemetery bear testament to their sexual transgressions. They could not be blamed for having been betrayed (mainly, we presume, by noblemen who, like Count Albrecht, were exercising their droit de seigneur) but they were ostracized for having sexual relations outside of marriage.
At the time of its creation, Giselle reflected "a 19th century anxiety about growing numbers of unmarried, unmoored women whose sexual appetites could not be contained." The power of the feminist statement depends entirely on the strength of the portrayal of Myrtha, and on the unity of the Wilis. Saturday matinée was a triumph of ensemble work - crisp and authoritative, united in style down to the angle of the head, the cocking of elbows and wrists, and the enigmatic, focused gaze. Luciana Paris and Misty Copeland made indelible impressions in the role of Myrtha's stalwart lieutenants: both nailed their tricky variations, Paris passionate and daring, Copeland mysterious and sorrowful.
Jennifer Tipton's lighting and scenic and costume design by Gianni Quaranta and Anna Anni, respectively, created the requisite eeriness without driving us into a deep depression. Kevin McKenzie's sensitive staging for ABT disappoints in only two respects: Hilarion could have been given more dance to buttress his mime, and Ballet to the People missed the Wilis flying on wires at the opening of Act II. Here, they simply run around behind the trees, illuminated by flashes of lightning, which does not have quite the same heart-stopping effect.
Tall, dark and handsome, with a smooth, powerful jump, Hammoudi looks the part of the noble Albrecht, but seemed a little remote in Act I. Boylston was all over him, joy lighting up her face whenever he showed up, but he didn't fully surrender to his emotions until she was quite dead. Dancing at the command of Myrtha in Act II, he was tremendous. His traveling brisés and tortured, beaten jumps right before he collapsed in exhaustion were light and magnificent, fueled by the power of Giselle's forgiveness.
Giselle herself must have that perpetually windswept quality in Act II (she is a ghost after all), and Boylston thrives in outer space, finding more oxygen the higher she goes. The pure joy she found in jumping when she was human transforms into an instinct to escape the pull of the grave in Act II. Sorrow and resignation are permanently etched in her face even as she admonishes Albrecht to show some spine and keep dancing to stay alive. She never looks at him, she merely senses his presence as he provides the occasional, invisible underpinning to her jumps. But it is her solo allegro work that is the true high point of her dancing, including a set of quicksilver fishtail soubresauts. On the ground, Boylston goes from zero to ninety in her piqué turns and, in her first appearance as a Wili, she whips up a veritable tornado of spinning hops in attitude.
The wildness of that introduction makes a vital connection to the mad scene that brought down the curtain on Act I. The way the Giselle narrative is framed, choreographically, implies that women who flouted social conventions when it came to sex must be on the verge of insanity.
Which brings us to On the Town, that delicious confection inspired by Jerome Robbins' groundbreaking ballet Fancy Free, about three sailors on shore leave. The crowds that jammed the Lyric Theatre on Saturday evening of Memorial Day weekend included a sizeable contingent of sailors, male and female, in town for Fleet Week - so patriotic fervor was running high. In place of an overture, the spiffing orchestra played "The Star Spangled Banner," and cast members frequently hopped off stage to exchange banter with the real deal in the audience.
Just four blocks away, at the Palace Theatre, An American in Paris is providing stiff competition for On the Town and, while no show can touch the colossal Gershwin songbook that provides the bones for American in Paris (not even Leonard Bernstein, Betty Comden and Adolph Green at their wittiest), On the Town boasts a superior orchestra and sound.
Unfortunately, every sneeze in the script erupts into a fullblown musical number, yet, apart from the iconic "New York, New York," no other song lingers in memory after the last chord is played.
Joshua Bergasse's choreography is another matter, exuberant, swellegant, and endlessly inventive, buoyed by the kinetic scenic and projection designs by Beowulf Boritt. Jerome Robbins, known to be one of the most difficult, capricious and obsessive geniuses of the 20th century, would likely have saluted Bergasse.
Our valiant sailors (the make-believe ones) sang and danced up a storm, and pined over dames. They are, however, stock characters, and, weighed down by so many unmemorable songs, their distinctive personalities are not as sharply etched as they were in Fancy Free.
The true heroes of the musical turn out to be the two leading ladies: cab driver Hildy and paleoanthropologist Claire, played to perfection by Alysha Umphress and Elizabeth Stanley. In a play that is in so many ways a throwback to the 1940's, the frank, freewheeling sexuality of these two female characters is refreshing.
Hildy picks up the shy sailor Chip (Jay Armstrong Johnson) in her taxi and immediately orders him to "Kiss me," before taking him on the wildest cab ride of his life. "I'm young, I'm free, I'm highly attainable," she sums up her selling points, then insists "Come up to my place."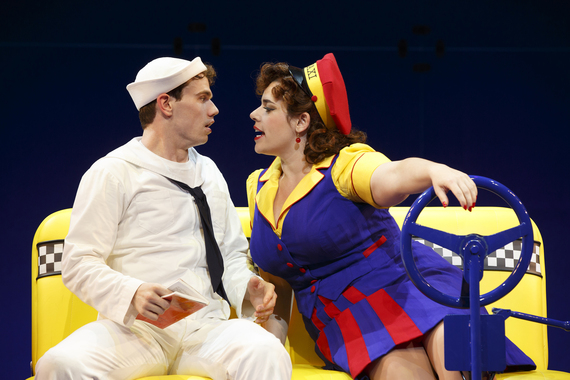 Alysha Umphress takes Jay Armstrong Johnson on the cab ride of his life in Broadway's On the Town (Photo: Joan Marcus)
The lady scientist Claire is only slightly more in control of her erotic impulses when she spots the sailor Ozzie (Clyde Alves) at the Natural History Museum. She insists on taking his cranial and other measurements, and in no time the pair are wreaking havoc with the Tyrannosaurus Rex display.
Stanley's big operatic voice pairs nicely with Umphress' bold, brassy belt; both have terrific comic timing and can hoof it with the best.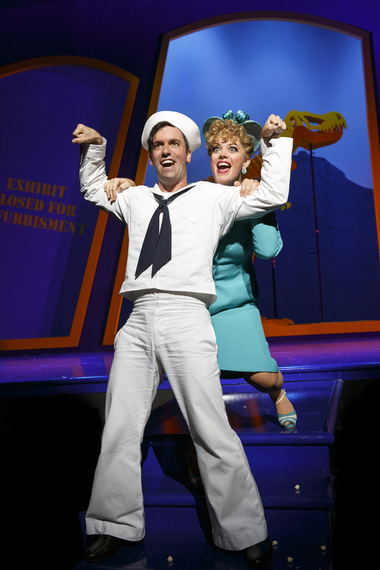 Elizabeth Stanley takes an anthropological interest in Clyde Alves in Broadway's On the Town (Photo: Joan Marcus)
The central dance role is filled by New York City Ballet's adorable Megan Fairchild in the role of Ivy Smith, "Miss Turnstiles for the month of June." (Serendipitously, her brother, Robert Fairchild, also a principal dancer with City Ballet, plays the lead in American in Paris.) Fairchild dazzles in all her scenes, including an erotic dream pas de deux with sailor Gabey (Tony Yazbeck), set in a boxing ring.
Ivy Smith, however, is just another stock character - an ingénue-with-a-secret. There's another one of them in American in Paris, Lise Dassin, danced with great style by Royal Ballet ballerina Leanne Cope. Cope's secret is that she is a Jew, and was sheltered from the Nazis by a wealthy and compassionate Parisian family.
Ivy Smith's secret is that she's really a "cooch dancer" at a seedy club, and if the subway-riding public find out that she isn't exactly the girl-next-door, she'll be stripped of her crown. (Since the Miss Turnstiles crown is handed to a different girl every month, this hardly seems like a big risk.) The magnetic Fairchild exudes more wattage than Cope, and we end up falling, like Gabey, in love with Ivy Smith, while we simply admire Lise Dassin from afar.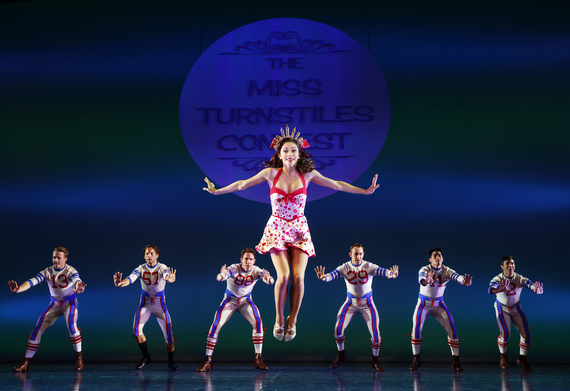 Megan Fairchild as Miss Turnstiles Ivy Smith and the cast of Broadway's On the Town (Photo: Joan Marcus)
Yet neither of these characters rock our world like the free-thinking, free-loving Hildy and Claire.
For all its manic silliness, On the Town, like Fancy Free, is rooted in a profound sense of loss, insecurity and impermanence. Our trio of sailors must return to their ship after 24 hours of comic mishaps and breathless lovemaking - leaving Hildy, Claire and Ivy waving mournfully from the dock. After all, the shadow of World War II looms. The most poignant lyric from the show reminds us that:
This day was just a token
Too many words are still unspoken
Oh well, we'll catch up
Some other time
Back in December, 1944, when On the Town premièred, the War was in its final stages and the Axis was crumbling. Fancy Free and On the Town must have struck a particularly poignant chord with audiences.
On the Town also made theatre history with its casting of Japanese American ballerina Sono Osato in the role of the all-American Miss Turnstiles. The cognitive dissonance of placing an Asian woman onstage in a beauty queen role that would have been denied her in real life was compounded by the distressing fact that, three years prior, her Japanese father had been arrested and interned along with over 100,000 Japanese Americans after Pearl Harbor. The dance chorus of On the Town was also mixed-race, further challenging accepted casting practices on Broadway at the time.
In a constantly shifting political climate, the entertainment industry increasingly plays it safe for commercial reasons, and it is only the small, experimental productions who tend to challenge mainstream attitudes toward gender, sexuality and race.
It is therefore vital to celebrate the Myrthas, the Hildys and Claires.
And to continue to shower breakthrough roles on intrepid dancers like Georgina Pazcoguin, Teresa Reichlen, Sterling Hyltin, Isabella Boylston, Devon Teuscher, Savannah Lowery, and Megan LeCrone who, wordlessly, perform Hildy's immortal lyric:
I'm not in the recipe book...
Baby, I'm cookin' with gas
REAL LIFE. REAL NEWS. REAL VOICES.
Help us tell more of the stories that matter from voices that too often remain unheard.