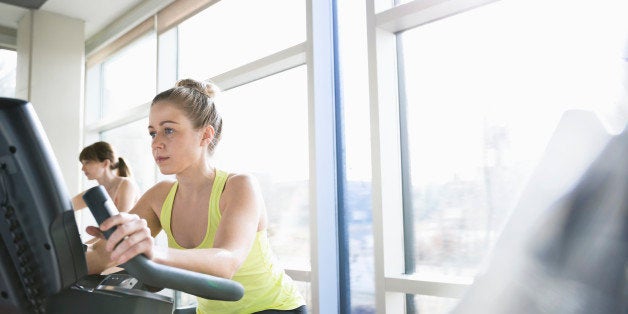 NEW YORK, Feb 3 (Reuters) - Women-only gyms, once seen as the exercise alternative for out of shape women of a certain age, are actively shedding that reputation, fitness experts say.
Young, professional women are discovering that female-only fitness zones can be what a morning of golf or shooting the hoops is to their male counterparts: a chance to network, negotiate and bond while working out.
"Men have been combining fitness and a social aspect for ages, doing business and creating relationships at the same time," said Leanne Shear, trainer and founder of Uplift Studios, a boutique women-only venue in Manhattan.
"Women have not, to their detriment."
Shear said her studio, which opened in 2012, attracts professional women in their 20's, 30's and 40's, and aims to provide a social atmosphere where they can come together as a community.
As for the workouts, Shear believes that while women are certainly capable of doing everything that men do, many find the gym equipment in weight rooms bulky, off-putting and ill-suited to them.
Equipment in Shear's studio includes an elliptical machine with a smaller stride better suited to women, and instead of huge plates and bars, there are lots of dumbbells, balls, balancing equipment and body weight exercises.
A 2014 report by International Health, Racquet & Sportsclub Association (IHRSA) showed that while health club members are equally likely to be male or female, what they do when the visit the club differs considerably.

Women are more likely to gravitate to group exercise classes, Pilates, stretching, yoga, boot camps, and cardiovascular exercise machines, while men are drawn to free weights, resistance machines and sports such as racquetball and squash.
Curves International, Inc., the large chain of fitness centers for women, is known for its 30-minute circuit of cardio, strength and stretching training.
Hannah Karass, vice president of programs and science for Curves, said the circuit is in a circle for a reason.
"The members face each other, help each other," she explained.
Karass said Curves has initiated a rigorous high intensity interval training workout designed by trainer Jillian Michaels, of the TV reality show "The Biggest Loser," to attract younger women.
Karass, 50, believes women's gyms are simply less intimidating than co-ed clubs.
"I think of myself in a big co-ed gym," she said. "If I work with a 10-pound (4.5 kg) dumbbell and I see men lifting 25, there is an emotional reaction."
Dr. Barbara Bushman, of the American College of Sports Medicine, said both sexes require a balanced exercise program of aerobic activity, resistance training, and flexibility and, for older adults, balance and agility.
"To me the women-only gym fits into the enjoyment aspect," she said. "If someone feels more comfortable in that environment and that helps them to stick with their program better, it's a great thing."
She added that women tend to lag behind men in resistance training, which is important for bone health. Being properly fitted on standard machines can also be difficult for smaller women.
"At university I was only female in weight room," said Bushman, whose 5ft 10-inch (1.8 meters) height mitigated the sizing issue. "It wasn't an environment that welcomed women."
Shear sees women-only venues as a place where women are free to work their hardest without feeling self-conscious or trying to impress the opposite sex.
"The workouts are just as hard and intense as any man's," she said. (Editing by Patricia Reaney and Sophie Hares)

Popular in the Community