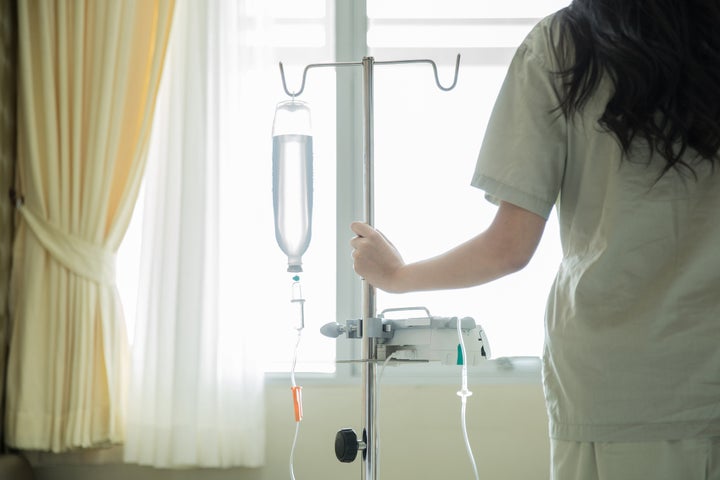 When Caleigh Haber was 22, she was told she was too sick for a lung transplant and would die. Her doctors recommended focusing on quality of life with her limited time remaining, and she was given do-not-resuscitate forms. She quit her job as a pastry chef and her mother and brother moved nearby to be with her.
"I felt completely hopeless," she recalled. "To me, it wasn't so much facing death as it was leaving my family."
Pictures from the time show a petite young woman in an oxygen mask, under five feet tall and weighing as little as 66 pounds. She had a habit of showing off for pictures: one arm flexed, the other tethered to an IV pole.
To her doctors' surprise, she grew stronger and was eventually listed for a transplant, adapting to the fraught routine of waiting for a lung to become available.
Haber lived with less than 18 percent of normal lung function, which meant that even sitting still left her struggling for oxygen. Being unable to breathe properly triggers "fight or flight" stress hormones like adrenaline and cortisol, which quickened her heart and left her unable to sleep.
All the while, she stayed within an arm's reach of her phone, placing it with the screen up, the volume on its loudest setting and checking for a good signal. She didn't want to miss a call telling her to come to the transplant center.
By the time she got her lungs, 18 months later, she had waited five times longer than the average man in her situation. And that's after she was cleared for the list — she spent a year and a half struggling to get listed after her doctors expected her to die — something a man in her situation may never have had to do.
Gender disparities in organ transplantation abound. According to 30 years of data from the United Network for Organ Sharing (UNOS), the government-backed organization that facilitates the transplant system, women are less often listed for transplants and receive far fewer transplants than men each year. Women often wait longer for a transplant once listed and are more likely to die awaiting transplant. Even as organ transplants become more common — driven in part by opioid overdose deaths — this gender imbalance remains.
"By the time she got her lungs, 18 months later, she had waited five times longer than the average man in her situation."
While women make up nearly 60 percent of the waitlist for lungs, UNOS data indicates that men have received over 60 percent of lung transplants thus far in 2018. The average wait time in the United States for a lung transplant for men is three months; for women, it is eight.
Life with a failing organ is extremely trying, and the stakes are especially high for women. Every day, 20 people die awaiting transplant in the U.S. While there isn't a single study that examines gender disparities among all those in need of a transplant, one study found that women were more than 50 percent more likely than men to die or to be too sick for transplant while on the waitlist for lungs. Data shows that women were found to face significantly increased mortality awaiting kidneys, livers and hearts as well. Emerging research shows that while biological differences contribute to women's unenviable position on transplant lists, gender bias also plays a role.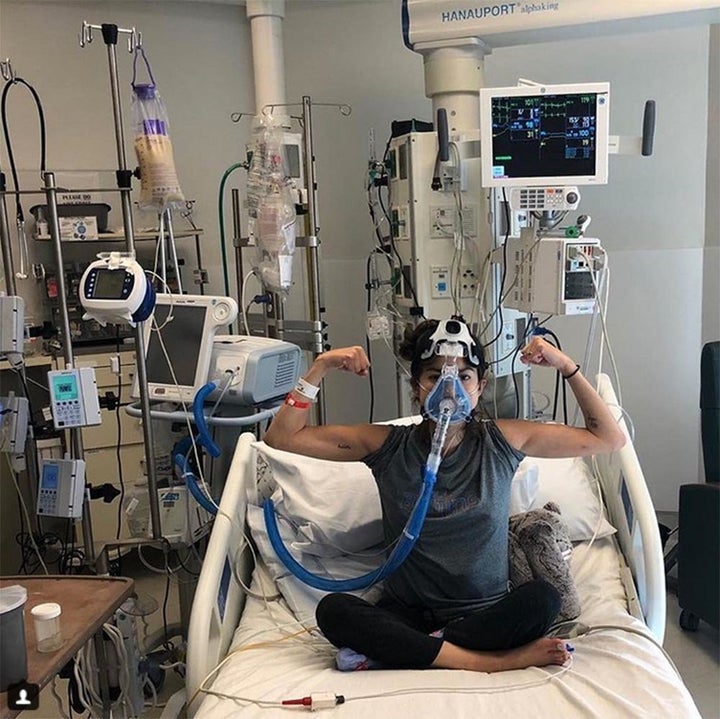 From a biological perspective, women's immune systems are stronger and more primed to attack than men's. That difference can make it more difficult for women to find an organ that is an immunological match suitable for transplantation. It can also put women at greater risk for their body rejecting the organ post-transplantation. For example, women are three times more likely than men to have moderate or severe rejection after heart transplantation. Some researchers hypothesize that this increased risk of rejection pushes transplant surgeons, eager to improve their success rates, to prefer male patients.
Women are also, on average, smaller than men. This fact is important to transplant patients because while larger people can typically accept smaller organs, smaller people cannot accept larger organs. This is especially true for lung and liver transplants, where the size of the organs can vary significantly based on the donor's body size. Among liver transplant patients, those in the lowest quartile for height, composed almost entirely of women, had a 24 percent higher chance of dying on the waitlist.
This factor likely contributed to Haber's long wait. At 4 feet 11 inches tall, her body could only accept lungs from someone similarly sized or smaller. While waiting for a transplant, Haber was told that she might be restricted to lungs from a pediatric donor pool.
But these challenges run deeper than biology. Researchers looking at liver transplants, for example, have estimated that half of the gender disparity in organ allocation cannot be explained by biological differences in sexes. Instead, researchers around the world point to gender bias as an explanation for further inequalities.
""A lot of physicians are not social scientists. It's much easier for us to mutate a T cell to attack a cancer cell than it is for us to attack institutional racism and sexism.""
Despite compelling evidence that bias exists and has material outcomes for women's health, it remains understudied. That's in part because the effect of bias can be particularly hard to quantify.
"A lot of physicians are not social scientists," said Dr. Arvum Gillespie, an associate professor of medicine at Temple University who studies disparities in kidney transplant. "It's much easier for us to mutate a T cell to attack a cancer cell than it is for us to attack institutional racism and sexism."
Still, the limited data that exists indicates that doctors may unfairly favor men for transplant. A 2014 study, for example, found that medical providers were nearly half as likely to have ever even discussed kidney transplant as a possible treatment option for women with end-stage renal disease, instead relying on dialysis for the rest of their patients' lives.
This difference could be due to doctor perceptions that female patients are frailer than they actually are, according to Dr. Kimberly Forde, a transplant hepatologist and epidemiologist at the University of Pennsylvania Perelman School of Medicine who also studies disparities.
Forde's assertion echoes a simulated experiment conducted at Johns Hopkins University: When researchers presented kidney specialists with hypothetical patient scenarios, they were nearly two-and-a-half times more likely to recommend transplant when the patient was male. (It's worth noting that a similar subsequent study was unable to replicate these findings, indicating more research is needed.) When asked to quantify this bias, Gillespie estimated that for every 10 kidney transplants men receive, one should have actually gone to a woman instead.
Patient attitudes also contribute to gender disparities in transplant. Women themselves are less likely to push for a transplant. For example, women are less likely to accept a living kidney donor even though they are two times more likely to get an unsolicited offer for one. In other words, women are less willing to put a willing, healthy volunteer through the process of donating a kidney. Some experts hypothesize that traditional notions of women being the caretaker and not wanting to burden others, as well as relative lack of social and economic support, minimize their desire for a transplant.
As Gillespie told HuffPost, "Culturally, it's more acceptable for men to demand more interventions."
Even for women like Haber who have been able to find a donor match and undergo a transplant, the path to better health is no guarantee. She must still contend with the grave risks of any transplantation process.
Unfortunately, that reality was underscored when she was forced to return to the hospital as her body began to reject her transplanted lungs ― a result three times more common in women, according to one study. So she must again face the desperate need of a new transplant in the face of both biological and societal forces that make an already fraught process all the more difficult for women.
Related
Popular in the Community