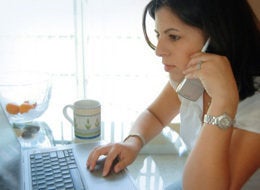 Are you a woman who owns a business, or who wants to? Hang on to your latte. This statistic may infuriate you.
A Nasty Small Business Truth
Women own about 40 percent of all businesses in the U.S.. We receive only 2.3 percent of the available equity capital needed for growth. Male-owned companies receive the other 97.7 percent. I'm on a mission to change that statistic. I hope you'll join me. Women's business mentor, Ali Brown overcame those odds and is teaching other women to do the same.
In my last column I gave women tools to begin to solve one of the major stumbling blocks to making more money. This week I wanted to inspire you to put that information into action. Ali Brown's success has made her the woman who is called "The Entrepreneurial Guru for Women" by Business News Daily.
$18.56 And No Plan B
In 1998 Ali quit her job. Without a mentor or coach to guide her, Ali dove in books on marketing and success. Like so many women she funded her business on credit cards. "I remember one night going to the ATM," Ali said. "I was meeting some friends for drinks, and I couldn't even take out a $20 bill. My balance was $18.56. I will never forget that number. I had to call them and cancel and go home. I had maxed out my credit cards. I had been putting all I had into my little start-up business."
Since Ali had no Plan B, she had to forge on. She developed her internet marketing business and was a self-made millionaire by the age of 35. Ali now mentors 50,000 women in business. She is deeply committed to her philanthropic efforts. She gave away $100,000 on the 2011 ABC prime time show, Secret Millionaire. It is no wonder that she inspires so many women to shine.
Ali's beautiful personality and wisdom sure shone through in a personal interview I recently got to enjoy with her. I would like to share some of the insights I gained from this special lady:
You look like you have everything together. Some women may look at you and think that they can never do what you do. Are you ever scared?
There's never a day that I'm not scared. There's never a day that I feel deep down that I don't have all the pieces lined up or I don't know what I'm doing. I don't know what I'll be doing next year. People are always asking, "Do you have a 5 year plan?" I don't have a 3 year plan. Sometimes, I don't have the 6 month plan. That may shock people in business, but I navigate with my intuition and my heart.
I also navigate by listening to my clients and my customers. I respond to what they want. I see this as a beautiful ride that we're all on together. That is not taught in any business school and it's something that's hard to teach. It's more a way of being than a prescription of doing.
It sounds like you are comfortable with uncertainty. Do you have a Plan B?
I've kind of always done my business this way, and this isn't for everyone. It sure as hell works. I don't have a plan B. I put myself in situations where I have to do things that make me step up. I do things that I know I want to do. It may be very uncomfortable. Once you start doing what you know is the right path and you realize that you're safe.
I got to a point that I couldn't stand being there and it was more painful to stay where I was than to move forward. Sometimes not having a Plan B is a better motivator. I'm not saying, "Ali told me to quit my job and have no money!" [Laughter]. But not having a plan B is actually a really great motivator. I had no choice. I had to get out there.
I see that when a woman goes after a goal she comes up against her own issues. What do you see in mentoring women business owners?
Whether you're starting a business or you want to be a superstar in business, you've got to be prepared for all kinds of your personal issues to surface. You need to be ready to move through things that you may not have been prepared to move through before. Self-esteem issues, confidence issues, self-image issues, all this stuff will bubble up to the surface to be dealt with whenever you're ready to move up to the next level. I'm sure anyone reading this will know what I'm talking about. When you're moving into the next level, typical stuff has to be dealt with. Maybe it's a boyfriend that's ready to get the boot [Laughter] or it could be something personal with you that you need to address and you need to get better habits or become more self-disciplined.
That is so important for women to understand. Success requires both inner and outer work and decisive action. I find that some women sit on the side lines and ponder their future instead of implementing what they know they need to do. How do you find your next steps?
For me throughout my career "next steps" has only appeared through space and silence. You will not get the next big idea sitting at your desk surrounded by a bunch of papers and projects. You're going to get your best ideas when you're walking on the beach, when you're taking a vacation, when you're in the park, where you're actually getting enough sleep everyday, and this is something that I have to get really good at. In fact, I have two full weekdays every week of unscheduled time, which is typically unheard of.
Two focus days a week - I call those focus days because they're good days to focus on particular projects or maybe challenges. I'm not a sit still meditator or that's not when I do prayer. It's usually when I'm walking on the beach that is when I'm talking to God. That's what I do and that's when I'm asking for help. I'm saying here's what I'm dealing with and can you show me the clue, give me a clue, and show me next steps. Create that space. It is so helpful to your business. You have to have the faith. Growing your business, this is where faith comes into play. That's probably a whole other conversation. But you have to be comfortable with the unknown to let things happen.

It is terrific for women to hear how much space you give yourself. How do you overcome your own obstacles?
If you want to be a business owner, you will come up against some stuff you don't like. You have to be ready to put on your big girl panties and deal with it. Not all women are. It's okay but you need to be aware of that. And like you said that's another call. Stand up tall. Go put on those Big Girl Panties and go rock it!
To get your hands on business advice from Ali Brown go to her website at www.alibrown.com.
You can receive an email notice when Eli's blogs are published by clicking "Fan" at the top of this page. Ask Eli a question at info@elidavidson.com. Go to www.elidavidson.com. Get your free report, How To Get Where You Want To Go Faster.
Eli Davidson is a nationally recognized motivational speaker and executive coach. Her book, "Funky to Fabulous: Surefire Success Stories for the Savvy, Sassy and Swamped" (Oak Grove Publishing) has won three national book awards. Check out her blog at funkytofabulous.blogspot.com.
Related
Popular in the Community