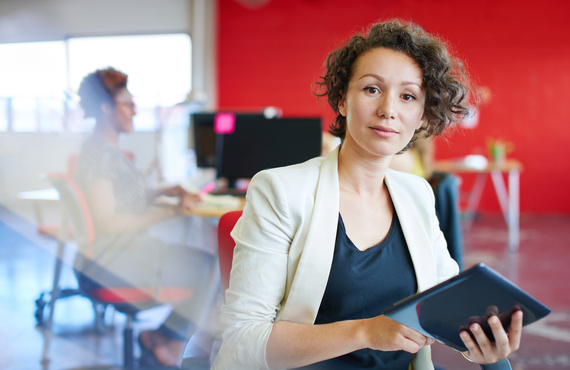 Dollar Photo Club

According to savvy marketing firms and the government, women-owned businesses are on the rise. The 2012 U.S. Census states that women own 9.9 million companies in the U.S. That's approximately 36% of all the companies in America, and they generate $1.4 trillion in revenues annually. But the U.S. Women's Chamber of Commerce in their report, Wake-Up Call, Opportunity Lost, indicated that's only 4.23% of all the revenues generated in America.
U.S. Women Owned Businesses Increase, But Where is the Money?
The 2014 State of Women-Owned Businesses Report from American Express stated that there are approximately 9.1 million women-owned businesses in the United States, which is a 68 percent increase since 1997.
So the trillion-dollar question is, "Where is the money?" Sometimes the business of doing business keeps us so busy that we can't seem to find the time to step outside of our immediate environment to see what's happening around us in our respective industries. But the shrewd business owner, regardless of gender, stays current with industry developments and maintains their relevancy by being an innovative and a visionary trendsetter.

If you actually want to find out where the money is, ask yourself the following seven questions:
Is your business growing?
There are five key determinants that measure business growth. The following questions hold the key. Is your business making money? Do you have a growing customer base? Are your customers so satisfied with your services that they return? Are your employees satisfied? Are you satisfied?
Are your average receipts down, while all other business types receipts are going up?
Take a look at your last three tax returns and revisit your business plan financials to measure your profitability.
Are your customers/clients more apt to negotiate pricing with you than your male counterparts?
Do a little research and survey your male counterparts about the frequency their customers ask for modified pricing for the services or goods that they provide. You will get the answer to this question when you compare their response to what is actually taking place at the negotiation table in your business.
Are you aware of how much revenue women-owned businesses are generating in your geographical area?
Visit your local chamber of commerce or take a look at the Wake Up study done by U.S. Women's Chamber of Commerce. They have the data broken down by state.
Fortune.com ran an article titled, These Are the 10 Best Cities for Women-Owned Businesses. The author, Valentina Zarya, shares the results of a recent study of cities that were female entrepreneur friendly by WalletHub. The following cities made the list:
1. Nashville, Tennessee
2. Chattanooga, Tennessee
3. Columbus, Ohio
4. Memphis, Tennessee
5. Milwaukee, Wisconsin
6. Rochester, New York
7. Kansa City, Missouri
8. Spokane, Washington
9. Greensboro, North Carolina
10. Honolulu, Hawaii
Location, location, location, has always been a critical factor that influences your ability to generate revenue. Remember, it's not just important that your brick and mortar is located on a busy thoroughfare. It's also important where your business is located regionally.
Are you making revenues comparable to those of your male counterpart?
Here are the facts identified by the USWCC's analysis of the 2012 U.S. Census:
• Male-owned firms average annual receipts of $637,675.
• White women-owned average annual receipts of $170,587.
• Hispanic women-owned firms average annual receipts of $53,524.
• African American women-owned business's average annual receipts of $27,753.
Have you compared notes with your other female competitors to see if there is a discrepancy in their revenue generating ability? Particularly if you are a woman of color.
Host a town hall meeting and compare notes. There're over 10 trillion lost opportunity dollars on the table for women-owned businesses. Especially for women of color, according to the Wake Up study, women of color own 28% of all women-owned firms but secure only 14% of the revenues.
Are there active initiatives in your local business community that support matchmaking women-owned businesses with large firms, corporations, and municipalities or government organizations? If so, are these initiatives effective in bridging the revenue gap between female and male business owners?
Begin by checking with organizations like the Women's Business Enterprise Council (WBEC), Small Business Administration (SBA), Minority Business Development Agency (MBDA), the National Association of Women Business Owners (NAWBO) and the U.S. Women's Chamber of Commerce (USWCC).
This problem has systematically had an adverse effect not only on women-owned businesses, but also their families, employees, and the economic status of the U.S. Asking yourself these questions and answering them honestly will put you one step closer to implementing a plan of action that rectifies the unbalanced scales of business opportunity in America. Can you stand to make more money as a women-owned business? According to the statistics, we all can.
Sharon C. Jenkins is a serial "authorpreneur" and a consummate entrepreneur. Her main mission in life is to help authors and small businesses increase their "brandwidth" and to successfully pursue their passion for writing excellence. She is the Inspirational Principal for The Master Communicator's Writing Services. Her writing services and books are tools that assist others in realizing their literary dreams and achieve excellence in their business. She has two great loves in her life: writing and helping others.
Calling all HuffPost superfans!
Sign up for membership to become a founding member and help shape HuffPost's next chapter