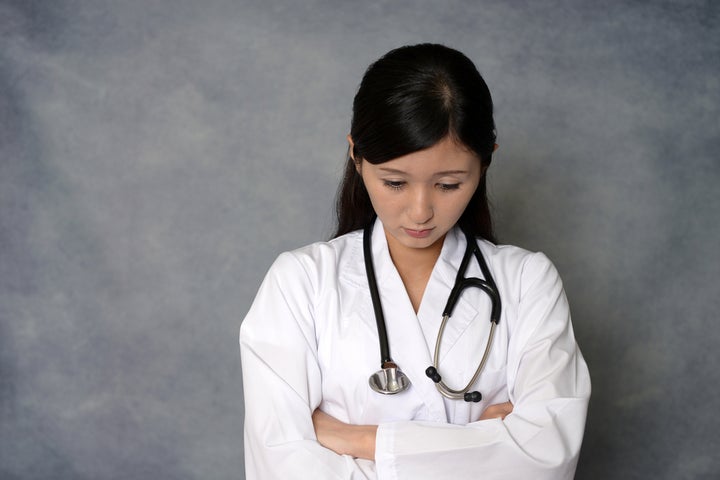 In 2007, I gave birth to my first child, Benjamin. I wish I could remember more of his first days and months. When was his first smile? His first tooth? When did we start seeing his personality, his resilience, his optimism shine through? My mind has let go of so many of the precious little details, while retaining with absolute clarity the tough moments. The exhaustion. The constant nursing and pumping, nursing and pumping. The horror at how little he slept, day after day, even as my six-week maternity leave melted away. The realization, on the eve of my return to clinical work, that our child still weighed less than our tabby cat. The fear of making a mistake from sheer sleep deprivation. The depressing irony of leaving my febrile child to go to a shift at the hospital, where I cared for someone else's child with a fever. The daunting task of facing the accumulated email, the research project I'd let languish, the demands of a career I suddenly felt utterly unequipped for. I have spoken about these experiences to friends and colleagues in the ensuing years, but at the time, I just endured them, afraid to show vulnerability in a demanding field.
In 2014, just before learning that I was pregnant with my fourth child, I was added to a secret Facebook group called Physician Moms Group (PMG). Founded by emergency medicine physician Hala Sabry-Elnaggar, PMG serves as an online support group for women in medicine who are also mothers. While some of the content is shared medical knowledge, posts venture into a huge variety of topics, both lighthearted (fashion, dieting, makeup, Monday memes) and serious (pregnancy and parenting, interpersonal relationships, finances, professional advancement, stress, hardship, burnout, disillusionment, relationship abuse, divorce, depression, and more).
PMG provides the networking and moral support that other women's groups provide, but on an unprecedented scale, with unprecedented immediacy. Through this group, my final pregnancy occurred in a completely different universe than my first one – I was supported with a steady stream of advice, morale boosting, commiseration, humor, and finally, celebration. Through many late-night nursing sessions with PMG as my only grown-up company, I realized that nothing I was experiencing or in fact had ever experienced was unusual for a physician mom: not the extreme exhaustion, the self-doubt, the guilt, the impossible self-imposed standards, the imperfect coping, or the yearning not to be perceived as less because of my gender or my children. Looking back, the hardest part of my early years as a physician and mother was the feeling of isolation. I needed PMG for so long before it came into existence.
PMG now has more than 67,000 members, with strong representation from all medical specialties and from all 50 states and many locations outside of the U.S. Its size and level of activity has attracted the attention of Facebook headquarters. It has spawned dozens of spin-off groups, including state chapters and those dedicated to specific topics, like fitness, humanitarianism, and Disney. It created a holiday – National Physician Women's Day – that is recognized by hospitals around the country. And in 2016, it founded a research arm dedicated to exploring the needs of this diverse group of physicians and, ultimately, developing solutions for the unique challenges they face.
Our first study, a survey of almost 6,000 PMG members, was published recently in JAMA Internal Medicine. The study found that most of the survey respondents (78%) had experienced either gender or maternal discrimination, or both, in their careers. Maternal discrimination was manifest most often as disrespectful treatment by nursing or other support staff, exclusion from administrative decision-making, and diminished pay and benefits compared to male peers.
We found that burnout was higher in those who experienced maternal discrimination than those who did not. And we found that while all survey respondents valued flexible work schedules and improved salaries, women who experienced maternal discrimination more often expressed a desire for better support around the time of childbirth and infancy, including longer paid maternity leave and support for breastfeeding.
Were we surprised by these findings? Not exactly; any member of PMG can tell you that experiences of bias and discrimination are common points of camaraderie. Yet seeing that number – 78% – put the situation in stark relief. This high-achieving group of women continues to encounter frustrating roadblocks to success and advancement, 20 years after the proportion of men and women in medical school became roughly equal. And the modest, obvious workplace improvements desired by this group, which corporate groups outside of medicine have been rapidly embracing, underscore how medicine is failing to be a leader and innovator when it comes to policies supporting parents.
PMG's leaders recognize that as long as the social structures around them reinforce inequity, women physicians need even more than the social network: they need culture change, broad-scale recognition of implicit bias, and systems that treat parenting like a natural and expected event. It is time for women physicians to move beyond commiseration - beyond the shared narratives of bias, observations about the leaky pipeline, and hand wringing about the latest study demonstrating gender-based inequities in medicine. Large, influential groups like PMG will increasingly be pushing towards actionable means of helping women physicians to achieve fulfilling, productive careers, while nurturing their personal lives and loved ones.
For links to more narratives and perspectives on women in medicine, please see the related piece, by the curator of this collection, Jessica Gold, MD MS.
Support HuffPost
A No-B.S. Guide To Life
Popular in the Community