Jennifer Panattoni is a police officer who loves what she does, especially patrolling the streets of Frankfort, Illinois, a small Chicago suburb. For the 14 years she's been on the job, the precinct has felt like home.
Panattoni, 37, is one of just three female police officers in the 32-person Frankfort department and the only full-time patrol officer who is a woman. She'd hoped to work through her pregnancy. She and her husband, also a police officer in Frankfort, spent a good deal of money on fertility treatments just trying to conceive and didn't want to lose out on any income.
But when she broke the happy news to her police chief in January 2016, Panattoni told HuffPost, he was pretty blunt: If her pregnancy prevented her from conducting her normal duties as a patrol officer, she'd have to go out on unpaid leave.
Panattoni says she repeatedly asked if instead she could take on a new role in the department, something in the office, at a desk, similar to the kind of work other police officers do after they're injured on the job.
But Panattoni's police chief didn't offer her any choices. Only police who are injured at work are entitled to accommodations, he told her.
"He said right off the bat, if you have restrictions you'll have to be on unpaid leave," Panattoni said. "I felt like I was betrayed. I thought this was 2016 and these things didn't happen."
What Panattoni was asking for is hardly out of bounds. Under federal law, employers are required to give a pregnant worker the same kind of reasonable accommodation offered to a similarly situated employee, say, an officer who was injured in the line of duty.
The requirement was affirmed in 2015 by the U.S. Supreme Court in a case called Young v. UPS. In that case, a UPS worker, Peggy Young, was denied lighter duty work at the shipping company during her pregnancy. But Young's male colleagues were given light-duty when they were injured, and even when their driver's licenses were suspended due to drunk driving.
In a 6-3 decision, the high court ruled in favor of Young, arguing that an employer should try to make a reasonable accommodation for a pregnant woman as it would for any employee who was temporarily unable to do usual work. The court ruled that an employer must have a "sufficiently strong" reason to refuse to help a pregnant worker to justify the burden of her losing out on income.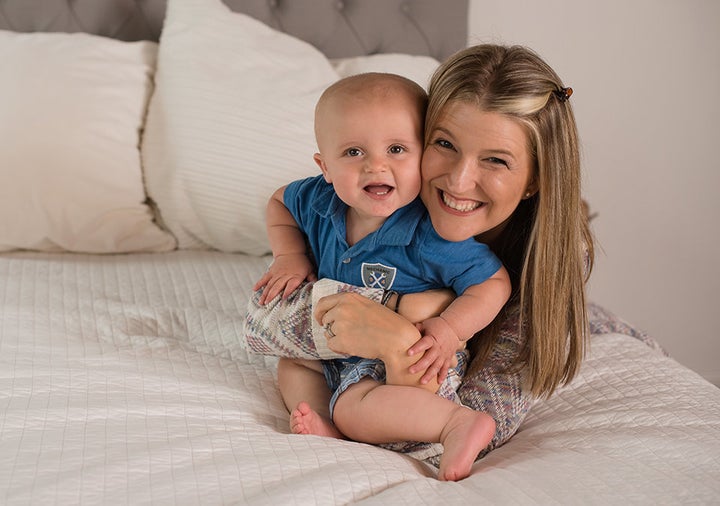 The state law in Illinois where Panattoni lives goes farther, saying that employers must accommodate pregnant employees regardless of what they would do for other workers. Workers are supposed to talk with their managers and figure out what they can do during pregnancy. Other states have similar laws on the books. And many other police departments have set a standard policy of giving women lighter duty work when they become pregnant.
But in the overwhelmingly male – 88 percent of police officers nationwide are men – and relentlessly macho world of law enforcement, it's not uncommon for these standard requests to be denied.
Police aren't supposed to complain, said Cheryl Dorsey, who worked as a patrol officer in the Los Angeles Police Department for 20 years. It's "career suicide" to ask for anything special, particularly if you're a women, said Dorsey, who is now an advocate against police brutality.
But in spite of it not being the cultural norm, some women have recently started to fight back against their departments. Although there is no comprehensive data detailing how many pregnancy discrimination suits have been filed by female police, over the past year or so, several other female officers have filed complaints against their departments alleging pregnancy discrimination.
That's partly because of the Supreme Court's decision in Young, which made it clear that women do have a right to accommodations when they're pregnant, said Emily Martin, general counsel and vice president for workplace justice at the National Women's Law Center. In the past, women may just have thought "oh well, that's just my luck", and allowed themselves to be forced out of work, she said.
"People realize they have rights here, they can fight back," Martin added, noting that she's seen an uptick in women coming in with pregnancy discrimination complaints.
In August, Sarah Alicea, a police officer in Cromwell, Connecticut, filed a pregnancy discrimination charge against her department with the Equal Employment Opportunity Commission after being forced out on unpaid leave. That same month, an officer in Alabama finally won a five-year battle against her small-town police department, which had refused to accommodate her request for a properly fitting bulletproof vest that would allow her to do her job and also be physically able to breastfeed her baby.
"I don't want anyone else to go through this," said Alicea, who is one of just three women in her small 27-person department. Being one of a handful of women never bothered her, she said. But after she became pregnant, she was told that there was no way she could be assigned to light duty.
"It was so unfair. I expected them to do the right thing," she said. "I didn't want another female to have to go through this."
"People realize they have rights here, they can fight back."
Many departments may never have had to deal with a pregnant police officer before, says Gillian Thomas, a senior staff attorney with the women's rights project at the ACLU, who's worked on many pregnancy discrimination suits. "A lot of them are bungling it," she told HuffPost. "It's extremely common."
Thomas is now representing Panattoni, who in September filed suit in federal court against the village of Frankfort, claiming that the police department there violated federal and state sex discrimination laws by forcing her out onto unpaid leave. The move cost Panattoni months of salary and accrued leave time, and she lost out on contributions to her pension, she claims.
Many female office workers who get pregnant typically face inconveniences, including getting fatigued, requiring more breaks or time to visit the doctor. They may also face hostility from a supervisor, whether in subtle ways or in a more overt fashion.
But being a pregnant cop can be a matter of life and death. A pregnant patrol officer needs to be properly outfitted to be safe on the job. That means special gear ― bulletproof vests, uniforms and duty belts that actually fit. There may be certain materials they'll need to steer clear of, and obviously, the stress of the work is going to take a toll.
"The worst part was when my uniform stopped fitting," said Panattoni. She says she repeatedly asked for a new uniform and vest to accommodate her pregnancy. The Frankfort police department provides gear for its officers and, according to Panattoni, requests are typically filled promptly, but not for her during her pregnancy.
Panattoni was issued two men's shirts that didn't fit and a large pair of pants. She was told to find suspenders to keep them from falling down.
Finally, when she was five months pregnant, she found that she could not bring herself to get out of her patrol car. Her bulletproof vest wouldn't stay closed, and her 25-pound utility belt ― holding her gun, handcuffs, baton, radio, Taser and pepper spray ― pressed into her growing belly.
"I felt like without the proper equipment, I couldn't do my job safely and if I lost my job I couldn't provide for my family," she said." I felt like I couldn't breathe. All I could do was cry."
She went out on leave shortly after, drawing on her disability pension, which paid her 50 percent of regular pay. By the time her son Nathan arrived in August, Panattoni didn't get much time with him, having already taken considerable time off during her pregnancy. Two months after he was born, she went back to work in October 2016.
"I felt like without the proper equipment, I couldn't do my job safely and if I lost my job I couldn't provide for my family ... I felt like I couldn't breathe. All I could do was cry."
But things didn't get better. Panattoni had only one uniform that fit, she said. And the department delayed in giving her another one. She said it was a big problem, because after working a 12-hour shift, Panattoni didn't always have time to launder a uniform every day. Getting a new uniform had never been a problem before she was pregnant.
She was also mysteriously asked to track all of her breaks, something none of her male police officer colleagues have to do.
This past August, after she told her boss she was again undergoing fertility treatments, Panattoni was passed over for a promotion to detective. A male officer with less seniority landed the role instead.
"It's been very hard," she said. "I feel like I'm under a microscope. I just want to do my job."
When asked about the allegations in Panattoni's complaint, Amy Gaylord, an attorney for Frankfort, sent HuffPost a statement saying the village "intends to defend [against] these allegations."
"The village says it believes it has complied with federal and state laws," she added.
Panattoni's case is still pending. She hasn't given up and so far the reaction from her colleagues has been pretty positive. The day she returned to work after filing her suit this fall, her coworkers greeted her with a standing ovation.
Still, she said she is "terrified" of losing her job and broke down in tears several times as she spoke with HuffPost. "I wish that it didn't have to come to this. I just don't know what else to do."
In the end, Panattoni hopes her lawsuit changes the way the department treats pregnant women, she says. "If what happened to me can help someone else, it's worth it."
Popular in the Community